This archived news story is available only for your personal, non-commercial use. Information in the story may be outdated or superseded by additional information. Reading or replaying the story in its archived form does not constitute a republication of the story.
SOUTH SALT LAKE — When Utah Highway Patrol Sgt. Nick Bricker found Hillary Staska in her car on the night of Jan. 5, 2016, it was obvious she had been drinking and driving.
Then he realized that he knew Staska and was still close to her family.
At that moment, Bricker had a difficult decision to make: Arrest Staska, or just take her home and save her and her family the embarrassment, disappointment, stigma and lengthy and costly legal proceedings that come with a DUI arrest.
After taking a minute to consider his options, Bricker took the woman he had known since high school to jail.
Nearly four years later, Staska, now 34, is thankful he did.
"Best thing in the world that happened was that arrest, was getting me off the road. As hard of a decision as it was for him, knowing me, knowing my family, and putting those consequences on me. And the years that it took to get through the DUI charge process and the testing, and the fines, and the Breathalyzer in your car, and the (suspended) license for two years, and the counseling. … It was the best thing in the world he could have done," Staska said Wednesday.
"What he didn't know was that it saved me. It saved my son. It saved so many people on the road. It was the best thing — the hardest thing — but the best thing in the world that has ever happened."
Bricker and Staska reunited Wednesday to tell their story as part of the Utah Department of Public Safety's annual holiday DUI enforcement effort.
Staska was first convicted of DUI in 2006. But it wasn't enough to deter her from drinking and driving.
"There was going to be no stopping it. I wasn't going to stop it. I was completely comfortable accepting this life," she said. "There were more times than not that I drove over the past 10 years completely drunk than sober."
Staska had to work on New Year's Eve 2015, so she didn't get to go out with friends. She decided to make up for it the next weekend. And for Staska, she said once she started drinking, there was no stopping.
"Drank way, way too much — way over the legal limit. I'm not even positive I remember getting in my car," she said of that night.
Several motorists called 911 to report she was swerving on the freeway. Staska said she eventually took an off-ramp and sat in her car in a parking lot. That's where Bricker found her. He said by that point, she was "severely under the influence."
But after realizing who was in the car, Bricker also knew that Staska was going through a rough time in her life and was a single mother raising a 3-year-old boy. He knew that a DUI conviction comes with a heavy financial and legal toll.
"There's that internal struggle I was going through. What are my options? Can I drop her off at home? Can I call her parents? I was scared to death to make that phone call … just because of the disappointment I knew that that phone call would bring," Bricker said. "But at the end of the day that's not what the highway patrol is about with DUIs. We have zero tolerance for DUIs. So I made the determination to book her in jail.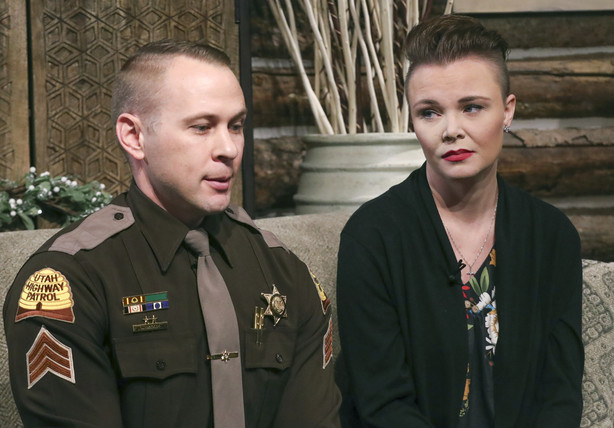 "Cops, we're not robots. We have feelings, too. I just really felt bad for her, for the road ahead that I knew she was going to have to take on. And being a young mother with a young child, I really felt bad for her," he continued. "It was a hard decision to make. But I've seen a lot of really bad incidents that have precipitated from impaired driving. So I did make the decision to arrest her and take her to jail."
At the Salt Lake County Jail, Staska was too intoxicated to be admitted into the main facility. So she was taken to the "drunk tank," a room with concrete walls and floors and nothing else.
"I don't remember actually going to the jail. I remember the hard feel of the handcuffs, but I don't remember getting out of the car, I don't remember being booked, I don't remember my booking photo. I just rememberer waking up in said drunk tank with no shoes, no belt, no blanket, concrete slab, and the first thought I had was, 'I don't know where my son is,'" she recalled.
Staska said it wasn't until later that she even realized it was Bricker who had arrested her. When she found out, she called him a few days later to apologize.
"This is just not how I was raised. This is not habitual behavior from my family. This is all on me. And I called and I apologized and I said, 'I am so sorry,'" Staska said.
She also called her family several times to see if they would pick her up from jail.
Her family said no.
"It was the best answer in the world to give, 'cause there was no stopping (me). I had completely just accepted the fact that this was just going to be me. I'm just going to be a drinker," she said.
Next month, Staska will mark four years of sobriety.
One of the reasons she changed after her second arrest was because of the heavy penalties.
"The first one, honestly, the consequences weren't very severe, unfortunately," she said.
Another reason she changed was for her son. Her first DUI arrest was before she became a parent.
---
This is not habitual behavior from my family. This is all on me.
–Hillary Staska
---
But also, she said Bricker being the one who arrested her had an impact.
"It was just embarrassing, but it needed to happen," she said.
Today, Staska is married and no longer drinks and drives. She also is more aware of those on the road who make bad decisions, and she said it breaks her heart.
"It's an obvious choice. You're choosing to drink and drive. You're choosing to be a hazard on the road. And you're choosing to be a loaded weapon basically, ready to take anybody out. It's terrifying."
Staska said she knows if she hadn't stopped drinking and driving, it was only a matter of when she was going to hurt someone, not if.
For Bricker, he said the incident has taught him to be more compassionate during DUI arrests. Arresting someone for DUI and taking that person to jail is not personal, he said. But there are consequences to their actions. His hope is that others can be like Staska and even though a DUI arrest may be a low point in their lives, they still have potential at the end of the day to get better.
UHP troopers along with more than 20 other law enforcement agencies will be conducting 172 extra DUI shifts from Dec. 14 through Jan, 1.
In 2018, there were 10,032 DUI arrests in Utah, or an average of 27.5 arrests per day, according to the Department of Public Safety. There were 48 DUI-related deaths in the state that year.
×