KAYSVILLE — When Jordan and Jennifer Olsen were planning their next business venture, they decided to buy the restaurant where they first met and fell in love 22 years ago: a Subway shop.
The couple, who've been married for over 17 years, are taking the store over from their previous managers and well-known Kaysville community members, Guy Johnson and Doug Scott.
"Jordan frequently goes to the Subway in Kaysville and he just talked to Guy and said, 'Hey, how's business?' And Guy said, 'I'm selling,' so we just thought: Let's do it, let's buy it," said Jennifer Olsen.
The Subway shop, located at 324 N. Main Street in Kaysville, is now under the jurisdiction of the Olsens and they are serving their community the same way they did over 20 years ago: with food.
Seemingly out of a modern-day foodie fairy tale, Jordan Olsen says that upon seeing his now-wife at his job after a two-week road trip over two decades ago, he loved her the moment he set eyes on her.
"I looked over and I just saw her, and it was just love at first sight. It really was. I know it sounds super cheesy, super, super campy, but it's true," he said.
Jordan Olsen admits while he had strong feelings for Jennifer immediately, the couple bickered for some time after their initial meeting. And although it didn't start as perfectly, Jennifer says that eventually Jordan "won her over."
Since their marriage, the couple has made their way around, living in Colorado for a short time until their settlement in Clearfield about 14 years ago.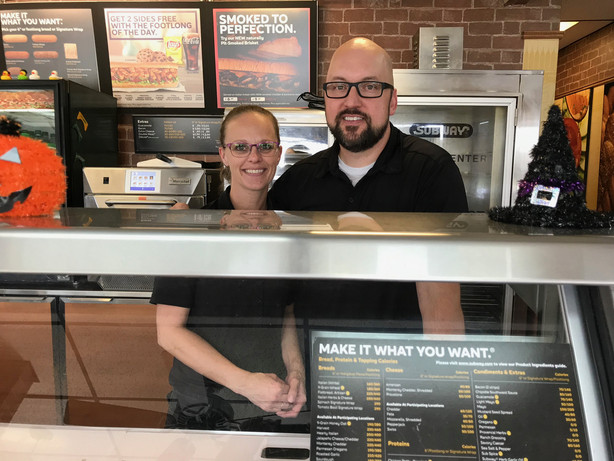 In addition to their newly purchased Subway store, the couple also founded On Chord Academy, a music instruction school based out of Layton, back in 2013. But Jordan Olsen says that they never strayed too far from thinking about the possibility of owning a sandwich shop.
"Jennifer and I have just always made sandwiches, and it's just kind of been funny that it's been a part of our life. With the opportunity to pick right back up where we left off 20 years ago, it just seemed right," Jordan Olsen said.
The Olsens are excited to be working back in the place where it all started, and even more so as they see old Subway regulars from when they were young.
"It's kind of unreal, and it's weird to own a place that you met and fell in love, but it's a cool thing to have," said Jennifer Olsen.
With their three daughters in tow, the Olsens are hoping to help their community by instilling great business practices and job opportunities for the kids in their neighborhood.
Jordan Olsen hopes to keep the same positive reputation for the shop as both Scott and Johnson did before them.
"I look forward to that next generation of kids in the Kaysville area who are looking for work and want to work in a good environment that kind of holds up the ideals of the community, with some employers that want to teach them how to work but to do it with a smile," he said. "That's how the previous owners taught us."
To celebrate their new acquisition, the Olsens are planning a grand reopening event on the week of Dec. 30 to Jan. 4, with various discounts and giveaways. On the last day of the celebration, they plan to have a buy-one-get-one offer on footlong subs.
The Olsens are hoping to get to see the old regulars they knew from their youth, as well as a few new faces from around their community.
"We hope people will stop in and say, 'Hi.' We really love this restaurant and love the food we serve," said Jordan Olsen. "If it has been a while since someone has been into Kaysville Subway, we hope they'll come in again and try some of our delicious food and meet our great team of friendly Sandwich Artists."
×
Photos