PROVO — Yoeli Childs has had enough.
By the nature of his nine-game suspension by the NCAA for receiving improper benefits in the wake of a paperwork mistake prior to the NBA draft, the 6-foot-8, 225-pound forward has had to sit out several big games in his senior season with the Cougars.
There was the return of San Diego State, the Aztecs' first trip to the Marriott Center since BYU left the Mountain West Conference in 2011. Add to it road trips to Houston and Boise State — Childs remembers both those programs well, from his earlier college days and before — and a visit to Maui, where BYU faced UCLA, Kansas and Virginia Tech.
It's been a tough road to watch for Childs.
But the Bingham High product wasn't going to miss one more game.
Not this time.
Not this game.
Childs will make his return to BYU's lineup when the Cougars travel to archrival Utah at 6 p.m. MST Wednesday in the Huntsman Center (Pac-12 Network, BYU Radio).
Because for the Bingham High product, there's no bigger game to take on for your first.
"That would've been a really tough one to sit out," said Childs, who was recruited by Oregon, Oregon State, Stanford and BYU, but most notably absent was Utah, in his prep days. "I'm really grateful for the opportunity, excited to be back with this group of guys, and excited to get back out on the court."
Only one thing matters, too.
"I just want to get a win. Nothing else matters," said Childs, who averaged 21.2 points, 9.7 rebounds and 2.1 assists per game as a junior. "I'm just going to go out as hard as I can to help my team. But all that matters is getting the win."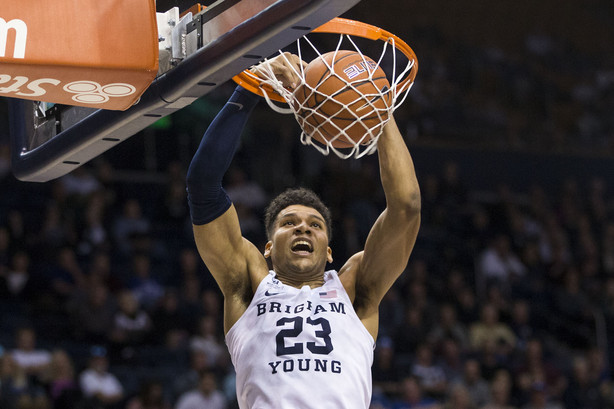 Childs will play his first game in the Huntsman Center since winning the then-Class 5A state championship with the Miners as a senior.
His new coach, Mark Pope, will be playing in Salt Lake City for the first time since coaching Utah Valley in an 87-80 loss to the Utes back on Dec. 6, 2016. And he, too, knows the value of the state's biggest rivalry.
"These rivalry games are the best thing," Pope said. "Everyone is on edge, tense, and if you lose the game, you hear about it for a year. It's just miserable.
"But if you win the game, you own the deal. It's awesome, and it's every bit the most fiercely competitive game you play all season. It's the most memorable game, and fans remember them, too."
Better to have his 6-foot-8 star who averaged 21.2 points, 9.7 rebounds and 2.1 assists per game as a junior, then, right?
"This Yoeli Childs is one of the most talented players in the country, and he brings an arsenal that's really, really important for us. In that sense, we're hoping to be better."
Of course, the Cougars (6-3) have done pretty well without Childs in the first nine games of the season. Jake Toolson (15.0 points per game) and TJ Haws (14.0 ppg) have led BYU to a strong start, including road wins over Houston and a pair of neutral-site wins over UCLA and Virginia Tech. It's made more impressive considering the losses of Childs, as well as forward Gavin Baxter (shoulder) and guard Jesse Wade (knee), who will both miss extended time — if not the season — with injuries.
The Cougars currently rank No. 60 in KenPom's predictive metrics, while the Utes are No. 125 at 5-2.
But none of that matters — previous games, records, rankings and so forth — on Wednesday night.
"This game is really important to both programs, and to all the fans," Toolson said. "Teams are really excited to play; we are, and I know they are.
"You can throw everything you think is going to happen out the window, and you've got to be ready to fight for 40 minutes."
And after nine games of waiting, Childs and the Cougars will be ready to fight.
×
Related Stories