PROVO — BYU basketball did something Wednesday night it's been waiting to accomplish. No, we're not talking about the season-high 17 3-pointers — a mark that ties an all-time program record for a single game.
Not the 90-77 win over Virginia Tech, although that is a first, by its very nature.
But for the first time since Mark Pope's first official game as head coach at BYU, the Cougars (5-3) outrebounded a Division I opponent. The Cougars' 29-28 edge on the glass against the Hokies was the first time BYU has won the rebounding battle since the season opener Nov. 6 against Cal State Fullerton.
It's also the biggest game-ending rebounding advantage of the season.
That just might have caused the first-year BYU head coach to drink — a side of nonalcoholic, honor code-approved beverages, that is, while taking his wife and daughters for a midnight swim in Maui.
At the very least, he audibly yelped during the postgame show on BYU Radio.
"What is happening?" Pope exclaimed. "That is so fantastic."
There were plenty of BYU fans — several in the 2,400-seat Lahaina Civic Center on the island and hundreds more back on the mainland — who likely had a similar reaction.
Much of the excitement can be traced to Jake Toolson, the senior who didn't have his best scoring night but was instrumental in the Cougars' win. The Utah Valley graduate transfer scored just 11 points, but he stuffed the stat sheet with eight assists and a team-high seven rebounds. Zac Seljaas added six rebounds, and Dalton Nixon, Kolby Lee and Connor Harding each added three more.
"That Jake Toolson; can you say enough?" Pope said of his veteran mentee who nearly flirted with a triple-double. "We talk about trusting the team, and there is nothing he can't do on the basketball court. Every single stat and his defense was outstanding tonight.
"What a player he is."
Toolson and Harding were also the key spark plugs behind holding Landers Nolley II, who had 15 points at halftime for the Hokies (6-2) to just seven after the break.
"Brigham Young has a very good basketball team with a heck of a coach. I think a lot of Mark," said Virginia Tech coach Mike Young, the first-year Hokie head man who spent a generation at Wofford. "What they do offensively is difficult, and I was worried about some coverages — and I thought we did a fair job. Nine first-half threes is embarrassing, but I thought we did a fair job in certain sequences of the half.
"In the second half, they played like old people and we played like little fellas, and they got the best of us."
Like all games, there were plenty of areas where the Cougars could improve. BYU shot a scintillating 57.1 percent (8-of-14) from 3-point range in the second half but made two more threes (17) than two-point field goals (15) on the game.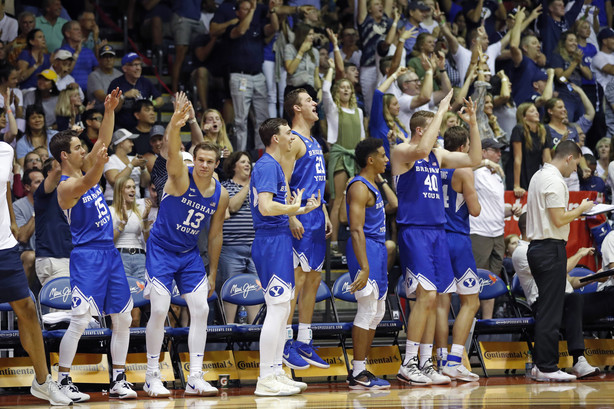 Six turnovers can be cleaned up, but the Cougars had 22 assists to go along with it — a remarkable 3.7 assists-to-turnover ratio that would win a lot of games. Sure, they only had three steals and capitalized on just four points off eight Virginia Tech turnovers — but BYU also limited the Hokies to one single steal in an otherwise well-guarded evening.
The experts can decide if this was the most complete performance by the BYU basketball team all year, with a slate that already includes wins over Houston, UCLA and Virginia Tech away from the Marriott Center.
Maybe the distinction doesn't matter for BYU, which is one game Saturday against NAIA Montana Tech (1 p.m. MST, BYUtv) away from getting back an eligible Yoeli Childs from his NCAA-mandated suspension.
Everything BYU is doing — the 5-3 start, the 3-point shooting, the newly-found rebounding margin — is being done with a skeleton crew as Childs, Gavin Baxter (shoulder) and Jesse Wade (knee) all sit on the bench.
The Cougars aren't just surviving; they're thriving.
"It's like Coach Pope always says, it's learning," Seljaas said. "Every game, you learn and you grow and you become better each day. And it's most important you don't lose two in a row. You keep learning from it and you just go harder the next game."
Just 24 hours after a gut-punching 71-56 loss to No. 4 Kansas — the same Jayhawks team that went on to beat Dayton in the tournament final, that is — the Cougars turned around and left Hawaii with their second win over a Power-Five conference opponent.
"Last night, it was hard to lose, but I thought our guys did a really great job of throwing that loss away, moving on," Haws said, "because we needed to win this game. I thought our guys were really ready to go tonight, and that was huge."
×
Related Links
Related Stories