Estimated read time: 3-4 minutes
This archived news story is available only for your personal, non-commercial use. Information in the story may be outdated or superseded by additional information. Reading or replaying the story in its archived form does not constitute a republication of the story.
BOUNTIFUL — Bountiful City Mayor Randy Lewis voted yes late Tuesday night to break a tie over the controversial Trails Master Plan despite heavy opposition from homeowners whose properties are included in the plan.
"It's just precious private property," long-time resident Mark Rinehart said as he walked with his neighbors into the canyon that would be impacted if homeowners agreed to it.
"It means a lot to us," he said.
Rinehart and his neighbors' yards back into the canyon, which is covered in trees, brush and wildlife. They said it just won't be the same with a paved public path running through it.
"Well it's home for us," Colleen Eggett said. "What about the birds? What about the animals?"
Rinehart and others were also disappointed with the way city officials went about proposing the plan.
"We haven't seen any details. All we have is a dotted line on a map so far," said Rinehart.
The Bountiful Trails Master Plan would bring more than 13 miles of biking and hiking trails to the city at an estimated cost of $5.1 million. Residents at Tuesday's city council meeting, including Rinehart, supported most of the planned trails. But one trail, in particular, stood out above the rest.
"When you are going to do an urban trail like we're doing here in Bountiful, it's going to affect some lives," Lewis said. Though he admitted, "If I lived on this ravine, with these homes, I don't know that I would feel a lot differently than they're feeling."
Most of the debate surrounded the Creekside Trail, a 4.5 mile paved and unpaved path that would cost an estimated $2.4 million and run through dozens of homeowners' backyards.
"We're not taking anyone's property," Lewis assured residents at the meeting. "From my standpoint, I think their lives will change for the better."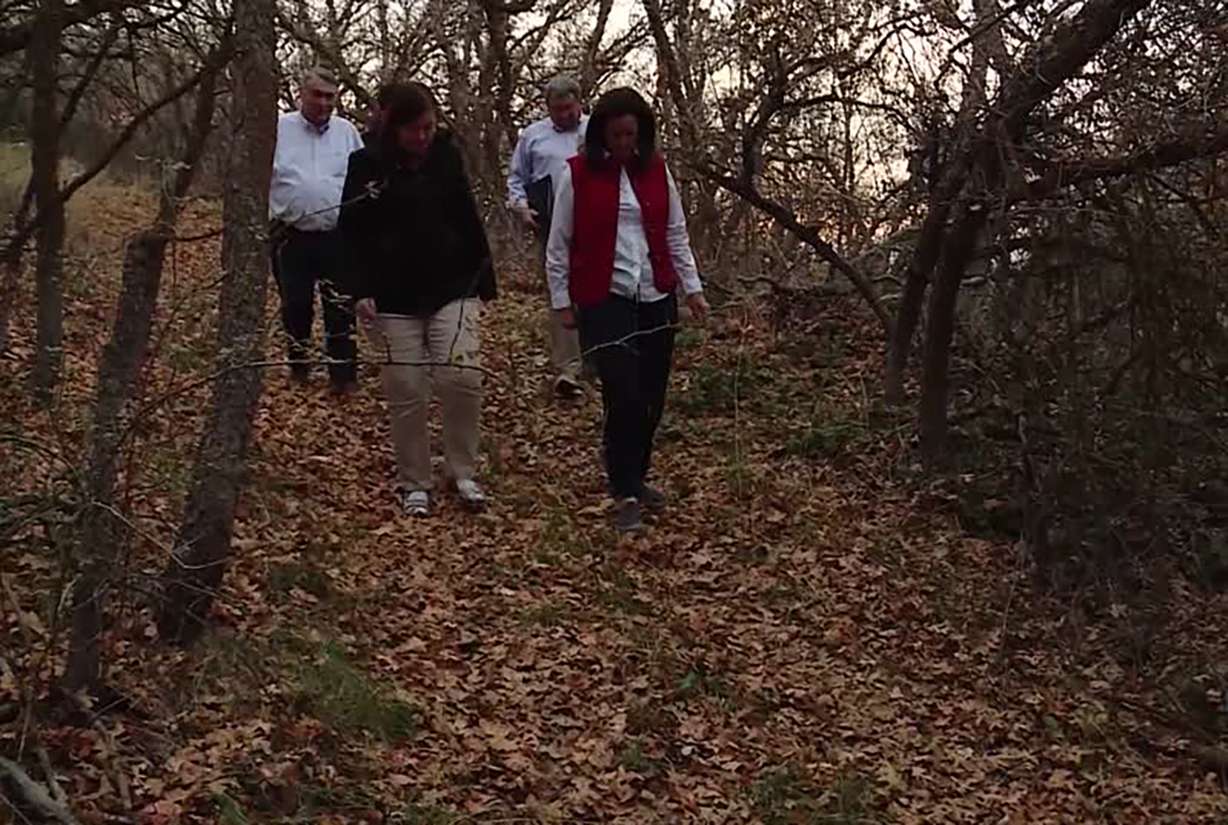 The city would need permission from the individual homeowners before they could begin constructing a trail on their property. Still, Lewis wanted to keep the trail in the plan — if not for now, then to give future generations the opportunity to put it into place.
"That's the reason we have it in there," Lewis said. "People change. Times change. Why not have a vision? Why not go for the ideal?"
But the nature that already fills the canyon is the ideal for many of these neighbors and they don't believe that will change in the future.
"My children will inherit this," said resident Kimberly Fadden. "My grandchildren inherit this."
"If it were public land, it would be a wonderful place for recreation," Rinehart said. But, he added, "it's as much our private land as that front yard over there."
He and many others who packed the city council meeting have no intention of ever giving up part of their portion of the canyon to the city.
"I trust that our city council will understand that," he said.
But near the end of Tuesday's more than three-hour meeting, the city council was at a draw. Two members for the plan, two against. At around 10:15 p.m., Lewis gave concluding remarks and finally broke the tie with an expected yes vote.
×
Photos
Most recent Utah stories