Editor's note: This is part of a series at KSL.com featuring some of Utah's coolest cars. If you own a customized vehicle — from sports cars to semitrucks — email jormond@deseretdigital.com with a photo of the vehicle and a brief description for consideration.LOGAN — If someone asked you to name a car made famous by a movie, there's a good chance you'd answer with the DeLorean from "Back to the Future." Kendall Call said he's wanted one since the movie debuted in 1985 when he was in fifth grade — but we're taking his word for it because we can't actually go back in time and witness his trip to Universal Studios.
If you could set your time circuits for 2008, you'd see when Call finally made his move on the 1983 model. He found one on KSL Cars, but then drove slower than 88 mph to get to it and found it sold before he arrived. He later found one in the Midwest and had it shipped to a hub in Salt Lake City, then drove it home to Elk Ridge, in Utah County.
Not wanting the poorly-timed breakdowns Marty McFly and Doc Brown had to put up with (remember the flux capacitor only powered the time travel, not the car's self-propulsion), he got vacuum issues, injectors and a blown head gasket fixed. Most of this had to be done out of state by DeLorean specialists; the cars came from the Irish factory with a PRV (Peugeot, Renault, Volvo) V-6 engine.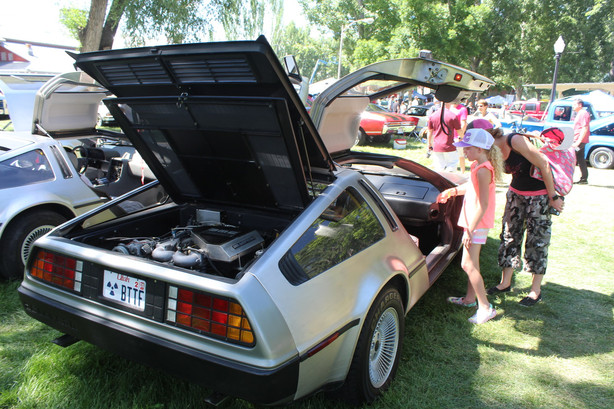 Next up was getting the flux capacitor going. Call found an authentic reproduction out of Texas, but he lacks a Mr. Fusion so he's not making any time jumps until he finds a source for 1.21 gigawatts of electricity.
He's traveled all over to find authentic accessories like a hoverboard, self-drying jacket, and the proper model of JVC camcorder Marty used to record the first time-travel trip. Call displays these items and plays a series of movie quotes when he shows DMC-12 at car shows.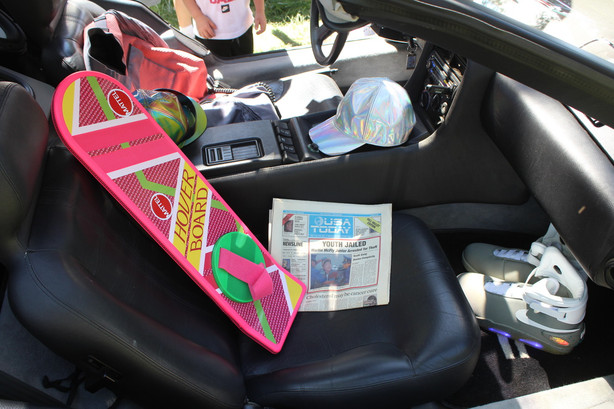 Call said the reactions he gets are amazing. When trailering the DeLorean to a show in Wyoming, his wife witnessed people driving all around it: some hid their cellphone cameras as they snapped, others hung out their windows. Call said the car brings people to life, and there is never a time he goes out and people don't flash their lights or honk their horn at it.
Call estimates he has invested between $35 thousand and $40 thousand in the car, and he's not upside-down. He credits the movie with the car's sustained value since it can't compete with Corvettes and Lotuses of its day.
The car and his accessories serve as ice-breakers at Call's job at a middle school, and he's set for Halloween every year. His next project is KITT from the "Knight Rider" series. He's working on an interactive program where the sampled voice of KITT talks to people.
More Cool Cars:
---
×
Photos
Related Stories