LEHI — A man who was severely injured by the terrorist bombings in Brussels in 2016 found healing after he returned to the site three years later.
A collection of photos helped Richard Norby to feel what he felt as he returned to that airport this summer. It's where his life was suddenly altered while serving with his wife Pam as senior missionaries for The Church of Jesus Christ of Latter-day Saints.​
On March 22, 2016, three terrorists detonated bombs not far from where Richard was helping a young missionary catch her flight. Thirty-two people were killed, and he was among 62 critically injured.​
"God knew who I was and where I was and what had happened and what I was feeling," Richard said.​
Doctors put him into a medically induced coma due to burns over half of his body and a severe injury to his leg.​
"I can walk, I can't dance, but I can do lots of things," he added.​
After four weeks, he was flown home to Utah. However, he never had that chance to thank his Belgian caregivers — until this summer.​
"For them to see me as a representation of all their patients they helped, it wasn't just me, I think we were trying to represent all patients," Richard said.​
It was a joyous reunion for Pam as well after the many days she sat at Richard's bedside.​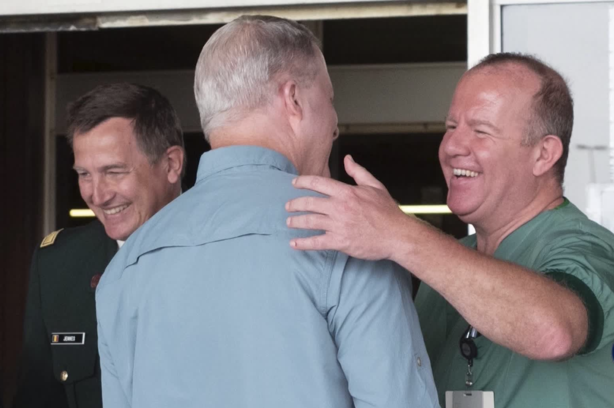 "I think going back and visiting with the doctors and the doctors and the nurses who attended Richard, they became part of our family," she said. "They were amazing."
Security teams also welcomed Richard and Pam to the scene of the bombing in the Brussels airport.​
"It was a somber occasion, and we just walked and were very quiet," Richard said. "Passengers, and checking in, and we were by ourselves in a sense because we were looking at the airport with a different set of eyes."
The Norbys said they are finding healing after the 3½-year journey.
"We are all wounded in one way or another," Richard said. "It doesn't have to be in an airport. It can be in an accident, or disease, or senility. Whatever it might be, I want to give gratitude for everything that I have experienced. I want to give, give give."
Related:
It's that spirit of gratitude that they said will help them to continue to heal.​
"I think there was another level of gratitude to be able to go back, to thank God, to thank doctors, to thank airport staff, to thank family, that we as a family made it through this," Richard said.​
Richard is finally through with regular doctor checkups on his injuries. The Norbys also keep in touch with the other missionaries who were hurt that day.​
Richard and Pam said they are spending their time with family, helping in the community, and enjoying all of the good things that come with retirement.​
×
Photos
Related Stories