Estimated read time: 3-4 minutes
This archived news story is available only for your personal, non-commercial use. Information in the story may be outdated or superseded by additional information. Reading or replaying the story in its archived form does not constitute a republication of the story.
Editor's note: This is part of a series at KSL.com featuring some of Utah's coolest cars. If you own a customized vehicle — from sports cars to semitrucks — email jormond@deseretdigital.com with a photo of the vehicle and a brief description for consideration.
SALT LAKE CITY – Restoring a truck that could qualify for a senior citizen discount is no small task. For Ed and Preston G., their 1954 Chevy 3100 pickup has been a labor of love from the beginning.
The Chevy was restored recently by father and son Ed and Preston, who asked that we not use their last name in our story. The original owner was actually Ed's father-in-law, who gifted the old pickup to his daughter and new son-in-law when Ed and his wife were married. The truck was used for the majority of its life in the Ready-Mix plant in Idaho as an errand runner and delivery truck.
After owning the truck for years, Ed and Preston started the task of restoring the pickup when Preston was 12 years old. The bodywork and fabrication were all done by Ed, with Preston lending a hand with a wrench or a screwdriver wherever he could.
"In 2004, we started by pulling the engine using our swing-set in our backyard and got it rebuilt," Preston said. "In 2005, we fully restored the interior."
The project didn't stop there.
"In 2014, what started as a fairly straight forward weld repair to fix the two quarter panels, which had rusted out, turned into a full exterior restoration. We took all the fenders off, the bed off, the front end came off and hood," Preston continued. "Everything underneath was painted with weatherproof paint. He replaced the leaf springs, added airbag suspension on the rear axle, replaced both bumpers, added a hitch, digital reproduction radio, anti-sway bar, wiring harness and a full hardwood bed."
The truck still has its original inline six-cylinder engine paired with the rare four-speed transmission. According to Preston, "The only upgrade we've added was a suburban axle and driveline. We changed the rear-diff (rear differential mechanism) to be able to drive it on the freeway at 65 mph."
When it came time to paint it, the choice of color was made by Preston's mother, Barbara. The beautiful teal paintwork makes the truck one that has to be seen in person in order to fully appreciate.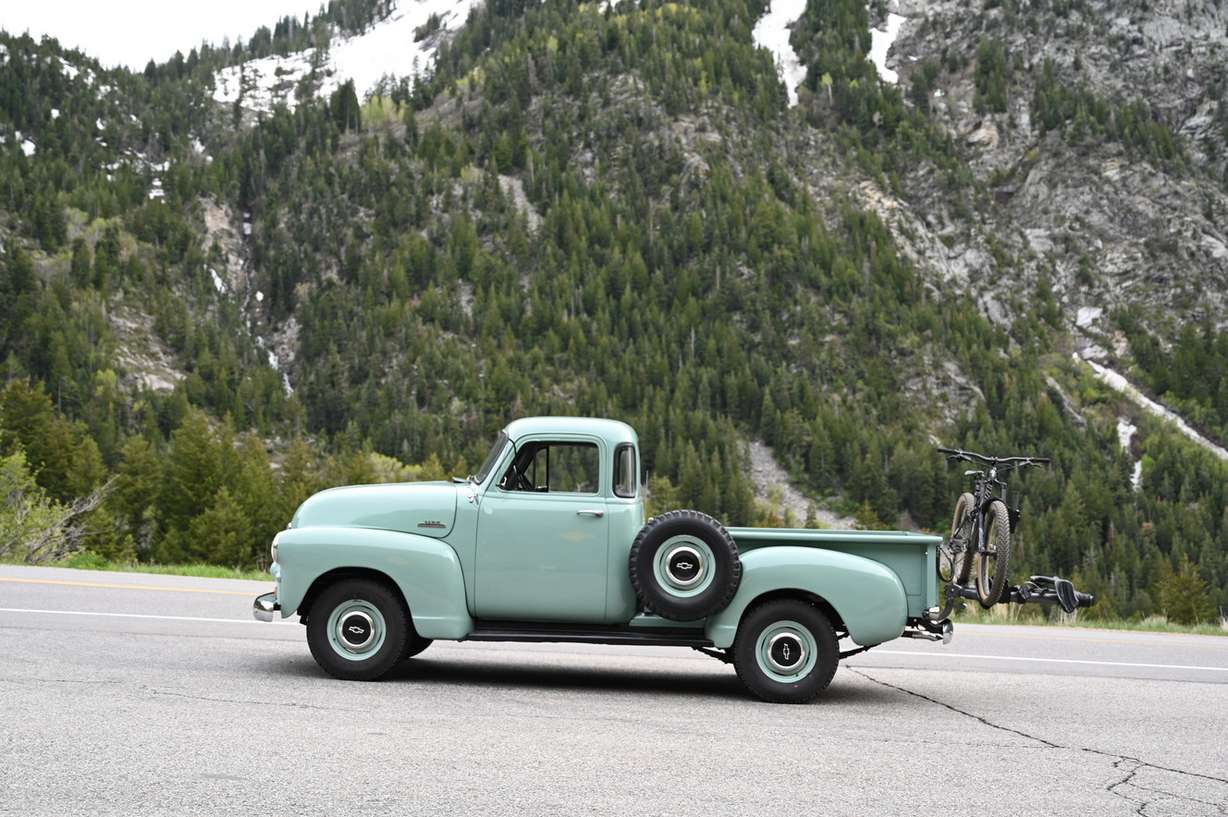 During the restoration process, Preston actually drove the old Chevy pickup to high school in Holladay — but only during the warmer months because the truck's heater didn't work very well.
Now a graduate of the University of Utah and currently working on his master's degree in economics, Preston utilizes the modern hitch in the rear for a bike rack. Being an avid mountain biker, he and his wife occasionally use the truck as a bike shuttle vehicle.
After years of hard work and determination to get it finished, the truck is finally where Ed and Preston want it. When asked if there was anything left to do, Preston said, "All that's left now is a new heater."
More Cool Cars:
---
×
Photos
Related stories
Most recent Lifestyle stories