Editor's note:This article is a part of a series reviewing Utah and U.S. history for KSL.com's Historic section.
SALT LAKE CITY — Ninety years ago, as the Wall Street stock market began to crack, a five-day stretch made it crumble into pieces. While the significant downfall began on Oct. 24, 1929, it's Oct. 29, 1929, that stands out in history. It's forever known as "Black Tuesday."
That five-day downfall and "Black Tuesday" is now recognized as the unceremonious gateway into The Great Depression; however, old newspapers show this wasn't the only thing on Utahn's minds at the time and it's likely few knew what was ahead.
Here's a look into how Utahns reacted at the time:
A refresher on what caused the crash
You probably know this story from school. The "roaring" 1920s were a revolution of wild stock market expansion, but its growth came from even wilder speculation. As History.com points out, the stock market grew six times from 1921 through Sept. 3, 1929 — when the market hit its peak.
However, many were buying stocks on margin. They were essentially taking out a loan to buy a stock, which can be profitable but is also risky. According to Encyclopedia Britannica, people were selling their Liberty Bonds and mortgaging their homes, collectively pumping billions of dollars into the market as everyone seemingly wanted a piece of this historic market climb. This speculation continued even as the market began to slow down later into September and into October 1929.
It finally snapped in mid-October of that year with the worst stretch beginning on Oct. 24 and continuing until Oct. 29. That was followed by a regressed economy that plagued the 1930s.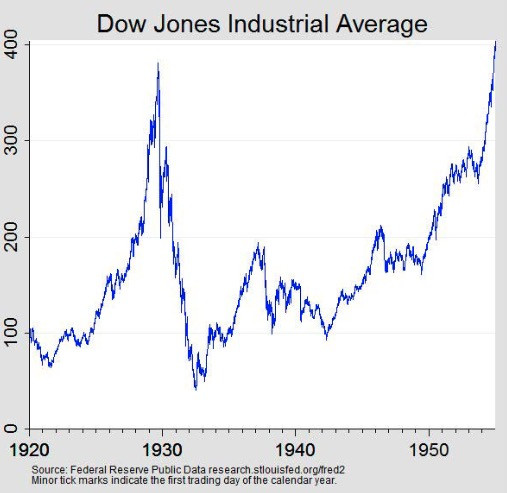 How the news was delivered
It's important to remember this collapse — while a front-page story — carried even more significance later in history. Therefore, it's no surprise there were other happenings at the time that also snagged attention during this time period.
For example, the top story of the Provo Evening Herald on Oct. 25, 1929, wasn't the stock market beginning to collapse, it was about a jury finding Albert Fall, the former U.S. Secretary of the Interior, guilty of bribery for his role in the infamous Teapot Dome Scandal. That same day, The Salt Lake Telegram ran a story about federal prohibition law enforcement officers who were threatened by bootleggers in Utah.
Much like 2019, a cold wave and snowstorm struck much of the Wasatch Front in late October 90 years ago. There was a missing plane in New Mexico that caught top headlines in multiple newspapers; that had a happy ending as the plane was later located and all five occupants were safe.
College football was also on the minds of many Utahns. A front-page headline in a Nov. 1, 1929, edition of the Deseret News stated that the University of Utah were four-touchdown favorites in a rivalry game against BYU — although news of the stock market also landed on the front page that day.
The real focus on what was happening on Wall Street appeared to come around "Black Tuesday." At least, that's when newspapers started making it top story news.
The Deseret News on Oct. 29, 1929, proclaimed the crash was "practically universal" by that point. An archived version of the Salt Lake Telegram from that day was a little more unfortunate in hindsight. In big bold letters, the headline read, "Stock market rallies: Recovery during last 3 minutes of trading sends prices upward."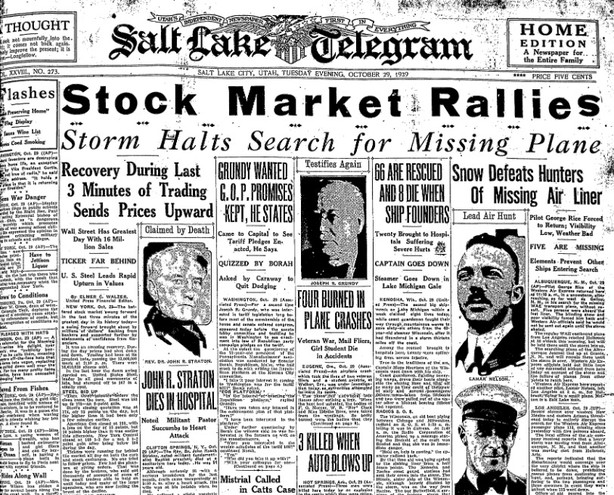 The article, a wire story from the United Press Financial Editor, stated: "The battered stock market swung forward in the last three minutes of the greatest day in its history today — a swing forward brought about by millions of dollars backing from bankers and supported further by statements of confidence from financiers. It was an amazing recovery."
While the wire story framed a record 16 million stocks being sold that day positively, History.com notes billions of dollars were lost that day. There was a brief spike in the middle of the fall, but in all the entire market fell about 25% between Oct. 28 and Oct. 29, 1929, alone.
A wire article that ran in the newspaper's Oct. 30 edition noted that 37 companies in the New York market had vanished over the course of a month. "Specialists in the stock, it was explained, received selling orders in the stocks, but could find no bids and refused to open them rather than sell for unusually low prices," the article read.
We now know what happened next, but it's clear people across Utah and elsewhere weren't aware that the U.S. — and other countries across the world — was headed toward a decade of despair. They also probably didn't realize the impact Utah would also face.
Gross income from Utah farming dropped 60% from 1929 to 1933, according to Utah History Encyclopedia. The state's annual per capita income dropped in half by 1932 and in 1933, Utah's unemployment rate reached 35.8% — fourth-highest in the nation at the time.
Looking back at these newspapers from 1929 shows us that monumental moments in history — such as this collapse — aren't always immediately clear. There were plenty of big stories happening at the same time that faded with history. The hope, however, is always that we learn from the market mistakes of 1929 so they don't happen again.
×