This archived news story is available only for your personal, non-commercial use. Information in the story may be outdated or superseded by additional information. Reading or replaying the story in its archived form does not constitute a republication of the story.
SALT LAKE CITY — Two organizations tasked with solving future transportation needs for Utah's fast-growing Point of Mountain area have zeroed in on a pair of key projects for the region that would extend freeway access and public transportation.
But, how will those projects be paid for?
That was the focus of a Point of the Mountain Development Commission meeting Monday, where employees from Zions Public Finance and Envision Utah told the Point of the Mountain Development Commission that close to $2.5 billion would be needed to fund projects to turn the Mountain View Corridor into a freeway that connects from I-80 to Saratoga Springs and to expand TRAX service into Lehi. That price tag applies, they also acknowledged, if the projects were conducted in the next couple of years instead of two decades, which is when both projects are currently projected to happen.
Monday's meeting was part of "Phase Three" of the commission's work to examine the future of southern Salt Lake and northern Utah counties. The phase is set to determine how to fund future projects in the coming decades.
Cost for new projects
In a presentation to the committee, top leaders of Envision Utah and Zions Public Finance each suggested that the state look into federal funding before other alternate payment plans. It was added during the meeting that any federal funding would likely be outside of the Transportation Infrastructure Finance and Innovation Act.
Funding for those projects could otherwise come from various tax methods, bonds or user fees. That's not to say any of the options presented will happen, but they are options available to the state.
Regarding the Mountain View Corridor project, Jon Bronson, managing director of Zions Public Finance, started by looking at the normal way the state finances similar projects, which is through Utah General Obligation Bonds. If the state went that route, he said the state's debt would start at about $28.2 million per year in 2022 and hit a maximum of $112.9 million per year by 2028 until roughly $1.3 billion is paid under this plan — given that funding the project began in 2021.
The Zions Public Finance team came up with those numbers if the bonds — issued four times — would be all be at 3.5% interest over the course of 15 years. Given the current interest rates for bonds, he called 3.5% a "very conservative rate."
Other ideas included an increase of gasoline tax, where $69 million per year could be generated for every 1/2-cent increase, according to Bronson. "That alone would support about $800 million worth of bonds," he said.
Related:
To pay for it, one potential option centers around vehicle miles traveled, where a driver is charged based on the miles of the highway traveled. That's a system Oregon has pioneered, Bronson continued. The organization tabbed in numbers if motorists were charged 1/2-cent per mile to come up with how much the state would generate, whereas Oregon's current rate is 1.7 cents per mile.
"The 1/2-cent would produce approximately $157 million a year, and that can produce $1.8 billion worth in (government obligation) bonds and do all your project based upon that," he said. "If you implemented over three times that, which Oregon has been toying with, obviously you could do much more than is needed."
Four other potential options include: creating a statewide property tax at $10 per homeowner would generate about $15.6 million per year; eliminating the sales tax exemption from fossil fuels used for heating would generate $44.1 million per year; axing the sales tax exemption for vehicle trade-ins would generate $69.6 million; and cutting the sales tax exemption for the sale of motor fuel would bring the state anywhere from $200 million to $275 million per year, Bronson said.
In its presentation, Envision Utah wrote that it would cost "in the range of $1 billion," assuming that the project began in 2022 and took three years to complete. However, the TRAX extension isn't expected until the 2040s. Ari Bruening, president of Envision Utah, added that an alternative analysis study of the extension is expected to be completed next year.
"The major challenge here is there really is no money in the budget for (public) transit, so it's different from the Mountain View Corridor where there are projects before and after it," added Robert Grow, chief executive director of Envision Utah. "The issue with transit in the state is we have a bucket that was created by the Legislature to collect funds — and (there's) a little bit in it, but nowhere near enough for a project of this magnitude."
So how could it be paid for? Using bonds at the same projected rate, Bronson said state debt would be $36.8 million per year beginning in 2023 and jump to $73.6 million per year by 2025. To find new revenues, local funding could come from Transportation Reinvestment Zones, which are areas created by multiple governmental entities that can do transportation-related funding and "capture both property tax increment as well as sales tax increment within that area," he explained.
Using that path, the state would collect about $14.2 million per year in 2025 and jump to more than $35 million in 2030. Other funding could come from sales tax increases in Salt Lake and Utah counties. A 0.25% increase in those taxes would result in about $91 million per year. Other aforementioned statewide taxes could also be used to generate money for the project, Bronson said.
After the presentation concluded, Salt Lake County Mayor Jenny Wilson said she was hesitant in tolling every road or taxing rural Utahns for a project that affects Salt Lake and Utah counties. She also suggested the possibility of submitting an infrastructure bill to Congress in hopes of receiving federal funding.
"The game has changed and the ticket and the cost is going up, yet — ideally with this growth — we're going to see economic expansion," she said. "Whether it be a combination of federal (funds), gas tax, tolls, etc., I would encourage the Legislature to help UDOT go through that process … or if the work's been done, better educate us as to where we are."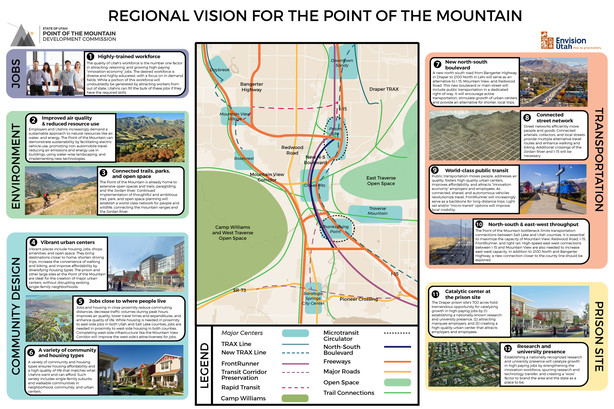 A need for the new projects
The two projects were determined after looking into dozens of other potential options to improve traffic flow as the state's population is expected to continue to double in the next few decades.
As Bruening pointed out, there is already an imbalance of where people live and where they work. Most of the jobs in the Point of the Mountain area are found along I-15, while most residents live in the western parts away from the freeway. Therefore, people are commuting in similar patterns and it creates traffic problems.
A section of the Mountain View Corridor that extended it to Saratoga Springs opened on Saturday and UDOT is currently working to extend the highway to I-80, a job that's expected to be completed in the next few years. Work to turn it into a freeway isn't expected to start until at least 2030.
During Monday's meeting, Envision Utah leaders also suggested to possibly move up the freeway project timeline before the additional land needed to convert the highway into a freeway and the land needed for more business is scooped up for housing only.
"Mountain View is still the best hope for a major western corridor that connects the west side of these valleys together that will really have (businesses)," Grow added. "We need a place to put jobs over the next 50 years, up and down the Wasatch Front."
Jonathan Francom, vice president of employee and workplace solutions for Adobe and a member of the committee, pointed out there is a strong need for alternate forms of transportation to ease traffic congestion, which is where the TRAX plan comes into play. He said expanding TRAX would help give an alternate transportation option to commuters in the east part of the area.
As it stands, the line that would be extended ends near 12300 South in Draper. There is also FrontRunner, which has its line cutting through on the west side of I-15 in the region.
"We would welcome that because of the congestion we already see on I-15," Francom said. "We do need other options. We located to the Point of the Mountain with the anticipation of that coming sooner than later … I just hope we can accelerate this as fast as possible."
×
Photos
Related Stories