SARATOGA SPRINGS — A new nearly 3-mile section of Mountain View Corridor that connects from 2100 North in Lehi to state Route 73 and Pioneer Crossing in Saratoga Springs is set to open Saturday, which will extend the highway from Saratoga Springs to West Valley City.
The section ceremoniously opens at 10 a.m. but traffic won't be allowed until 3 p.m. It includes two-lane frontage roads in each direction, a 6-foot sidewalk on each side, a 10-foot trail on the west side and a pedestrian and bike underpass at Redwood Road and 2100 North. It also includes bike boxes in the area of the underpass as well as new intersection connections at SR-73 and Saratoga Springs and 2100 North and Redwood Road in Lehi, according to Utah Department of Transportation officials.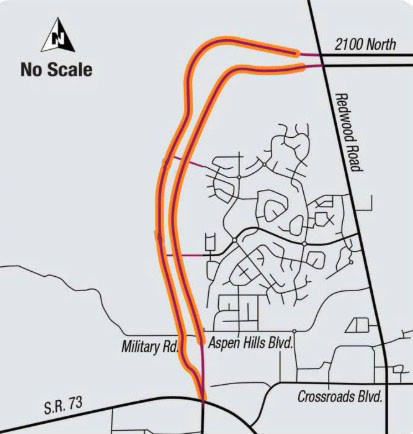 The project was initially slated to be completed in July, according to the agency's website. It's also not the only planned extension for the corridor. Earlier this year, UDOT named its plan to extend the highway from 4100 South to state Route 201 as its top project. The $335 million extension is expected to be completed in 2021 and includes 13 new bridges.
Meanwhile, construction-related closures have already begun on three of Utah's freeways:
The eastbound I-80 exit to SR-201 near Magna was closed late Friday morning. It will remain closed over the weekend until 5 a.m. Monday while UDOT crews work on the I-80 ramp bridge over the railroad tracks in the area.
Southbound I-15 will be closed in Roy for two nights beginning Friday at 10 p.m. to allow crews to work on an irrigation project in the area. Traffic will be detoured to Riverdale Road via I-84 and 1900 West and then re-enter the freeway at 5600 South during the closure. It will reopen at 8 a.m. Saturday before closing again at 10 p.m. Saturday. The freeway will reopen again at 9 a.m. Sunday.
The exit from I-215 east belt to eastbound I-80 near Parleys Canyon will be closed for four nights beginning at 9:30 p.m. Sunday as crews work to replace an electronic sign on I-80 at the mouth of the canyon, UDOT officials said. The exit will be closed on four nights through Wednesday, reopening at 4:30 a.m. during the following mornings.
×
Related Stories