Estimated read time: 3-4 minutes
This archived news story is available only for your personal, non-commercial use. Information in the story may be outdated or superseded by additional information. Reading or replaying the story in its archived form does not constitute a republication of the story.
SALT LAKE CITY — Here are 10 stories you may have missed over the weekend. As always, click on the headline to read the full story.
1. Trump says US forces cornered IS leader in dead-end tunnel
Abu Bakr al-Baghdadi , the shadowy leader of the Islamic State group who presided over its global jihad and became arguably the world's most wanted man, died after U.S. special operators cornered him during a raid in Syria, President Donald Trump said Sunday.
2. Professor's elaborate Halloween decor transforms Utah home
A Utah college professor has completed a massive project decorating the exterior of his house in an elaborate Halloween tribute to Disneyland's Haunted Mansion and the "Nightmare Before Christmas."
3. Utah lawmaker unveils draft bill to seek $35M for affordable housing
After the Utah Legislature gutted an affordable housing bill of its $24 million fiscal note, a new bill has been drafted to secure that money next year.
4. US deficit hits nearly $1 trillion. When will it matter?
The Trump administration reported a river of red ink Friday.
The federal deficit for the 2019 budget year surged 26% from 2018 to $984.4 billion — its highest point in seven years. The gap is widely expected to top $1 trillion in the current budget year and likely remain there for the next decade.
5. North Salt Lake police investigating woman's death; son arrested after posting live videos online
A man has been arrested for investigation of murder after police responded to what was reported as a possible suicide at a North Salt Lake apartment Saturday — and after the man posted several live videos on Facebook.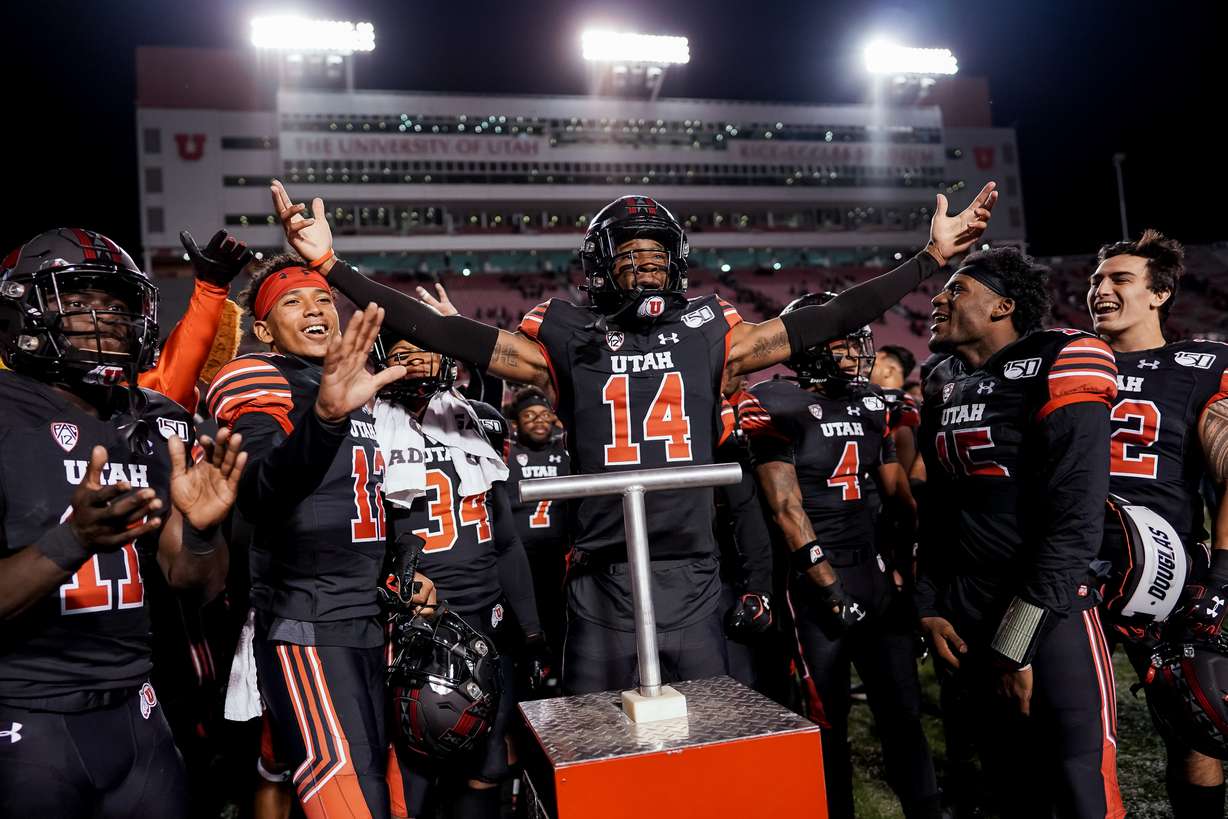 Sports
1. No. 12 Utah dismantles Cal 35-0 in dominant win
Even without his normal mobility, Huntley led his team to a 35-0 win over the Golden Bears — Utah's first-ever shutout in Pac-12 play — and to improve to 7-1, 4-1 on the season.
2. Utah Jazz's offense comes alive in blowout win over Sacramento Kings
The game was less than five minutes old and the crowd had already reached its peak level.
3. Jackson, Remsberg power Air Force past Utah State 31-7
Timothy Jackson ran for 148 yards and a touchdown, Kadin Remsberg added a pair of scoring runs and Air Force shut down Utah State 31-7 on Saturday night.
4. Addie Gardner's goal helps American Fork girls soccer finally get that repeat 6A title over Davis
Addie Gardner scored the lone goal of the match on an injured ankle, and the Cavemen rode the defense to Haven Empey's ninth shutout of the year to clinch American Fork's second Class 6A state title in three years with a 1-0 win over Davis at Rio Tinto Stadium.
5. Olson's OT strike lifts Manti girls soccer to first-ever 3A state title, 1-0 over Judge Memorial
Megan Olson scored the game-winning goal in the second period of extra time, and Manti won its first state title in program history with a 1-0 win over Judge Memorial in the 3A state title match at Rio Tinto Stadium.
×
Most recent Utah stories