SANDY — Manti has been playing girls soccer since 2007 when the Templars finished 10-3-4 before a Class 2A state quarterfinal loss.
But there has never been a mention of Manti in the UHSAA girls soccer state record book.
In those dozen years, the Templars have never been closer to reaching their goal of a state championship than they were Saturday afternoon.
They were even within one length of a ridiculous shot by senior Megan Olson.
This one's for you, Manti coach Eleshia Steinfeldt.
Olson scored the game-winning goal in the second period of extra time, and Manti won its first state title in program history with a 1-0 win over Judge Memorial in the 3A state title match at Rio Tinto Stadium.
"This is a dream come true," Olson said. "We've been working for this forever, coach has been working for this forever. It's unbelievable.
"Coach has made such a good program out of everything, and taught us how to make amazing girls and players and teammates. We did it all as a team."
Olson's classmates have been playing together since fourth grade. When they entered high school, they would write "Rio Tinto, here we come!" in each other's yearbooks. They finally got to that pitch as seniors.
But Saturday's match wasn't just about the current Templars or the seniors on the team. It was for the previous Templars, the girls who played for Steinfeldt before and the ones that will play at Manti after.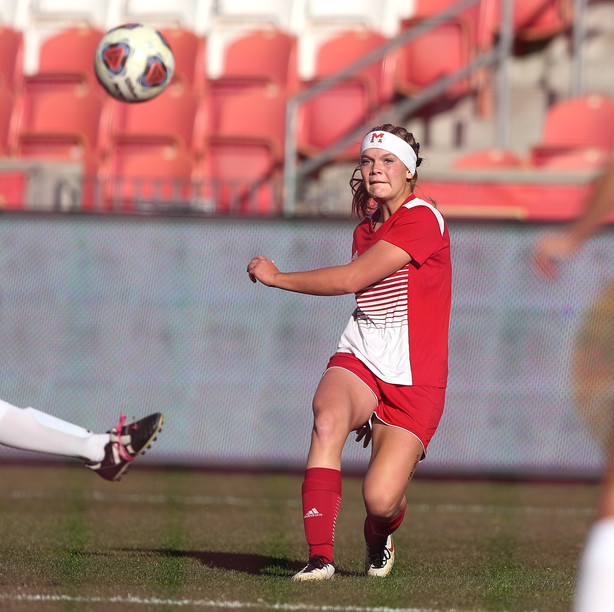 Saturday was a defining moment for an entire generation.
"It's not just this team," Steinfeldt said. "These are all my girls, too; this is 14 years. To have your girls and your girls here is pretty amazing. This is something we've all wanted to do for so long."
After finishing no further than the state semifinals for a dozen years, the Templars (17-1-2) finally broke through this season, topping Juab in Thursday's semifinal to set up a matchup with Judge Memorial — a team playing in its third-straight championship match.
And for a while, the Bulldogs (15-4) came so close to taking the win — including a shot that caromed off Manti goalkeeper Katie Larsen and into the near post in the second half.
Judge Memorial nearly won the match three times near the end of the second half, but Larsen's heroics and a stunning performance by a back line led by senior Nicole Nelson kept match scoreless.
Then, in extra time, the Templars found something — whether a second wind, a divine gift, or simply a little more heart.
"It just comes down to heart. These girls have wanted this since they were in fourth grade. When you've battled that long and all you have to do is get one more goal, there's a little extra fire.
"They decided they had made it this far, and they were not going to go to penalty kicks. They said it in the huddle: 'We're not going to kicks.'"
Manti forced Judge Memorial into four saves through 20 minutes, but couldn't break through until a 5-foot-4-inch midfielder spun around near the corner of the 18-yard box and fired a laser beam that skimmed under the crossbar and inside the far post for the golden goal.
"That's the goal that dreams are made of," Steinfeldt said of Olson's goal. "That's what you dream about at night, right? She's been great for us all year long, and she's one of those kids who just battled. She got knocked around, came out limping, and she just kept fighting. She's got heart, she's got guts — but that was Manti soccer. Nobody goes alone, you work hard, and if you get beat, you're going to recover.
"We're going to fight and battle through 80 minutes, and we did for a heck of a lot more than 80 minutes."
×
Photos
Related Stories