Estimated read time: 6-7 minutes
This archived news story is available only for your personal, non-commercial use. Information in the story may be outdated or superseded by additional information. Reading or replaying the story in its archived form does not constitute a republication of the story.
PROVO — To this day, Mark Pope remembers where he was and what he was doing when he won a national championship.
The year was 1996, and Pope was a senior team captain at Kentucky when the Wildcats strung together 25 consecutive victories and beat Syracuse 76-67 in the national title game, which was then called The Meadowlands in East Rutherford, New Jersey.
He remembers being on the court as confetti rained down on him and his ol' Kentucky teammates, from Tony Delk and Antoine Walker to Jeff Sheppard and Allen Edwards.
He remembers embracing Kentucky coach Rick Pitino in his final season with the Wildcats, and feeling the emotions of the student body when they got back to Lexington.
And he wanted to bring a small part — even just a visual exercise — to the estimated crowd of 2,737 students who packed the condensed Marriott Center on Wednesday night for the Cougars' Midnight Madness fan event.
So he began to weave a tale, one taken from a vision five months in the future, when the BYU Cougars are (would be? will be?) playing Gonzaga or Saint Mary's — take your pick, he says; the Cougars are projected to finish behind both — in the West Coast Conference tournament title game in Las Vegas.
The Cougars are down seven, and a bunch of fans have left. But Taylor Maughan forces a steal and dishes it out to Jake Toolson on the wing for three. Kolby Lee stuffs a drive at the rim on the next possession, and TJ Haws rolls one in — and draws the foul.
"There will probably be a big Jake Toolson shot in there, and a big TJ Haws shot," Yoeli Childs added, with a devilish grin. "He had the and-one — and you know TJ flops, so he's going to get that call, for sure."
And then, down two (or one, depending on the scorer's table), the crowd starts chanting "B-Y-U!" and the Cougars nail a game-winning desperation heave at the buzzer.
Swish. Ball game.
And with that, the fans storm the court at Orleans Arena — much like they did Wednesday night at the Cougars' preseason tipoff.
Sometimes you have to practice how to win — or even how to celebrate winning.
Pope's vision of titles and game-winners might ruffle some feathers. It might incite some "But … but … but …" comments from opposing fan bases, or even light up a few text messages from athletic director Tom Holmoe, telling him to tone it down or — at the very least — be careful about letting fans on the floor, for the sake of the student custodians in the Marriott Center.
But Pope, who is in his first year at BYU after four seasons at nearby Utah Valley, is a man of vision. He's a man of confidence. And he wanted to spread that confidence to the excited fan base that stayed up late on a Wednesday night in October to help his team get through preseason practices.
Even if it costs him an angry text from his boss.
"The crowd was unbelievable all night long, and for us to celebrate together is what we're trying for," Pope said. "We need every person every night to come sit in the stands and cheer for our guys, to help them along. We need everybody. Hopefully it's a precursor of great things to come."
Of course, hype nights and dreams are one thing.
The Cougars know there's a lot of work that needs to be done between now and March if they want to snap a four-year skid away from the NCAA Tournament.
"I'm more in the mindset of taking it one day at a time," said Childs, who will miss the first nine games of the season with an NCAA-mandated suspension. "It's fun to get out here, and get the fans hyped. But we understand this is going to take focus every day to get where we need to get."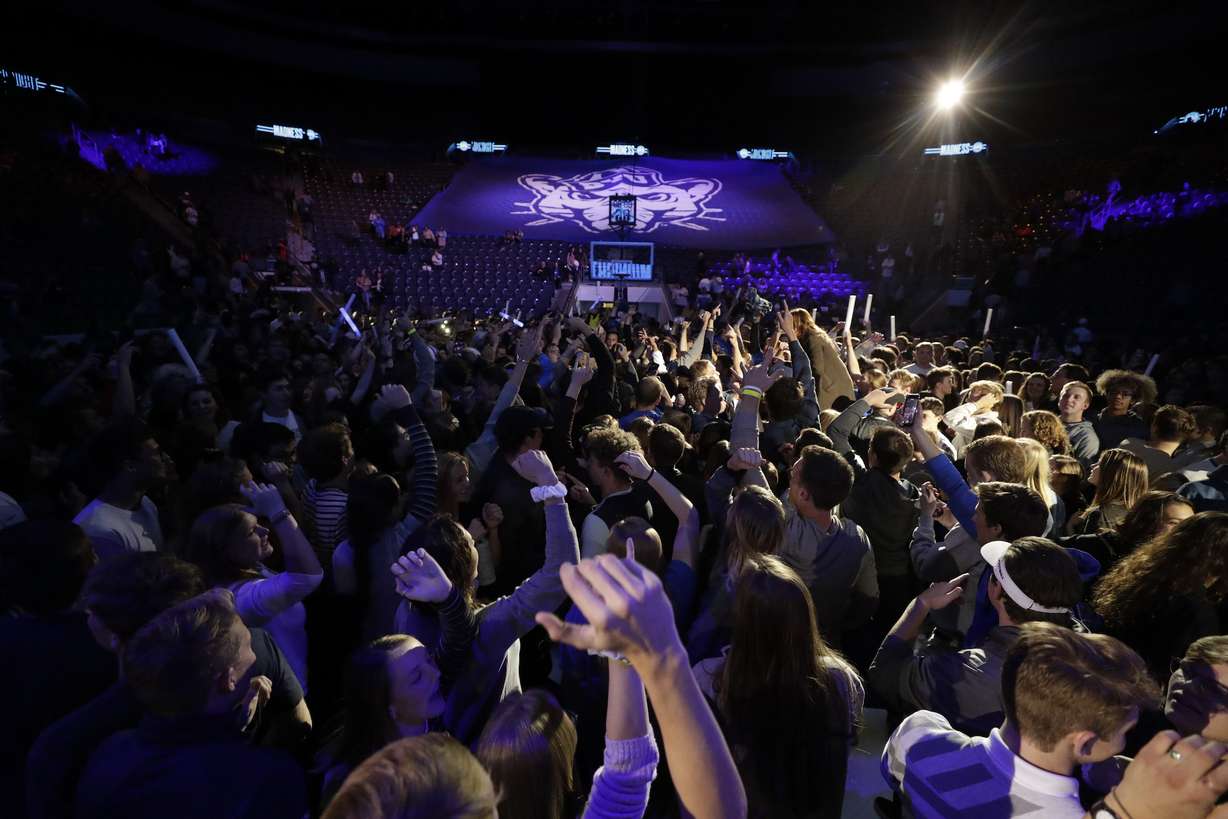 The grind will resume Thursday and Friday, when BYU will prepare for a secret scrimmage against Cal — led by Pope's longtime mentor Mark Fox. The scrimmage is a byproduct of the Cougars playing just one non-counting preseason exhibition, which tips next Friday, Nov. 1 against UT Tyler at 7 p.m. MDT.
But for now, after hours of grinding away thousands of shots and lengthy two-a-days, and waiting for Haws to rehab a minor surgical procedure in his knee and Zac Seljaas to come back from a foot fracture suffered during a preseason trip to Italy?
At nearly 1 a.m. MDT Wednesday night / Thursday morning, with a couple thousand students who are definitely not making it to class in the morning? Yeah, it's OK to just let loose and dream for a minute.
Wednesday night wasn't a time to worry about bulletin board material or studying game film of Nevada, San Diego State, UNLV, Utah, Gonzaga or Saint Mary's. It was a night for dreaming, for 3-point shooting contests with Shaylee Gonzales and the BYU women's basketball team, for skills challenges with Evan Troy and Trevin Knell, and for rushing the court like you've just won a championship.
"We were just having fun with it tonight," said Toolson, the reigning Western Athletic Conference Player of the Year who dreamt of leading UVU to its first-ever NCAA Tournament berth for the past two seasons. "Hopefully in the future, we can have some time to think about what's going on — hopefully we are up by more."
Because if BYU fans have learned anything yet — and it's something UVU fans knew for the past few years — it's that Pope is a dreamer. Sure, a little bit crazy; but a dreamer.
He was clearly one of the two best "hype men" Wednesday night, though BYU women's basketball assistant and part-time master of ceremonies Ray Stewart was also fire on the mic.
"Coach Pope shut it down, though, with storming the floor and all that," Toolson said. "I wasn't expecting that."
It was the craziest Pope has been since the time .... on second thought, we can't finish that sentence. Toolson invoked the Celtic Rule, a seal of secrecy where anything that happens in-house "has to stay in-house."
For now, though, it's back to the dungeon.
"We just want to get out there and start playing now," Childs said. "It's so much fun having that crowd out there. You feel so much love from everybody."
×
Related Stories