PROVO — BYU basketball head coach Mark Pope learned a few things recently during the Cougars' preseason trip to Italy.
He learned about the history of Rome, the architecture in Siena, and the rich historic significance of Pompei and the eruption of Mount Vesuvius in 79 A.D. that still has ramifications — both historic and cultural — to this day.
He also learned something about his team. Namely, that it's a team, that there are few egos on a squad that features Yoeli Childs and T.J. Haws and Jake Toolson, to name a few.
It's a group that likes to be around one another — almost to a fault.
"This is the least clique-ish group I've ever been associated with in my entire athletic career," Pope said in a wide-ranging conversation Tuesday in the Marriott Center Annex. "It was shocking and startling to me how together this group is."
It's also a group that, while the leaders may be well-established (think: Childs, Haws, Toolson, as well as the four other seniors on the roster), it's not the top-end leaders that will establish the Cougars' identity during the 2019-20 season.
Sometimes, it's just as important to be a follower as it is to be a leader.
Maybe follower isn't the right word, because of colloquial connotations. But whatever word you choose — follower, soldier, teammate or "glue guy" — BYU has an abundance of them.
And the Cougars' season may not be determined by what Childs can do after he serves his 9-game NCAA-mandated suspension. It may not be determined by Haws going off for 12 3-pointers a night.
Dalton Nixon is going to win them games. Zac Seljaas is going to win them games. Even Connor Harding, Jesse Wade, Gavin Baxter, Colby Leifson and Trevin Knell could win games for the Cougars.
And that's not so bad.
In the end, it's not about who leads, Pope pontificated; it's about the second and the third guy who follows that leader, and how they react to leadership.
"I don't have a lot of guys on this team who are too cool," he added. "I don't feel like a lot of the guys are entitled. I think that's two strengths for us right now."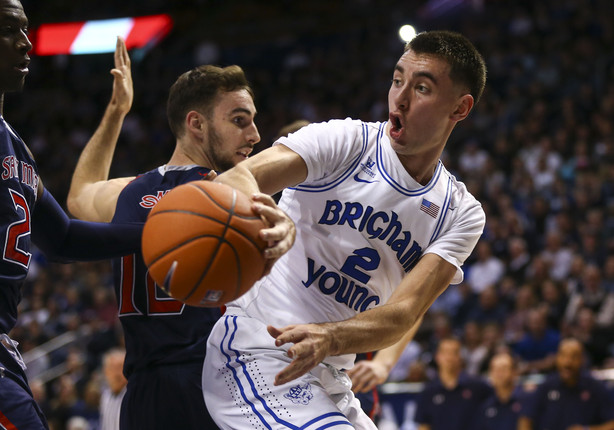 Seljaas' recovery fast-tracked
One of those guys will be Seljaas, the 6-foot-7, 215-pound sharpshooter who averaged 7.1 points and 3.5 rebounds per game as a junior. Seljaas is the No. 3 returning scorer to BYU; and with Childs' suspension, much of the offensive onus was set to fall on him and Haws for the first nine games of the year.
But the former Bountiful prep star injured his foot in the second game of the Cougars' four-game slate in Italy. He flew home early to have emergency surgery to repair a Jones fracture.
That fracture — and the subsequent surgery — turned out to be easier than originally thought. The senior has been seen in a bright pink cast recently around campus, using a foot scooter for mobility and non-weight-bearing for a few more weeks.
But he's also scheduled to have the cast removed this week, two weeks after inserting a surgical screw into his fifth metatarsal to repair the fracture. And that could bring him back to the court by the first week of the season.
Typical recovery time of a Jones fracture is 6-8 weeks, though some athletes have been known to heal in as little as four weeks and others have taken as long as 12 weeks, according to foot specialists.
Having surgery on the fifth metatarsal will aide healing, according to several sports medicine journals. So, too, would rehabilitation involving light weight-bearing exercises such as water therapy.
At least, Pope is hopeful of that, too.
"He's doing really good, and we're excited to have him back. We're hoping to get him on the court (by the first week of the season), and we feel really good about it," said Pope, before cracking one of his customary jokes. "We just have to get him special screening at the airport when we travel. But that's all good."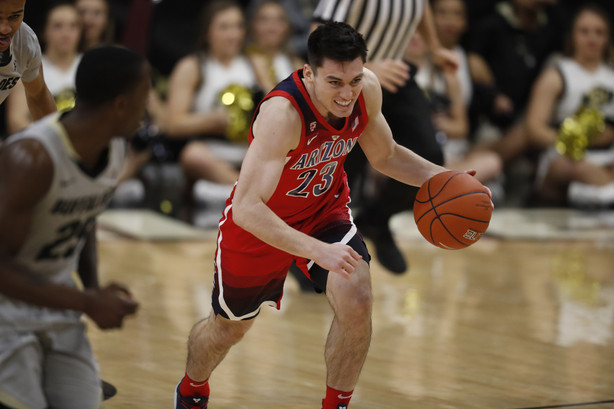 Barcello's a 'bulldog'
Also on the trip, the Cougars got their first look at Alex Barcello, the Arizona transfer who will sit out the 2019-20 season, as well as how UVU transfers Wyatt Lowell and Richard Harward will fit into the team.
The short answer: BYU would be deep and talented if those three were to be magically declared eligible by the NCAA this year (they likely won't be). But without them, Pope belives his squad is just as talented — just not as deep.
"He's really good. He gives us something in the backcourt we don't have, in terms of his physicality," Pope said of Barcello. "Guys want to get into his rotation (in practice). He's a pass-first guy — he's a bulldog on the floor."
There's plenty to figure out. But Italy and a week alone, but together, helped clear up some of those question marks.
"Coach does a really good job of playing guys that will help you win, as opposed to what position you are. Yoeli is really good, but now we're figuring that out," BYU assistant coach Chris Burgess told BYUtv earlier Tuesday morning.
"We have a talented enough roster where guys will step up, and a senior-heavy team. But we'll have to start doing that the first official day of practice."
Upcoming season
The Cougars have finalized their final opponent contract and should be announcing the first full-season schedule under Pope in the coming days.
While all eyes will be on how BYU adapts to playing nine games without Childs, as well as how Seljaas recovers from injury, the most important part of the season isn't November. It's not even the first day they'll begin practices, which officially open Sept. 24 (though coaches are allowed limited contact with players a week prior).
BYU needs to be playing its best basketball in February and March; and Pope, who previously spent four seasons in the Western Athletic Conference at nearby Utah Valley University, is fully aware of that.
"If that's the way this drink is going to be stirred, then the most important thing for us is to be the best team we can possibly be in March," he said. "If that's the case, then whatever beating we might take early in the season while having a limited roster is going to pay dividends for us down the stretch."
×
Related Stories