PROVO — Mark Pope had a mostly full allotment of players in the building as he opened his first official practice Tuesday inside the Marriott Center.
That, of course, won't be the case when the season opens Nov. 5, as the team's top returning scorer and rebounder Yoeli Childs will miss the first nine games of the 2019-20 season due to NCAA violations assessed after the NBA draft.
In addition, the Cougars will be without transfers Alex Barcello (Arizona), Wyatt Lowell (Utah Valley) and Richard Harward (UVU) barring an unforeseen waiver for immediate eligibility from the same Indianapolis-based governing body for collegiate athletics.
T.J. Haws, who averaged 17.8 points and 5.1 assists per game as a junior in 2018-19, also did not suit up Tuesday. Pope said the Lone Peak product recently had a scope surgery performed on his knee, a procedure that shouldn't keep him out for more than the next 10 days but did prevent him from participating in the Cougars' first two-a-day practice Tuesday.
"He's great, but he was having some pain and we debated about whether to manage it for the whole season or to clean it up right now," Pope said after joking that Haws will miss the upcoming season. "It seemed like a great decision two weeks ago, but now that he's missing the first week of practice, it seems so awful. But it's giving some other guys a chance to run the point."
Connor Harding and recent junior college transfer Blaze Nield ran the point during BYU's first full practice. Zac Seljaas is still recovering from a Jones fracture surgery after a broken foot suffered during the Cougars' preseason trip to Italy, but Pope is confident in the Bountiful product's return by the start of the season.
So who will be available when the Cougars suit up against Cal State Fullerton, and who will contribute until Childs' likely return just before the Dec. 4 tip against rival Utah in Salt Lake City? That same schedule includes home dates with Nevada and San Diego State, as well as UNLV in Salt Lake City.
"We have teams and guys in our minds that highlight the schedule from the beginning of November through the end of the year," senior forward Dalton Nixon said. "We're really excited to be able to have these games that are going to show what we have accomplished, and put us to the test.
"We have a lot of really good opportunities to prove ourselves early in the season, as well as to get better and to build on each game at a time."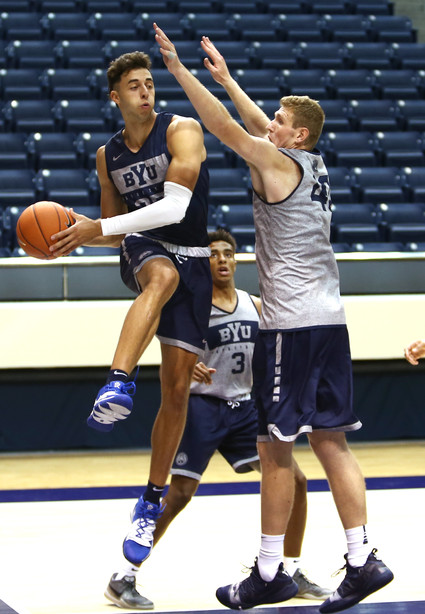 One key to the club will be Gavin Baxter, the sophomore forward who averaged 4.7 points and 3.1 rebounds per game as a freshman and will be expected to take a larger load while Childs fulfills the terms of his suspension. That's a lot to put on the 6-foot-9, 210-pound shoulders of the Timpview product. But Baxter is ready for it.
"It definitely hurts not having Yoeli for the first nine games. But it's another opportunity for us, as a team, to see what we are made of," Baxter said. "I think it's a good opportunity for me to showcase my skills a little bit more. But we'll have to see."
He's also the guy who posted an impressive 144-inch vertical leap during a recent mock NBA combine drill during open-gym workouts. That was just his first attempt, too; the staff didn't want to raise the jump stand beyond where it was supposed to measure.
"I know if I'm a foot-and-a-half below Gavin, I'm doing good," Nixon joked.
Hops, shots and two-a-days full of drills. For now, BYU is just trying to figure out what it is under Pope and his new coaching staff.
"We just have a lot of things to figure out right now," Pope said. "It's an interesting spot, with T.J. and Zac out right now, and what is going to happen with Yoeli missing the first nine games. We are dealing with an interesting roster feel right now. But that's secondary; right now, it's just fun being on the court with these guys.
"Eight days ago, I got a message that I achieved Diamond Elite status on Delta — and it was one of the most depressing moments of my life. It's so much more fun to be in the gym."
×
Photos
Related Stories