Estimated read time: 5-6 minutes
This archived news story is available only for your personal, non-commercial use. Information in the story may be outdated or superseded by additional information. Reading or replaying the story in its archived form does not constitute a republication of the story.
PROVO — Kalani Sitake approached the BYU media last Monday with a clear message, though one that he wouldn't elaborate on.
After three-straight losses, including back-to-back road defeats to Group of Five challengers Toledo and South Florida, the fourth-year BYU head coach knew what had to be done. He knew that the 27-23 loss to the Bulls wasn't good enough.
He knew that the team wasn't good enough.
More specifically, Sitake knew that he wasn't good enough.
He promised change — a change he couldn't describe, whether it meant on the coaching staff, or in the play-calling, or personnel changes on the roster.
Change was brewing, though; it was a clear feeling around the program, as distinct as the fall air that began blowing down on Provo like a draft from Provo Canyon that empties onto BYU's campus.
By the time BYU kicked off against No. 14 Boise State, there would be change.
But the only thing that changed was a starting quarterback, with third-stringer Baylor Romney getting his first start of the year for the injured Jaren Hall.
There were other personnel changes, too, like freshman right tackle Blake Freeland and third-string running back Sione Finau, who filled in for an Emmanuel Esukpa behind starter Lopini Katoa. Dayan Ghanwoloku also returned to the defensive lineup, though he played more safety as Beau Tanner shifted over to cornerback.
But the biggest change was an attitude.
And in the Cougars' surprising 28-25 win over the Broncos, Sitake proved that he's a fighter.
Whether it leads to a contract extension or an early dismissal after this season is still yet to be seen. But Sitake isn't going down without a fight — and neither is BYU (3-4).
Neither are the players, as they fought for their coach.
"I don't think people really realize and understand how much we love Kalani. He's a great mentor, a phenomenal coach, and I think people are too quick to criticize and attack him," BYU linebacker Isaiah Kaufusi said. "The whole team, we're behind Kalani. We love him. We play for him. Regardless of whether his job is on the line or not, you're going to get 123 guys playing for Kalani. I love him. He's a great coach. He's a phenomenal coach. Regardless of what's next, we love Kalani. We'll fight for him any day."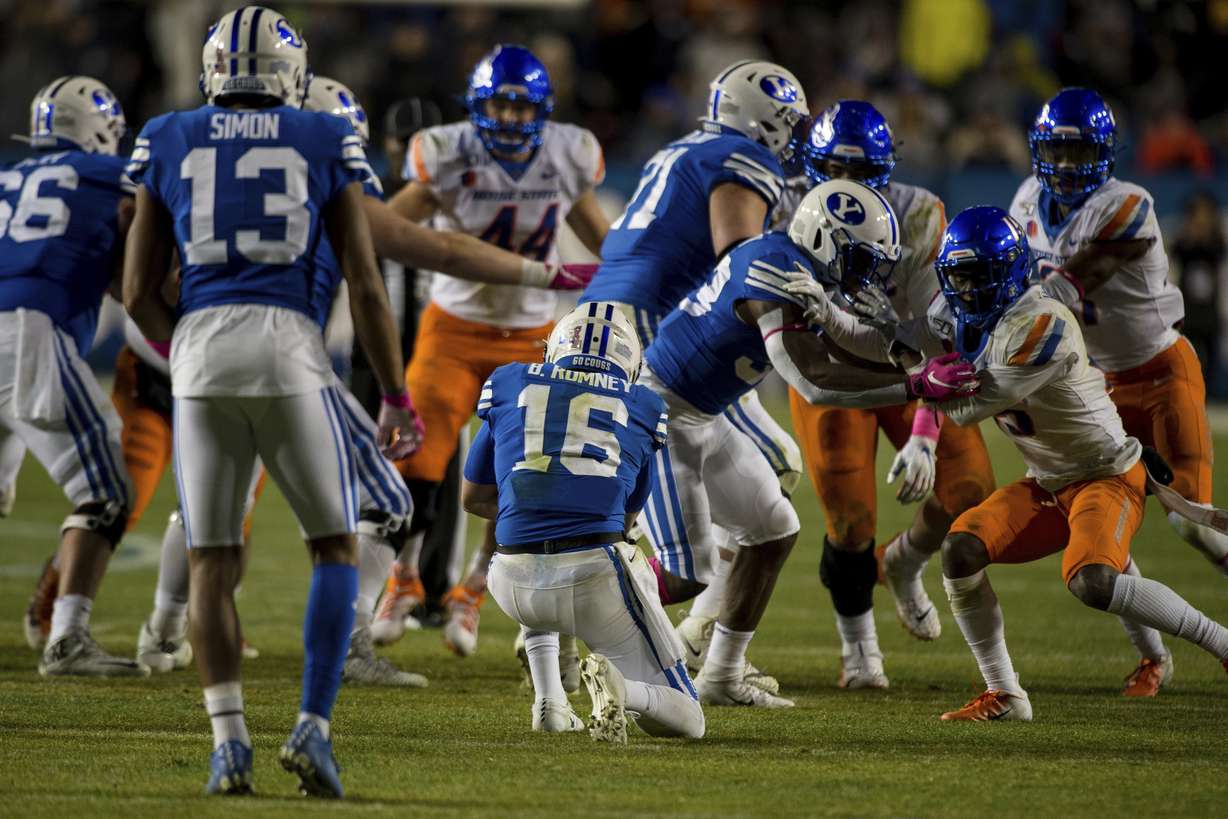 Sitake challenged his team to fight, to scrap and claw and do everything possible to make a game played in sub-40 degree temperatures with a combination of wind, rain and snow after the 8:25 p.m. MDT kickoff as uncomfortable as possible.
He challenged them during the week, and he challenged them before the game, even right before they marched onto the field at LaVell Edwards Stadium for pregame warmups. To fight. To execute. To be more physical.
And the Cougars were, to the tune of a game-high nine tackles from Tyler Allgeier or tackles for loss from Ghanwoloku, Lorenzo Fauatea, Bracken El-Bakri and D'Angelo Mandell. To the shame of interceptions by brothers Isaiah and Jackson Kaufusi, of a run defense ranked in the bottom 10 nationally that allowed just 4.3 yards per carry — and much less in the first three quarters.
"I think Kalani really challenged us and gave us some goals that were attainable and got after it," Isaiah Kaufusi said. "He challenged us to be better. We were a lot more physical this week than we had been the whole season and it paid off. We had four or five guys on the ball every play."
When this BYU team fights, when the Cougars put together a complete game, when they plan and scheme and execute that plan to the best of their abilities, they are tough to stop.
Just ask Tennessee. Or USC. Or Boise State (6-1) this weekend.
It's a different BYU team, unlike the one that lost to Utah or Washington, and even more unlike the one that lost to Toledo and USF.
"They hit us with some explosive players, but overall, we knew they were a good football team," said Boise State coach Brian Harsin, who lost to the Cougars for just the second time in six years as Broncos head coach. "They played a very tough schedule, so we got a chance to see these guys, study them, see what type of players they have and then getting on the road and traveling, always hard to get on the road and travel. All of those things were addressed, all those things were talked about, and I don't think there was one thing going into this game that our guys weren't aware of."
BYU out-executed Boise State. The Cougars out-trick played Boise State. They played a style of football very similar to the Broncos — right down to the use of a non-first choice quarterback, where the Broncos started Chase Cord in lieu of Hank Bachmeier — and they won.
If BYU and Boise State felt like looking into a mirror — like the popular Spider-Man meme, where everyone's favorite neighborhood web-slinger is pointing at a carbon copy of himself — it's because it was.
Boise State narrowly outgained BYU, 359 yards to 342. The two sides ran similarly — Boise State 40 times for 188 yards, to 145 on 35 carries for BYU. Romney completed 15 passes for 221 yards and two touchdowns, while Cord completed 18 throws for 185 yards, two touchdowns and two interceptions.
Both teams had stars and studs. But BYU's stars shined a little bit brighter Saturday night under the rain, sleet, and dark of night.
BYU was backed into a corner, with no choice but to fight off the mat or fall into the depths of misery and a 2-5 start.
"I like being in a tight spot," Sitake said. "I'm going to keep manufacturing tight spots. I think we respond better that way.
"We're going to have fun. We're going to go to church tomorrow and get to work on Monday. I'm comfortable saying that these guys need to play with a chip on their shoulders all the time, and that's what BYU is all about. The fact that we're independent means we're going to play some tough teams and ranked teams."
×
Related links
Related stories
Most recent BYU Cougars stories