Estimated read time: 4-5 minutes
This archived news story is available only for your personal, non-commercial use. Information in the story may be outdated or superseded by additional information. Reading or replaying the story in its archived form does not constitute a republication of the story.
PROVO — Just a few days after a cold front slammed the state of Utah, a wave of hot air appears to be emanating from Utah County.
BYU's stunning 27-23 loss to South Florida has sent the keyboard warriors grabbing for their preferred weapons of choice, firing hot takes into the internet ether to cocoon it like the warm layer of inversion soon to envelop the Salt Lake Valley.
In an age where every fan has an outlet, whether a Twitter account, Facebook page, or internet comment board, the backlash has been swift.
And with a volunteer army of unpaid labor on the roster, the backlash has been directed primarily at those who get paid to do what they do, most notably head coach Kalani Sitake and athletic director Tom Holmoe.
Fire Sitake. Dump the coordinators. Get back in the Mountain West.
These are just a few of the "solutions" bandied about by the masses.
The "solutions" are as varied as the Twitter avatars and handles that propose them.
Sitake understands those frustrations; he was once a BYU fan, long before donning the coaching hat, before starting at fullback in LaVell Edwards' final season, when he peered through the knotholes at Cougar Stadium to catch a glimpse of the men he would soon become and lead.
He's frustrated, too.
"I'm really, really frustrated right now," Sitake said in Tampa. "We'll evaluate everything. This is not the type of defense that I expect from our guys and from our staff. There has to be a huge improvement."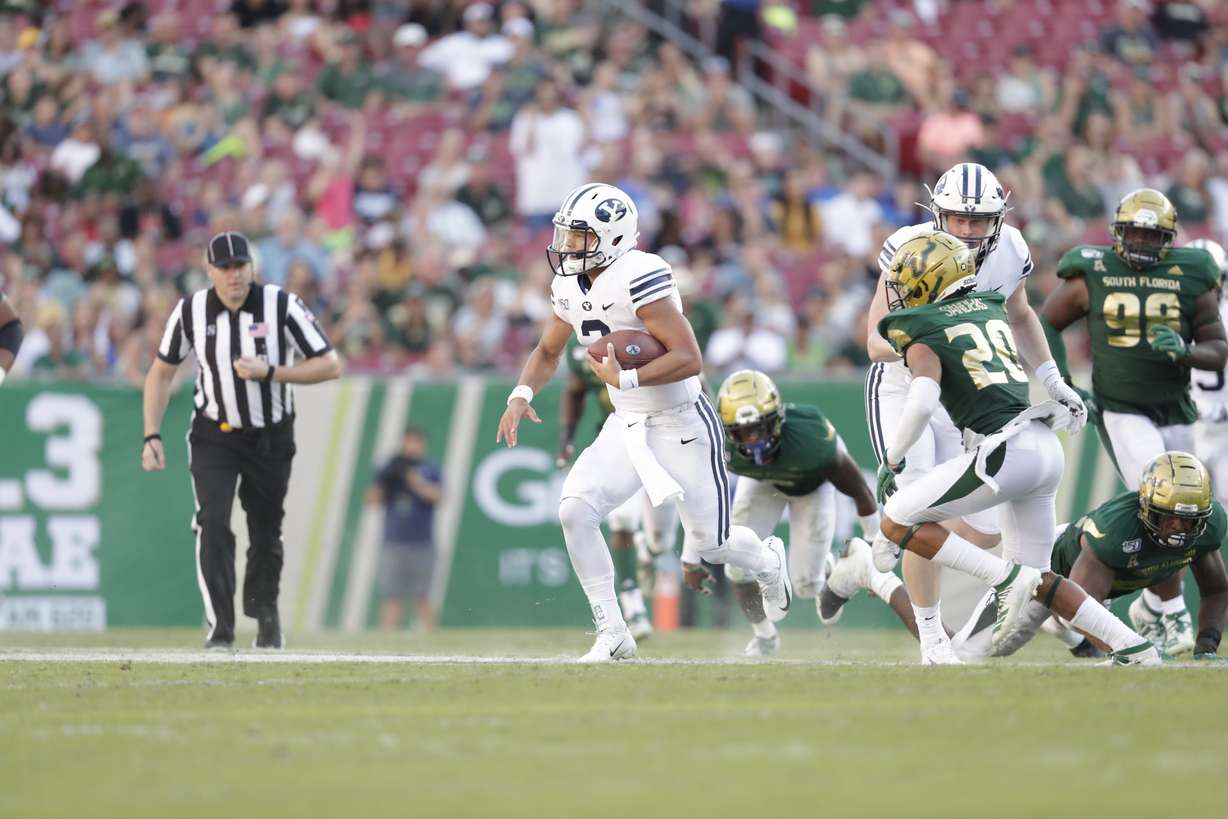 Improvement. Changes. We've heard this talk before — most notably, during a 4-9 campaign two years ago that ended with the firing of Heisman Trophy-winning quarterback Ty Detmer as offensive coordinator, along with a complete overhaul of the offensive staff.
Would Sitake make similar changes this time? Maybe to the defense?
That's to be determined, but it likely won't come immediately — nor should it. As bad as things look for the Cougars, they are also staring down the barrel of two more potential losses, starting Saturday with No. 14 Boise State at LaVell Edwards Stadium (8:15 p.m. MDT, ESPN2).
Then comes a march to Logan to face Utah State, where the Aggies look to win their third straight matchup against BYU. Utah State hasn't beaten BYU on three consecutive occasions since a four-game winning streak from 1971-74.
November and the sweet nectar of home games against Liberty and Idaho State can't come soon enough for the BYU faithful.
Hopefully, for their sake, sometime between this publication and the Nov. 9 matchup with coach Hugh Freeze, changes will come.
"Everything is up in the air right now," Sitake said. "We are too good of a team to have this many issues."
Make no mistake, Sitake is doing the best he can. A first-time head coach at the Division I FBS level, the BYU alum took his dream job when he moved to Provo after one season as defensive coordinator at Oregon State under Gary Andersen.
But the unique challenges facing the head football coach at BYU would be tough for anyone to overcome: an honor code that eliminates a significant portion of top-tier recruits, and an academic structure that several of its former players (and even coaches) have said wouldn't allow them into school in today's climate, among them.
BYU is playing a Power Five schedule with an Ivy League talent pool. Sure, Stanford has found a way to balance the two — after decades of wandering in the college football wilderness (and the Cardinal is 3-3 this year).
There's a reason Harvard and Yale play the likes of Howard, Holy Cross and Fordham instead of Washington, Tennessee and Notre Dame.
But the schedule isn't the (only) problem.
BYU has struggled to run the ball since the loss of Ty'Son Williams to season-ending knee surgery. The Cougars are looking at starting their third quarterback of the season in Baylor Romney, with Zach Wilson in a thumb cast and Jaren Hall reportedly in concussion protocol.
The Cougars also rank No. 123 nationally in rush defense — just a notch behind Big 12, ummm, participant Kansas.
The losses to upper-echelon Power Five opponents aren't what put Sitake in the situation he currently faces. It's not the competitive defeats to U-dub, Cal, Boise State or even archrival Utah that have his seat warming up underneath him.
It's the team not being competitive in important facets of the game. It's losing to South Florida, Toledo, Northern Illinois and UMass, to name a few. Those are teams that BYU — the original mid-major exception of 1984 — should be beating.
Win the games you're supposed to win; BYU was a 5.5-point favorite in Tampa.
The Cougars opened a 4-point home underdog to the Broncos.
Times have changed in Provo.
Will Sitake make the necessary changes again?
×
Related stories
Most recent BYU Cougars stories