KAYSVILLE — The debate surrounding whether to create a fiber utility department continues in Kaysville City, where opponents began gathering signatures Thursday to put the proposed utility on the ballot.
There's no question there are a few critical public utilities everyone needs to keep their home running from day to day. But the question for Kaysville residents is, should those utilities also include internet service?
"I don't think it's a utility," said Susan Lee, a former city councilwoman who is a part of the Coalition for Responsible Kaysville Fiber. "For a city council to decide for the people that it should be up to just them and not everyone is just wrong."
On Thursday, she and others began gathering signatures on a recently approved referendum to put the question of whether to create a fiber utility department to voters. Opponents also filed for two other referendums that were denied.
"As far as I'm concerned, government has no business being involved where private citizens or private businesses can do it," she said.
The Kaysville City Council voted to create a Fiber Utility Department on Sept. 19 during a heated meeting that lasted more than four hours.
"I make the analogy of airports," said Kaysville Mayor Katie Witt. "Each airline does not build its own airport because it's very expensive. Similarly, fiber is very expensive to install. So, what we're doing is installing the infrastructure and allowing all [Internet Service Providers] to use it. So, we will not run the ISP. We won't do that side. We're just maintaining the infrastructure. And it's going to be an open network to allow people to use it."
The city still needs to approve an estimated $26 million bond before it can create the utility department. But that won't happen if opponents like Lee get their way.
"That's what this process is all about, is letting the people decide if they want the city to go into debt for that amount of money," Lee said. She's frustrated that the city didn't stick with the original plan to let the voters decide.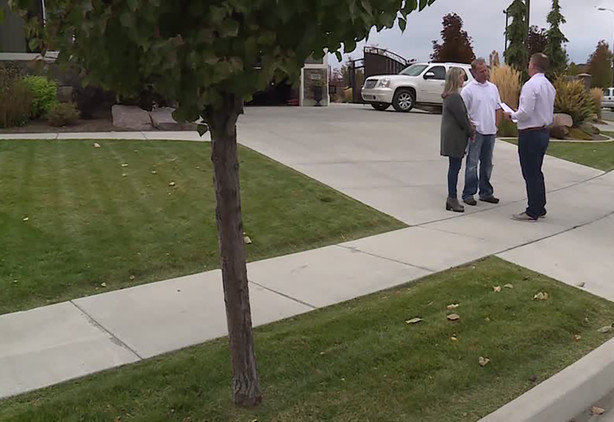 "Originally that was my intent," Witt said. "I really wanted this to be a community project and that's why we've been so very transparent from the beginning. But the more complex it got and the more information we got, we realized that, you know, this is going to be a lot to ask the voters — if you've talked to some of them right now there's a lot of people who are having a hard time wrapping their heads around it already. So a simple way around that is to allow people to opt out."
The city sent an opt-out form to home and business owners, who have until the end of the month to return the form if they want to opt out of the service and utility fee. If most people decide they want it, Witt said the fee will be around $13. If 50% opt out, it will be around $23 a month.
But what if more than half decide to opt out?
"If 50.1% of people opt out, we're like OK, that's it. That's a vote right there," Witt said.
But Lee is skeptical about the effectiveness of the opt-out form since many people aren't aware of the debate surrounding fiber optics in the city.
"Several people that I've talked to have just chucked it, not realizing by chucking it, they're opted in," Lee said. "The city, in their mind, they've done their due diligence. But to a lot of people on the other side, it seems rushed."
Which is why it's so important for Lee and others to get the required 1,707 lawful signatures on the referendum within the next 45 days.
Related:
"I feel like it's something of such big magnitude that the citizens should have a voice in it," Lee said as she walked from house to house. And if it gets on the ballot and the majority of people say yes to fiber, Lee said, "if it's important enough and they want it and vote for it, I'm fine with it."
Still, both sides appeared optimistic and prepared to take their message to every home.
"I feel very confident that our city will make the right decision," Lee said. "So, I'm not scared of a vote on this."
If opponents get the required signatures, voters would see the issue on the ballot in June 2020. Otherwise, the city plans to approve the bond that would set in motion the creation of a new fiber utility department.
×
Related Stories