VERNAL — A trio of cougar kittens have a new home in New York City after they were found abandoned by a hunter in northeastern Utah last week and later rescued by state wildlife biologists.
A person hunting in the South Slope area of the High Uintas, spotted three cougar kittens in a den on Oct. 8 and alerted the Utah Division of Wildlife Resources' Vernal office. Wildlife biologists then set up a wildlife camera to see if they could spot the kittens' mother, said DWR spokeswoman Faith Heaton Jolley.
After about 48 hours of monitoring, biologists weren't able to detect any movement or any other signs that the mother returned. On Thursday, they returned and rescued the kittens, which were estimated to be about 6 weeks old, from the den.
"They were just worried they were going to freeze to death without their mom because it was just starting to get cold in the Uintas, and also because they hadn't been fed during that time, of course," Jolley said. "They said they were a little bit feisty but they kind of act like house cats a little bit."
The kittens were determined to be in good health and were taken to the Vernal office before they were transferred to Hogle Zoo in Salt Lake City. The kittens were fed and housed at the zoo over the weekend until a permanent home could be found.
Jolley explained that DWR biologists had reached out to Hogle Zoo to see if they could provide a home for the kittens because the agency doesn't have the resources to rehabilitate cougars, and cougars struggle to survive on their own in the wild after rehabilitation.
Hogle Zoo officials also weren't able to supply a home for the kittens but were able to find them a home at the Bronx Zoo in New York City.
"They started reaching out to some other zoos that they have contact with, and the Bronx Zoo was the one that was able to take them and wanted them," Jolley said. "We're really, really grateful (Hogle Zoo) also put in so much effort to also find these kittens a home."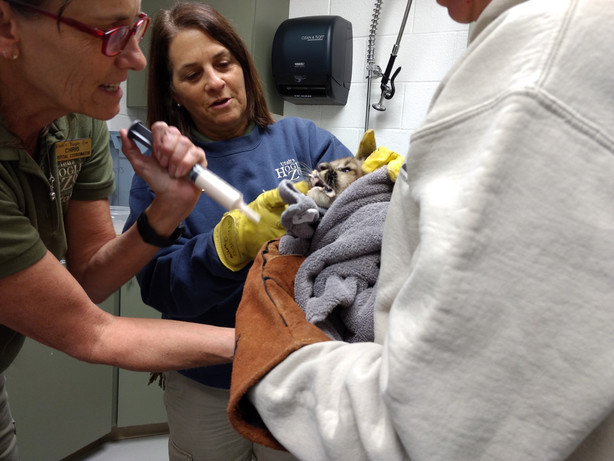 The kittens were flown out to New York on Monday.
As for anyone who may spot abandoned animals out in the wild, Jolley explained the hunter who contacted DWR did the right thing.
"If something looks kind of off with wildlife, whether they are stuck somewhere or ... they're babies and they don't have a mom, we recommend that they call us so we can go investigate," she said. "A lot of times people think to just pick up the animals, or take them home, or help them themselves, but we definitely recommend that people contact us since our biologists have training with these types of wildlife."
Editor's note: DWR officially originally stated the cougar kittens were found by a hiker in Fawn Creek in the North Slope of the High Uintas. They later said they were found by a hunter in the South Slope of the High Uintas.
×
Photos
More stories you may be interested in