Estimated read time: 5-6 minutes
This archived news story is available only for your personal, non-commercial use. Information in the story may be outdated or superseded by additional information. Reading or replaying the story in its archived form does not constitute a republication of the story.
PROVO — Maybe BYU football's first day of spring practices could be best defined by the people who weren't there.
Sitting out was a laundry list of players, including starting quarterback Zach Wilson, who had offseason shoulder surgery, and presumed top running back Lopini Katoa for similar reasons. Do-everything wide receiver Aleva Hifo watched from the sidelines after offseason surgery, and Zayne Anderson ran laps around the perimeter as he recovers from season-ending surgery. Moroni Laulu-Pututau was there, but he's also recovering from knee surgery.
Former offensive line coach Ryan Pugh wasn't there, after taking the offensive coordinator job at Troy. His replacement, Eric Mateos, was happy to be in Provo — though he admitted that he did miss the facial hair his previous job at Texas State allowed him to sport.
Then there are the transfers.
Tevita Mo'unga, Jacob Jimenez, Isaiah Armstrong, Payton Wilgar, Johnny Tapusoa, Wayne Kirby and Akile Davis have all put their names into the NCAA transfer portal, according to one source, as have running back Riley Burt and Christian Folau.
Burt has apparently decided to move on to Utah State, electing to move closer to his hometown of Mantua after he graduates from BYU in April, while Folau is enrolled at Utah and available for the Utes during spring camp.
So instead, let's focus on a few players who were present Monday afternoon at the Indoor Practice Facility in Provo.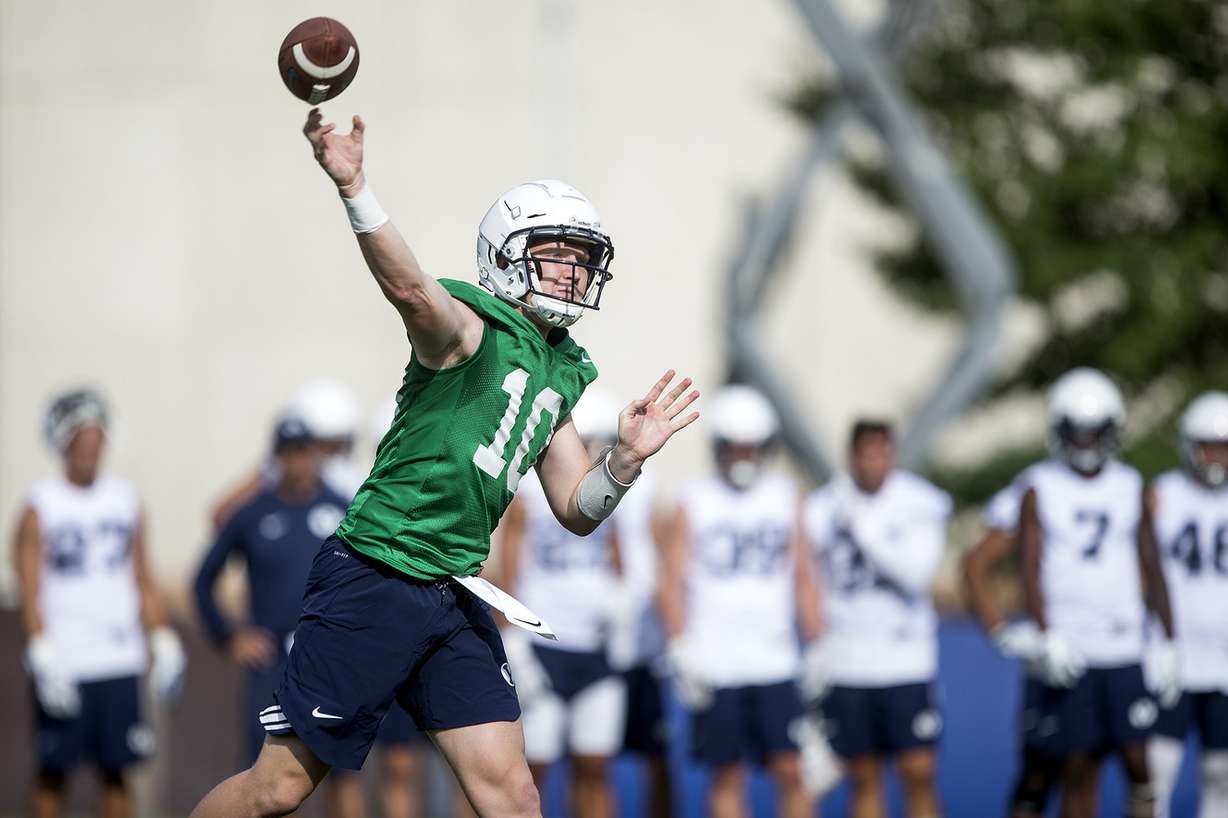 Like quarterbacks — lots and lots of quarterbacks.
Ten quarterbacks dotted the Cougars' spring roster Monday, though that number includes Wilson and a handful of players who didn't see time at the position.
But first, a caution from offensive coordinator Jeff Grimes.
"All of them aren't necessarily in position to get all those reps," the second-year offensive coordinator said. "Right now, we're splitting the reps amongst three guys, and we'll go from there."
After Monday's practice, the three most likely to get extensive reps in Wilson's absence are redshirt freshman Jaren Hall, who will also play baseball at BYU; redshirt sophomore Joe Critchlow, who started the final three games of his freshman year to finish a 4-9 campaign; and Baylor Romney, the 6-foot-2 older brother of wide receiver Gunner Romney who spent last year guiding the Cougars' scout team.
Of the three, Critchlow seemed to have a slightly better mastery of the offense in limited viewing allowed to the media — though that's natural since he's the most experienced of the group.
"He really seems more comfortable and took charge," said. "Jaren did some things really well, too, but he's a guy who has more to learn — just because he picked it up a little bit later."
The two seem to know that spring belongs to them this year, too. Critchlow and Hall were among the last quarterbacks to leave the IPF, walking together toward the group of assembled media, waiting for interviews, to ask them questions they may or may not wanted to answer — but eager to jump into spring camp after ending the 2018 campaign on a high note, with a 7-6 record and a 49-18 win over Western Michigan in the Famous Idaho Potato Bowl.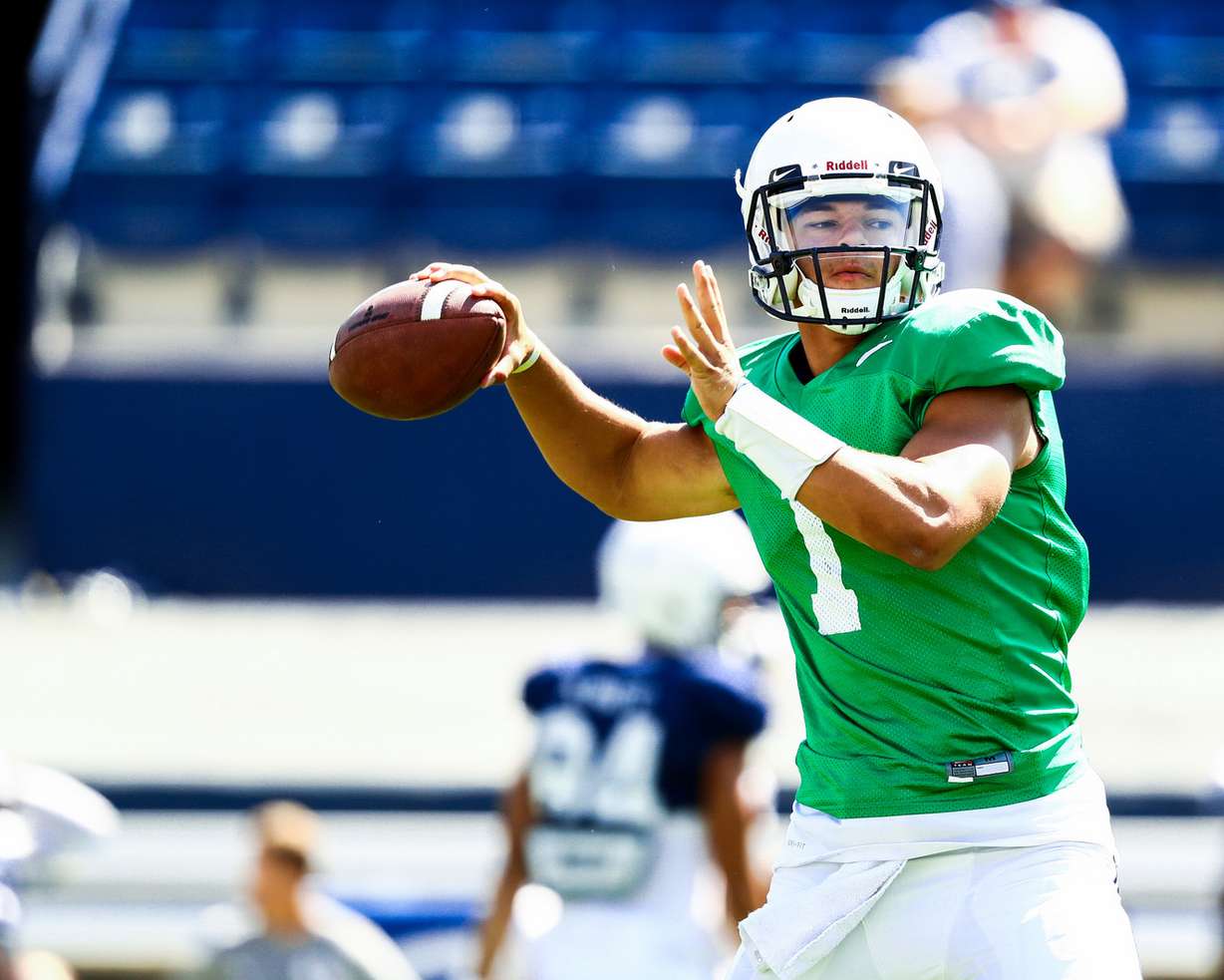 If they look like best friends, it's because they are.
"Jaren and I had a great time last season," said Critchlow, a one-time Little League left-fielder who admitted he will not be joining Hall on the BYU baseball team. "We did a lot of signals together and a lot of quarterback meetings. Jaren's a great friend and a great leader on this team.
"Having the opportunity to work with him every day, I feel like both of us are building and growing as quarterbacks."
It's a similar case with the rest of the quarterback room, Hall said. The biggest problem, he joked, was that there aren't enough chairs for the dozen-plus people who attend their meetings and film sessions every day.
"It's a good problem to have," he said. "It's a lot of guys in a small room, and I think the only concern we have is getting a bigger room with more seats."
Among the other quarterbacks in that room are redshirt freshman Stacy Conner, the 6-foot-5 redshirt freshman who also ran the scout team a year ago; former Orem High quarterback Gunnar Legas, who recently returned from a two-year church mission and whose brother Cooper signed with Utah State; Talmage Gunther, the 6-foot fresh who prepped at Lone Peak; Isaiah Ramos, a 6-foot-4 sophomore from Carlsbad, California; Hayden Griffitts, a 6-foot-2 walk-on junior from Windermere, Florida; and Rhett Reilly, a 6-2 sophomore who recently joined the team from Valley Center, California.
"There are a lot of QBs," Critchlow said. "I feel like that's been a pretty common theme here at BYU; we have a lot of quarterbacks. The competition is always great, and the quarterbacks are always great guys, too.
"We compete hard with each other, and we all get better. It's a good competition to be a part of."
×
Photos
Related stories
Most recent BYU Cougars stories