Estimated read time: 4-5 minutes
This archived news story is available only for your personal, non-commercial use. Information in the story may be outdated or superseded by additional information. Reading or replaying the story in its archived form does not constitute a republication of the story.
PROVO — BYU's loss to Toledo didn't just hurt the program because of the 28-21 final scoreline.
For the second-straight week, a key member of the offense was forced off the field. And while Zach Wilson's hand might not keep him off the field for the full season like Ty'Son Williams' devastating knee injury, it will force backup quarterback Jaren Hall into action for the most snaps of his young career.
The redshirt freshman quarterback will all but certainly be the starter in two weeks when BYU comes off a bye week to visit the American Athletic Conference foe South Florida at Raymond James Stadium. While not confirming how long the team will be without Wilson, head coach Kalani Sitake admitted as much before leaving Toledo.
The 6-foot-1, 205-pound Maple Mountain product has yet to start a game in his young BYU career, but he's spent plenty of time preparing for this moment. Hall played in two games while redshirting the 2018 season and has seen snaps in every game for the Cougars (2-3) so far this year, completing 4-of-7 passes for 58 yards with six more rushes.
Hall completed throws for 39 yards and ran for 10 more against the Rockets (3-1), most of which on the final drive of the game as the backup attempted to rally and force overtime.
"It's a hard spot to throw him into, but he was ready for it," Sitake said of Hall. "I'm glad we have another week to get ready because it looks like he is probably going to be the guy against South Florida."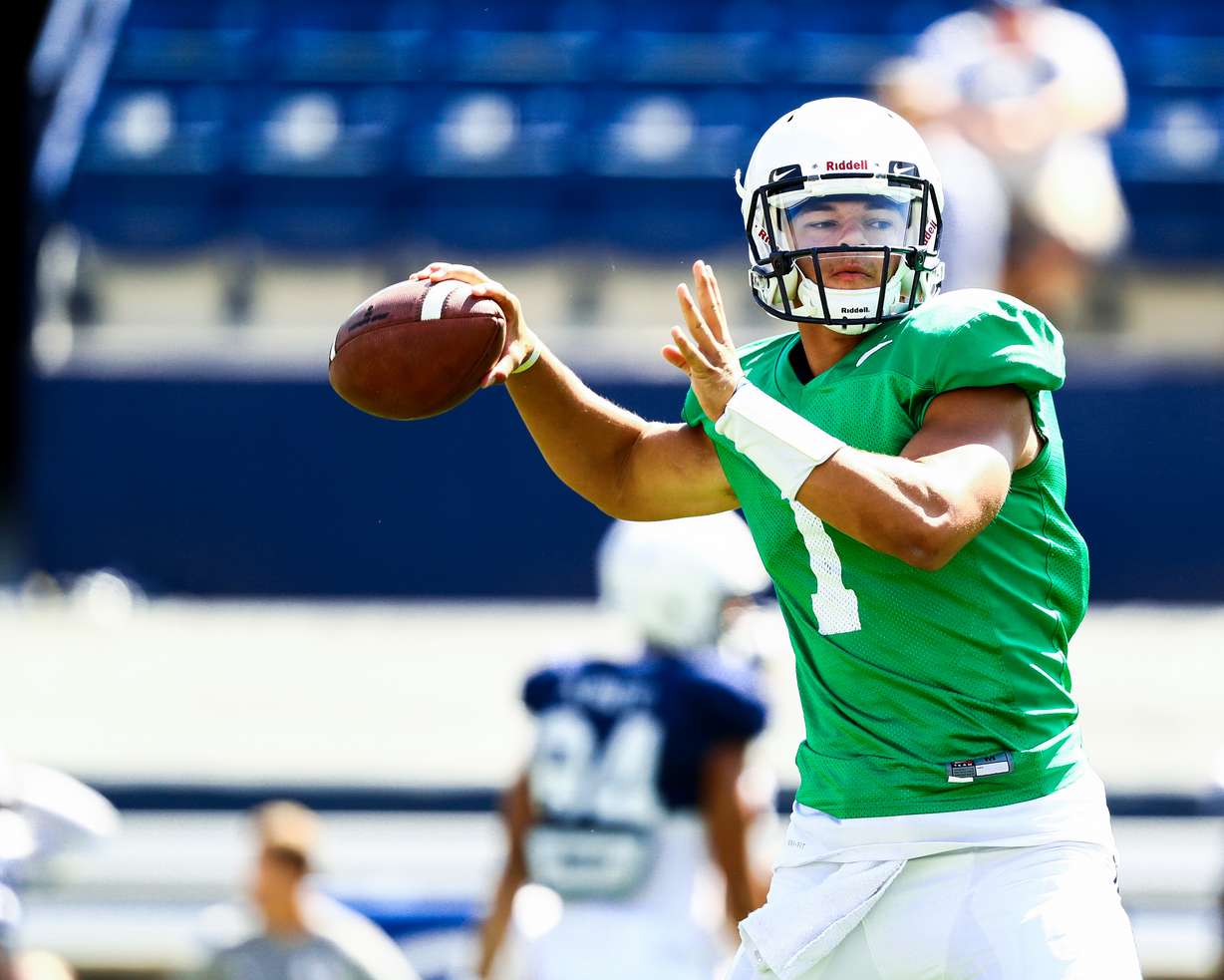 Moreso, Hall's preparation to be BYU's starting quarterback began long ago. A three-sport standout at Maple Mountain, Hall is the son of father Kalin, a BYU football standout in 1992-93, and mother Hollie, a BYU gymnast around the same time. After a two-year mission for The Church of Jesus Christ of Latter-day Saints in California, he enrolled at BYU a year ago, spent a year in the system, and joined the BYU baseball team in the spring while multitasking with spring football.
With Wilson still recovering from offseason shoulder surgery, Hall took reps as the No. 1 quarterback in the spring, and completed 12-of-14 passes for 203 yards and two touchdowns, adding another five rushes for 59 yards, in the Cougars' spring game at the old Provo High campus.
All this to say that Hall has earned the confidence and trust in his teammates as he prepares for his first start.
"We're super confident," wide receiver Micah Simon said. "I know the type of work he's put in all offseason, back to spring ball when Zach was out.
"We've got two weeks to prepare, so I know he'll be ready. We have his back."
Hall gave the Cougars a shot — albeit slim and brief — before falling to Toledo. But with two weeks to prepare for South Florida, he should give BYU more opportunity to get back to .500.
Unlike Toledo, the Bulls are not a Group of Five power, falling to 1-3 on the season after Saturday's loss to SMU.
USF ranks 109th nationally in scoring offense and allow close to 30 points per game on defense.
Still, there will likely be some tweaks made to prepare BYU's offense for Hall, and that makes the bye week extra imperative for the Cougars.
"He has a good arm and a very accurate arm. You saw a lot of it in the spring game; he's capable of doing it all," Sitake said. "But he's a little bit different than Zach in the way he plays."
For the sixth-straight year, BYU's season will depend on at least two starting quarterbacks, including the disastrous 4-9 campaign in 2017 when the Cougars called up four different signal-callers before Joe Critchlow finished out the year.
BYU hasn't played one quarterback for a full season since 2013, or Taysom Hill's sophomore year.
Now the program will do it again, with Critchlow and Baylor Romney waiting in the wings of Hall.
"It's frustrating," Sitake said. "But we feel really comfortable with our guys. I like what I've seen from Jaren, and I like what I've seen from Baylor Romney and Joe Critchlow, too.
"Jaren can play really fast, and he's a little bit different than Zach. For the most part, we just can't let him think too much. He's a gamer, and he wants the opportunity to play. We'll get him ready."
×
Related stories
Most recent BYU Cougars stories