Estimated read time: 8-9 minutes
This archived news story is available only for your personal, non-commercial use. Information in the story may be outdated or superseded by additional information. Reading or replaying the story in its archived form does not constitute a republication of the story.
PROVO — BYU's first bye week of the 2019 season seems like a good time to do a self inventory.
And if head coach Kalani Sitake doesn't want to do it, we'll do one for him.
The Cougars (2-3) are sub-.500 after the first month of the season, which won't surprise many outside onlookers. But how they got to this point might, with wins over USC, a dumpster of a program at Tennessee, and a road loss to Toledo that still stings BYU fans (even if the Rockets are, gulp, kind of good, and should win the Mid-American Conference West division).
Still, what do we know about this BYU team through five games — and what is still undecided? Let's take a look at some of them, beginning with the signal caller and face of the program.
What we know: Quarterback Zach Wilson will miss time with a hand injury
What we don't know: Wilson's injury likely isn't season-ending, but it might be
Wilson left the Cougars' 28-21 loss to Toledo after the penultimate drive of the game, and did not return. He injured his throwing hand doing something on that drive, likely after a taking a hit while trying to rally BYU in the final minutes of the fourth quarter, and had to be checked out by a specialist in Provo.
On Tuesday, BYU football spokesman Brett Pyne confirmed that Wilson had surgery on his throwing hand and will be out for a short time. But he added that the sophomore quarterback will return to the team this season, and did not comment further (BYU has a policy of not addressing injuries unless or until they are season-ending.
"It is anticipated that he will be able to return to play this season," Pyne said.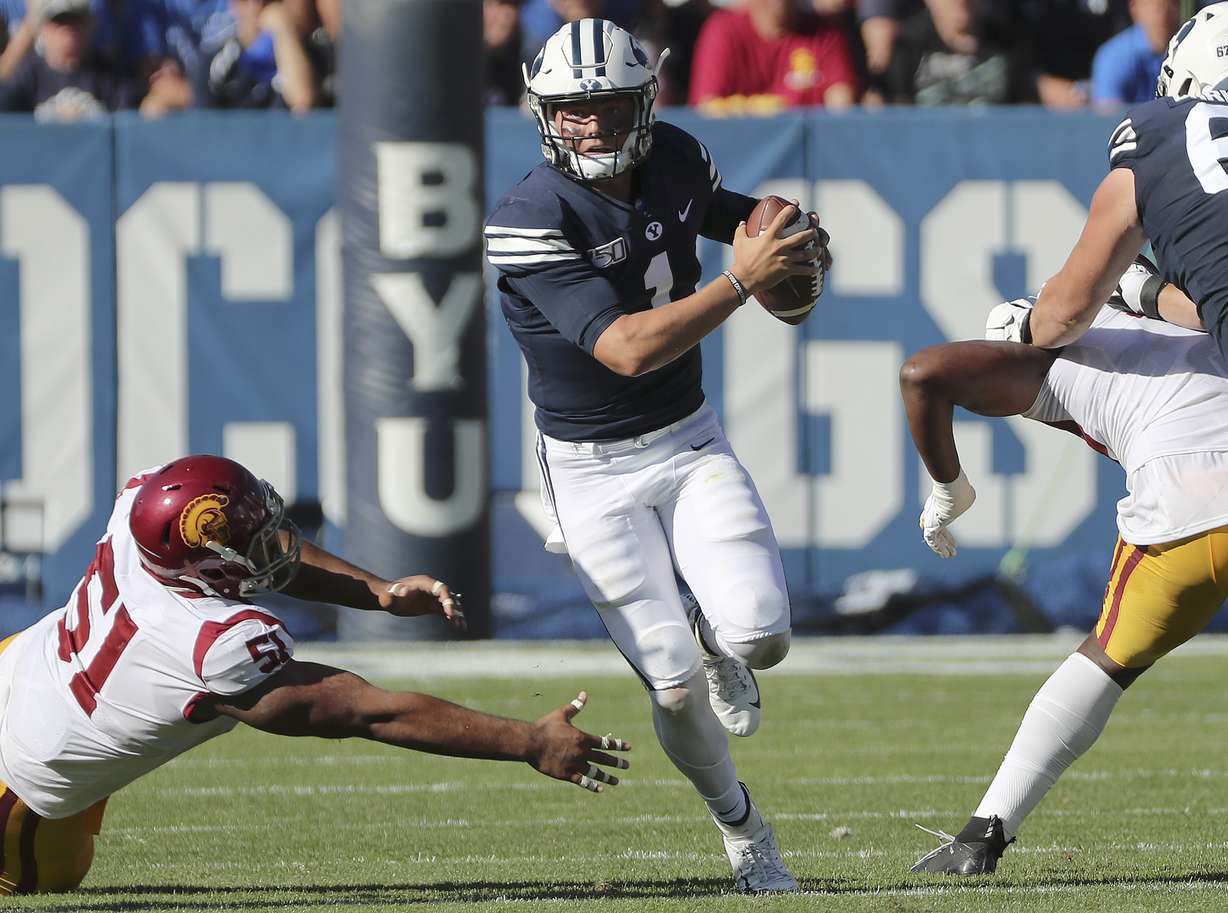 Multiple reports, including ESPN 960 radio and 1280 The Zone in Salt Lake City, determined that the injury either was or could be season-ending, and placed Wilson's recovery at approximately 6-8 weeks. So it seems likely that Wilson will miss next weekend's game at South Florida, when backup quarterback Jaren Hall will become the first African-American quarterback to start in BYU history, as well as rivalry games with Boise State and Utah State.
His return could coincide with the Cougars' home games shortly thereafter, either Nov. 9 against FBS newcomer Liberty or Nov. 16 against FCS regional foe Idaho State. That timeline places him well within the range of recovery time of a navicular (or scaphoid) fracture, a common hand injury in sports that often occurs from falling on an outstretched arm, damaging the "anatomical snuff box," or the depression at the base of the thumb, according to multiple orthopedic journals.
While additional time to heal is always preferred, navicular fracture surgery almost always requires four weeks in a cast, followed by recovery to regain range of motion, setting a basic timeline at 6-8 weeks. Of course, recovery also depends on the speed of healing, severity of the fracture, and other effects.
What we know: Jaren Hall will start against USF
What we don't know: Hall might be the starter going forward
In the meantime, Hall will be QB1. The redshirt freshman has seen limited in-game action with the BYU football team to date, completing just 4-of-7 passes for 58 yards, running for two yards on six attempts (plus sacks), and playing in all five games to date in 2019.
But the Maple Mountain High product's pedigree is impressive. Hall, the son of former BYU star Kalin Hall and ex-Cougar gymnast Hollie Hamilton, was two-team all-Region 8 honoree for the Golden Eagles in high school, when he also starred in baseball and basketball.
An outfielder on last year's BYU baseball team that went 36-17 with a 19-8 mark in West Coast Conference play, Hall was known for his athleticism, poise in the pocket, and command of the huddle prior to serving a two-year church mission in California.
"We would call him QB2, just as a joke. Now I guess he's QB1 the rest of the season," BYU baseball coach Mike Littlewood told BYUtv. "He's such a good athlete and so well-rounded that he doesn't have to talk about it. He has so much humility.
"He's a great teammate; we'd take him any day of the week."
He also received the bulk of the first-team reps during spring training, when Wilson was held out after undergoing offseason shoulder surgery. Backing him up, both then and now, will be Baylor Romney and Joe Critchlow, the redshirt sophomore who won two of the Cougars' final three games during the 4-9 season of 2017.
What we know: BYU has a lot of leadership
What we don't know: BYU doesn't have an identity, on offense or defense
On paper, the Cougars are a veteran-laden team.
Counting 21 seniors on the roster and returning the bulk of its offensive production from a squad that went 7-6 a year ago, BYU added experienced graduate transfers Ty'Son Williams and Emmanuel Esukpa to a group of tenured leaders that included Zayne Anderson, Austin Lee, Beau Tanner and Troy Warner on defense, as well as Micah Simon, Talon Shumway and Moroni Laulu-Pututau on offense.
But Williams and Anderson were two of the biggest blows with season-ending injuries in recent weeks, and Warner has yet to see the field as the former four-star safety stares at a likely redshirt season.
And while leadership doesn't simply vanish when a player becomes medically unable to take the field — it can still be measured on the sideline, at practice, and in the locker room — the remaining seniors have also had a topsy-turvy tenure at BYU that could lead to offensive hiccups.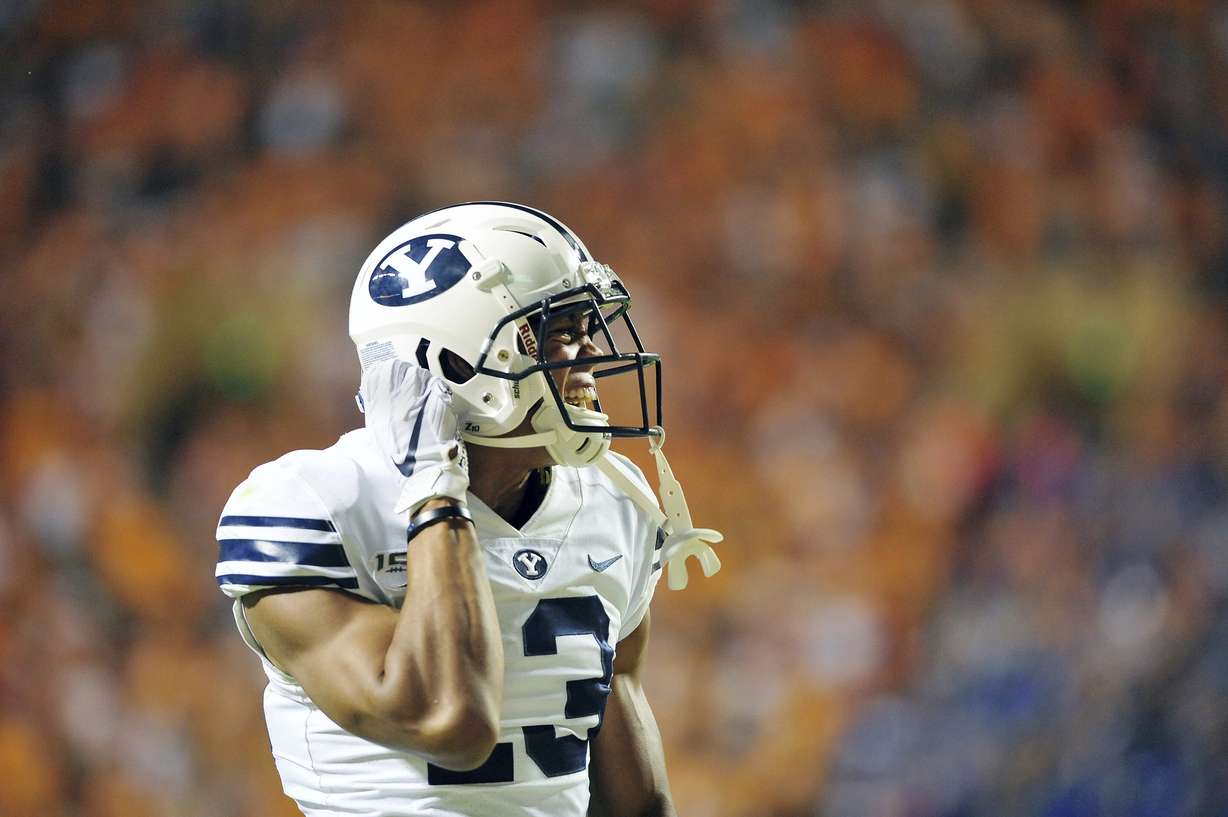 None of the group of Simon, Lee, Tanner or Laulu-Pututau, for example, were recruited by the current coaching staff to come to BYU, and they've also plowed through numerous staff changes — most notably, the firing of former Heisman Trophy winner Ty Detmer and replacement of Jeff Grimes as offensive coordinator two years ago.
While Grimes has done well of adapting his preferred offense to fit his current personnel, the roster still doesn't fit one that the first-time coordinator has recruited, groomed and developed for more than 18 months. It's impossible to know the depth of the challenge that presents to this year's Cougars, but it's equally unlikely to believe that there has been no challenge in assimilating new concepts, language, play-calling and an entire system into play.
Is BYU a spread-formation team? Maybe pro style, or a run-and-shoot offense?
The answer is probably yes — and also no (OK, maybe less of the latter, but you get the picture). Grimes has taken several offensive philosophies from his many stops at Boise State, Colorado, Arizona State, Auburn and LSU (to name a few), and he's still finding what works best for him. That can be a confusing time for his players, who are equally doing the best they can to adapt to a new voice — but there's always a learning curve.
And while the most difficult portion of BYU's schedule is over, games against Boise State, Utah State and San Diego State won't be won by a team that is still struggling to find itself in 2019.
What we know: Kalani Sitake knows how to win a big game
What we don't know: The Cougars are capable of losing to anyone
Every year of the Kalani Sitake Era has come with a big win.
The first-time head coach's first season in Provo was marked by future NFL pros Jamaal Williams, Taysom Hill and Kai Nacua leading the Cougars to a 9-4 record, including victories of Arizona, Michigan State and Wyoming in the Poinsettia Bowl in San Diego.
Even the next season saw the Cougars rally with a fourth-string quarterback to beat UNLV on the road, and finish off the season with a road win at Hawaii. And while those aren't the biggest of brand names in college football, wins are wins in a 4-9 season.
Last season, BYU went to Camp Randall Stadium and stunned then-No. 6 Wisconsin, and the Cougars followed that up this year with what is officially considered a top-25 victory — against then-No. 24 USC.
But the bad losses are equally befuddling: UCLA in 2016, most of the 2017 schedule but particularly a home loss to UMass, Northern Illinois in 2018, and Saturday's striking loss at Toledo perhaps stand out the most.
The hardest thing to find for a new head coach is consistency.
And through all the highs (and there have been plenty) and lows (oh boy, have there been) Sitake still hasn't found that even-keeled consistency.
×
Related stories
Most recent BYU Cougars stories