PROVO — Maybe it's not fair to pick on the only three times through the first 10 games of the NCAA women's soccer season that fourth-ranked BYU has been scored on.
But again, it's only three moments that goalkeeper Sabrina Davis and her back line of Alyssa Jefferson, Danika Serassio, Josie Guinn and Rachel Lyman have been beaten for a goal.
The first came in the second regular-season game of the year, when Mississippi State's Niah Johnson converted a penalty kick before Elise Flake scored her second goal of the match in a 2-1 road win.
The Cougars didn't allow another goal — or even many chances — for over a month, notching seven straight shutouts with wins over Utah, Utah Valley, No. 12 Texas A&M, and No. 14 Kansas, to name a few.
BYU rose as high as No. 5 in the national coaches' poll, setting up a nonconference finale with UC Irvine — a team that beat a similarly ranked BYU squad in 2013 in a shocking upset.
The Anteaters scored two goals — that's twice as many as the Cougars had allowed all year — in BYU's 4-2 win on Sept. 28.
First, there was the second-minute corner kick that made BYU play from behind from the first time all season. Then Jessica Miclat beat the Cougar defense with a stunning strike from the end line — the first goal allowed from the run of play all season by BYU. It was a beauty; feel free to watch it.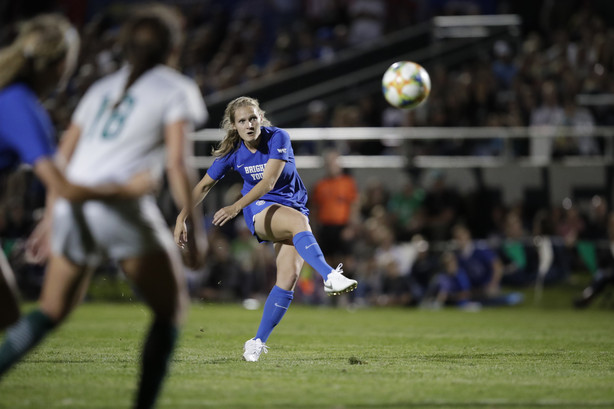 Even with now three goals allowed on the season, the Cougars still rank No. 3 nationally with .333 goals-against average, a mark superseded by just Monmouth and Arkansas, which has also allowed three goals but in 124 more minutes than the Cougars.
While the BYU offense has done its part — Flake ranks 12th nationally with nine goals in 10 matches, and Mikayla Colohan has six more strikes — it's the defense that has carried the Cougars across a road-heavy stretch while beating the top teams in multiple time zones.
And it will be defense that potentially carries them to a sixth West Coast Conference championship since joining the league in 2011, a title defense the Cougars open Saturday at preseason co-favorite Santa Clara (2 p.m. MDT, WCC Network), which comes in with a 6-5-0 overall record.
"Obviously, we have the ball a lot and we're attacking, so that's the best defense," Serassio said. "But it's also our team defense; it all starts with our forwards up top. And if we get that press-down, that's easy for our back line to read what's going on. So if the rest of the team is doing their job, then we can read what we're supposed to do. And it's easier to read."
The only unbeaten, untied team in collegiate women's soccer, BYU (10-0) returned its entire defense — the back line plus Davis — this year, which shouldn't be a surprise to the No. 3 defense in the country. Chemistry, after all, plays a big role in the back four.
It also plays a big role in the center back pairing, and Serassio and Jefferson have that in abundance. The two also played together two years ago, when Jefferson was a right back, and have only added to their mind-melded mentality by converting former attacking players Lyman and Guinn.
"We spend a lot of time on our team defense, and that's paid off for us," BYU coach Jennifer Rockwood said. "That's kind of our priority; we play a lot of attack as part of our defense, but defense is our priority."
With Flake and fellow forward Cameron Tucker pressing downfield from their forward spots, BYU's back line can focus on filling in gaps, making a dispossessing tackle, or simply standing pat and waiting for an attacking player to make a mistake.
It happens more often than not, after all — and good defense causes a lot of mistakes in the opponents' final third.
"I think we're playing to our individual players' strengths," Serassio said. "You got Bing and Josie who can fly up the field — so yeah, let's incorporate that. And then if our defense is going up, then their forwards have to go back and defend and they're not attacking us. I think it's definitely like our team game plan, and we're just good at playing to each other's strengths."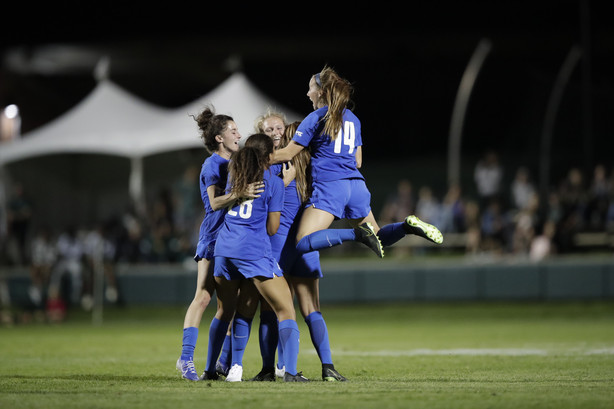 Of course, if the defense does get beat, they also have to contend with Davis. The two-year starter isn't the traditional long-armed shot stopper that most teams face, but the 5-foot-5 senior from Littleton, Colorado, has a way of organizing her back line, reading the play, and forcing stops that belies her size — and many keepers with twice her standing reach.
"She's just a stud, and I think that allows us to play with a lot more confidence," Serassio said of Davis. "I think she reads the game really well. And she'll come out and make saves that keepers twice her size don't make.
"Yeah, she's small, but she's quick and she reads the game so well."
Davis, who has 19 saves as a senior, is also adept at playing the ball at her feet, allowing her defense to help build the attack and move the ball up the pitch early. That helps the attack get into the right positions earlier and more often — a well-oiled cog in the overall soccer machine.
"There aren't many keepers at the Division I level that are her size right now, and she can play as big as any of them. She's proven that," Rockwood said. "But she's so quick. She reads the ball so well. She takes away opportunities to shoot.
"And she's our captain. She's our leader. She talks and organizes and brings us a lot of confidence overall to our group."
×
Related Stories