This archived news story is available only for your personal, non-commercial use. Information in the story may be outdated or superseded by additional information. Reading or replaying the story in its archived form does not constitute a republication of the story.
PROVO — Elise Flake's first two seasons with the BYU women's soccer team were nothing she'd write home about, or maybe even mention to her family when she went home to Mapleton for a weekend.
It's not that the former Maple Mountain star wasn't adapting on the field, or that she struggled to fit in with head coach Jennifer Rockwood's system, or anything like that. The 5-foot-7 forward was just learning, watching and biding her time as she studied former standouts like Ashley Hatch and Michele Vasconcelos while mostly coming off the bench and scoring six goals in her freshman and sophomore seasons.
But maybe that's exactly what Flake needed to do — watch, learn and prepare from a couple of future professionals. Hatch currently plays in the NWSL with the Washington Spirit; and, though injured, Vasconcelos was recently a starting midfielder with the Chicago Red Stars.
If that's the case, then this summer was an even bigger deal, making the final cut for the inaugural roster of Utah Royals FC Reserves, the semi-pro side of Utah's professional women's soccer team that is coached by former U.S. international Amy LePeilbet.
"It was an awesome opportunity. I was so grateful for it," Flake said of the summer soccer immersion. "They very much encouraged me to just go forward, and just attack people. I remember a lot of games where I would do that, and they would praise me and keep telling me that's how I'm the most dangerous.
"That's something I've always thought about, and I've taken into my season at BYU."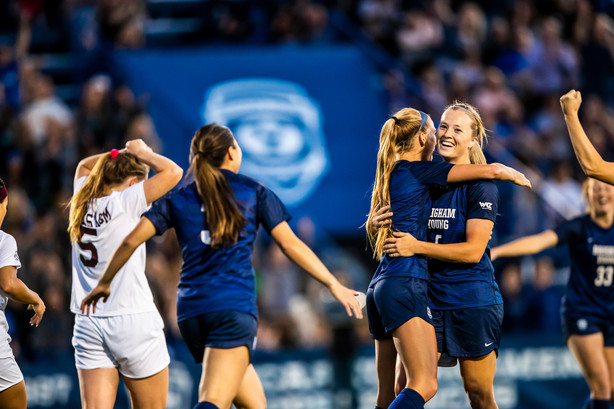 Flake had six goals and three assists this summer, playing with teammates Cameron Tucker (10 goals, eight assists) and Mikayla Colohan (eight goals, three assists) in addition to defenders Danika Serassio and Alyssa Jefferson.
But Flake has certainly brought her scoring boots back to Provo.
Flake, who has a team-high seven goals while starting all eight games to rank among the top 20 nationally, is one of a handful of standouts for the fifth-ranked Cougars, who improved to 8-0 last week with road wins over then-No. 14 Kansas and Kansas State.
Entering the final week before league play with Long Beach State on Thursday, and the home nonconference finale with UC Irvine on Saturday night (7 p.m. MDT, BYUtv), BYU is one of just two teams in the country with a perfect record (no losses and no ties).
Among those victories are wins over Alabama, Utah, Texas A&M and Kansas — the latter two are currently ranked No. 14 and No. 17, respectively, in the latest United Soccer Coaches' poll.
The impetus behind the attack is a pair of Utah County-grown forwards in Flake and fellow strike partner Cameron Tucker, a Lone Peak graduate who scored her first collegiate hat trick against K-State and has four goals on the season.
And wouldn't you know it? They both played with the Royals Reserves in their run to the Women's Professional Soccer League championship match this summer.
"It was great to be able to play with Cam and Kayla, as well," Flake said. "I think that helped us a ton with our chemistry coming into the season. We were ready to go."
That the trio of Flake, Tucker and Colohan played last season, spring and all summer together hasn't gone unnoticed, either. Rockwood event tweaked her usual 4-3-3 formation to try to get the most out of her attacking talent — with that trio at the heart of it.
"We have a unique formation that we are playing right now, and it's tough for other teams to adapt to it," Rockwood said. "We don't really know anyone else that is playing like it. It's mostly to encourage Elise and Cam to get the ball and go forward; that's their skillset, and that's what they are really dangerous at."
The Cougars are in rare territory, and not just as the No. 5 team in the country — a status that puts them in the upper echelon of college soccer, alongside Virginia, Stanford, Southern California and North Carolina.
Now the challenge is to keep it there and shoot to defend their West Coast Conference title, which they've won in six of the past eight seasons.
"We've gotten better every single game, and that's all we can ask for," Flake said. "Rankings are cool, but we're just trying to play to get better every game. We want to be ready for the postseason."
×
Related Stories