This archived news story is available only for your personal, non-commercial use. Information in the story may be outdated or superseded by additional information. Reading or replaying the story in its archived form does not constitute a republication of the story.
OREM — Danika Serassio doesn't normally take those kinds of shots in a game.
In practice, sure. But a game atmosphere, when the BYU center back is usually focused on keeping a clean sheet and shoring up the defense, ripping a 40-yard bomb is more difficult.
But she's got the green light, if she sees an opening, to get forward and have a go — and a go she had Monday night.
Serassio's second-half golazo helped the No. 10-ranked BYU women's soccer team to a 1-0 win over crosstown rivalry Utah Valley University in front of 3,952 fans in the Cougars' first-ever trip to Clyde Field, capping their best start in nearly 15 years.
"When those come out to me, if I have a good touch I can usually tell it's going to be a good one," Serassio said. "And when I have that touch, I knew this was going to be a good shot."
Sabrina Davis made four saves to earn the shutout for BYU, her fifth clean sheet of the year that includes a 2-0 win over then-No. 12 Texas A&M last week. In six regular-season matches, the Cougars have outscored their opponents 13-1 without allowing a goal from the run of play.
All thanks to Serassio, Davis and the rest of the standout back line of Rachel Lyman, Alyssa Jefferson and Josie Guinn.
"The only goal we've given up is a PK, so to keep that shutout in the run of play is really important to us," Serassio said.
Serassio gave the Cougars a 1-0 lead in the 64th minute, taking a pass from Jamie Shepherd and ripping a long-distance blast from nearly 40 yards away into the upper 90.
"Dan and Allyssa always have a green light to shoot from long range," BYU coach Jennifer Rockwood said.
The center back may have preferred the other side of the upper 90, but Monday's goal will do, keeping the Cougars' undefeated season alive and the best start since 2005, when BYU started 11-0-1.
"Those shots are actually my favorite," Serassio said. "That's kind of my sweet spot right there.
"I knew our team struggled that game. But our motto is to 'find a way;' and I was like, 'If this ball comes out, I have to put it away.'"
It was the first goal of her career for the senior defender, and a vital one as Shepherd was forced to the bench moments later after earning a second yellow card on a hard tackle from behind.
The foul forced BYU to play the final 20 minutes and change with 10 players, pressing Davis and the back line into action.
The senior goalkeeper prevented a golazo on her own, leaping to stop Heather Stainbrook's shot from distance in the 79th minute against the shorthanded Cougars. Shepherd's second yellow will likely require her to sit out BYU's next match, scheduled for Sept. 19 at No. 18 Kansas.
"We rarely have that situation. It's barely happened in 25 years," said Rockwood, whose team hasn't seen a red card since 2013 against Utah.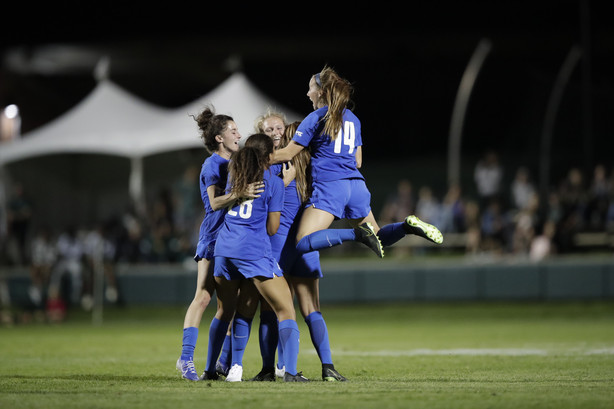 Both teams had their chances in a scoreless first half when BYU outshot the host Wolverines 9-2. Lizzy Braby had a chance carom harmlessly off the far post, and UVU goalkeeper Allie Jara made a pair of saves to keep the 10th-ranked team in the country off the scoreboard through 45 minutes.
Utah Valley (3-5) even had a chance itself, when Brianna Hatch — the younger sister of former BYU star Ashley Hatch — sat over a free kick from about 25 yards away in the 38th minute. But the shot swerved through traffic and Davis fell on the ball to keep the clean sheet.
"These are always tough games. We knew this would be a challenge, coming over to their place," Rockwood said. "The girls know each other, and we didn't get off to the start we wanted, obviously.
"I thought the girls reacted really well at halftime, came out and played a lot better."
Men's soccer: UC Irvine 2, Utah Valley 1
The game was part of a doubleheader with the Utah Valley men's soccer team, which lost 2-1 to UC Irvine.
The Anteaters (2-3-1) got goals from Eder Oliva and Victor Falck, who scored in the 101st minute to give UC Irvine the overtime win.
Blake Frischknecht scored a second-half goal for the Wolverines (2-2-1).
×
Photos
Related Stories