This archived news story is available only for your personal, non-commercial use. Information in the story may be outdated or superseded by additional information. Reading or replaying the story in its archived form does not constitute a republication of the story.
PROVO — Elise Flake did something against No. 12 Texas A&M women's soccer Thursday night that had not been done since Aug. 22: score a goal.
Then, three minutes later, she scored again.
Flake scored a pair of first-half goals just three minutes apart to help No. 10 BYU hand the Aggies their first loss of the season, 2-0 in front of an announced crowd of 3,712 fans at South Field.
"Once we get one (goal), we just have to put a second one away," Flake said. "We just kept pushing and got lots of shots on goal in the first half. We knew that it would come if we kept attacking their backline."
Flake has 12 goals since the final day of BYU's spring exhibition season April 13, including six markers with the semipro Utah Royals FC Reserves.
But the senior striker was at her best under the bright lights against a top-15 opponent. The Cougars (5-0) knew it, and they knew what the big-game atmosphere under the lights at South Field would bring out in her.
"We knew as a whole group that this was a big game," BYU goalkeeper Sabrina Davis said. "We played Texas A&M last year, and they had beat us 2-0. Our motto this year is to find a way, and so we made sure that we found a way to put the ball in the back of the net and get the result we wanted.
"We couldn't worry about what they are doing, but our strengths."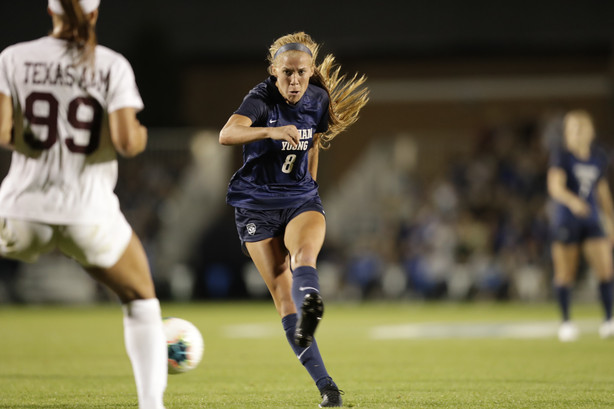 Flake had two chances in the first two minutes of a game that allowed few opportunities, facing an Aggie defense that carried a 529-minute shutout streak into Thursday night. The senior striker from Mapleton skipped a shot from just off the right side of the goalmouth that trickled wide left, narrowly avoiding her second goal of the season.
"We just wanted to go at them, as hard as we could, from the very beginning," BYU coach Jennifer Rockwood said. "We take a lot of pride in our attack right now; we've got such dangerous players.
"That's sometimes your best defense when you make your opponent play more defense than they are used to. That was the key tonight: the girls made them have to defend a lot more. It's hard to get in rhythm when you are defending a lot."
Flake put the home team in front in the 33rd minute, ripping a shot that deflected off the Aggies (4-1-2) and into the back of the net to give BYU a 1-0 lead.
The goal snapped Texas A&M goalkeeper Shantel Hutton's run at 563 minutes without allowing a goal, dating back to a 3-2 win over then-No. 13 Santa Clara in the first match of the season.
Just under three minutes later, Flake did it again, doubling the advantage by squaring up a pass from Josie Guinn and sliding the ball home with her right boot to give the Cougars a 2-0 lead at halftime.
"I knew I was in the box, so I had to get my shot off quick," Flake said. "I was playing with my dad before the game, and he said to keep the ball tight in the box with little movements and quick feet. That's what I was thinking when I was in the box with the ball."
Of course, the Cougars' defense isn't too bad, either. Davis collected her fourth shutout of the season, including a 2-0 victory over rival Utah, and has only allowed one goal in the first five matches — a set-piece strike in a 2-1 win at Mississippi State back on Aug. 24.
This time, Davis didn't have to make a single save, apart from organizing her back line of returning starters Rachel Lyman, Danika Serassio, Alyssa Jefferson and Josie Guinn.
"Let's just say, I'm super grateful to play behind a backline like that. Not only are they one of the best backlines that we've ever had come through this program, but they respond well. We knew that Texas A&M was going to come back out in a different formation in the second half, and the fact that we were able to adapt to them so well and so quick was amazing."
BYU out-shot the Aggies 22-4 and forced Hutton to make a pair of saves, in addition to the pair of goals. Top-15 Texas A&M averaged 17.8 shots per game before Thursday night.
If that doesn't impress some people, who knows what will?
"Rankings are cool," Flake said. "But we're just trying to get better every single day."
Next up
BYU embarks on a four-match road trip beginning Monday, Sept. 16 against Utah Valley in Orem. Kickoff is scheduled for 7:30 p.m. MDT on the WAC Digital Network before traveling to Kansas, Kansas State and Long Beach State.
The Cougars return home Sept. 28 against UC Irvine.
×
Photos
Related Stories