PROVO — The fifth-ranked BYU women's soccer team had to respond Saturday night in the final nonconference game of the season Saturday night.
From an early goal deficit, from an overtly physical play, and even from a near-comeback by the visitors — each time, they passed the test.
Mikayla Colohan scored two goals, and Elise Flake added her team-high ninth goal of the season on a penalty kick to help undefeated BYU rally from an early deficit to top UC Irvine, 4-2 Saturday night at South Field.
"I think it was good for us," Colohan said. "It kind of taught us a lesson and showed us how we can respond if we do go down a goal.
"But we won — we came out and won by two goals. We got one to tie it up, and then we continued to persevere through their physicality. I think it was really good."
BYU goalkeeper Sabrina Davis pushed a penalty-kick attempt into the post in the final minutes to help preserve the win for the Cougars, who improved to 10-0 in front of an announced crowd of 3,490 fans.
"Irvine's always been a very good team," BYU coach Jennifer Rockwood said. "There was no question that we were going to get a very tough game tonight. No matter what their record is, they are always good."
The Cougars are the only perfect team in America — no losses, no ties — and navigated a non-conference schedule that included wins over Alabama, Utah, No. 12 Texas A&M and No. 14 Kansas, among others. All without a loss. All without even an overtime.
They didn't even allow a goal from the run of play until Saturday night's non-conference finale.
UC Irvine (1-9) struck first just 90 seconds into the match, converting a high-pressure offense into a corner kick that Kyndal McKinney headed into the top shelf for the early advantage.
The Cougars, who have allowed just two goals on the season, allowed both markers from set pieces — a penalty kick in a 2-1 win over Mississippi State, and Saturday night's corner kick from Destinee Manzo finished by McKinney. It was the earliest goal BYU has allowed all year and forced them to play from behind — a rare feat for the fifth-ranked team nationally.
But that was the Anteaters' only shot until the latter stages of the half. And shortly after their second attempt, Colohan finished off a counter-attacking break to equalize.
Rachel Lyman whipped in a cross to Jamie Shepherd for a perceived equalizer, and the former American Fork star dived into the area before being tackled. But Colohan refused to give up on the play, lifting her fifth goal of the season to tie the match, 1-1 in the 38th minute.
"We always have our spots where we need to be, always a near-post runner, a runner in the middle, and you're just trying to get a deflection at that point," Colohan said. "As I see the ball bouncing around, obviously, I'm just trying to get anything on it."
Flake squared up a shot two minutes later that collided with nothing but the crossbar, and BYU outshot the Anteaters 6-3 in the first half to take a comfortable draw into the break.
Flake then scored the go-ahead goal on a penalty kick in the 68th minute. After a UCI defender was called for a handball in the box, the senior from Mapleton stepped up to the spot and calmly slotted home a right-footed effort to give the home side its first lead of the night.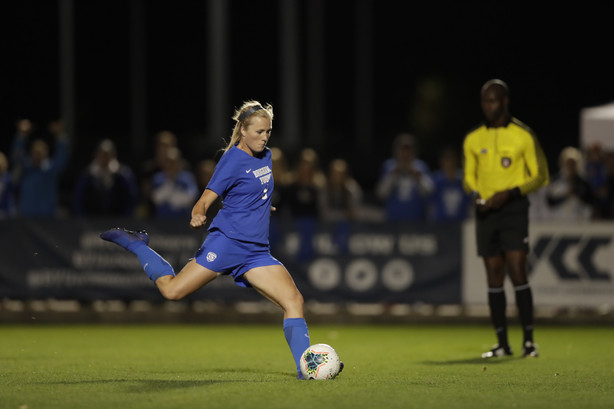 Colohan added a goal for her brace in the 75th minute, heading home Alyssa Jefferson's free-kick from 40 yards away to push the lead to 3-1.
But the Anteaters came right back. Jessica Miclat scored a bender from the end line to pull UC Irvine within one, 3-2. But freshman Rachel McCarthy responded just 90 seconds after, scoring the first goal of her career by ripping a shot from distance for the final margin.
After conceding the opening goal, BYU outshot the Anteaters 18-6 the rest of the way, including a 6-1 advantage on frame.
"This was a little bit more back and forth, and we had to make some adjustments," BYU coach Jennifer Rockwood said. "Irvine did a great job of trying to shut down what we do and made us uncomfortable for a while. We haven't been that uncomfortable in a few games.
"The girls were able to solve it. They were able to settle down, and take control."
BYU will open West Coast Conference play against fellow preseason favorite Santa Clara next Saturday, Oct. 5.
×
Related Stories