PROVO — BYU was in business, after Chaz Ah You stripped Toledo leading rusher Bryant Koback for a fumble with 68 seconds left in a tie game, 21-21.
On the next play, the Cougars were out of business.
Kahlil Robinson returned Zach Wilson's second interception of the day in the final minute, and Shakif Seymour ran for a 2-yard score just moments later to lead Toledo to a 28-21 home win over BYU in Glass Bowl Stadium.
"It (was) really a swing of emotions," BYU wide receiver Micah Simon told BYU Radio after the game. "I was confident we were going to move the ball down. But it happened; they got the pick. We just had to stay ready. We knew we would get the ball back."
Mitchell Guadagni completed 17 of 28 passes for 206 yards, a touchdown and an interception for Toledo (3-1), and Seymour ran for 96 yards on 19 carries for the Rockets. Bryant Koback added 88 yards and had a score for Toledo, which won its third-straight game.
Aleva Hifo led BYU with 111 receiving yards and two touchdowns, and Wilson threw for 315 yards with two touchdowns and two interceptions for the Cougars (2-3) before going out of the game holding his hand before the final series.
Emmanuel Esukpa ran for 61 yards and a touchdown for BYU.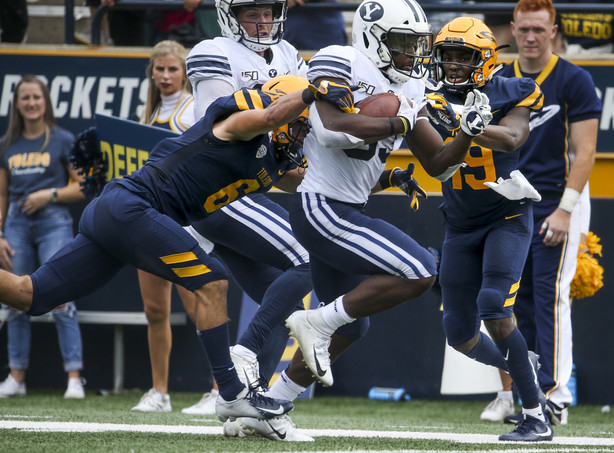 No other BYU receiver had more than 50 yards, though Matt Bushman and Gunner Romney had 45 and 43 yards apiece, respectively.
But it was Guadagni's scrambling ability that hurt the Cougars. The senior signal caller ran for 77 yards — without sacks — including a game-long scramble of 19 yards.
"They're quarterback got them out of a lot of trouble," BYU defensive back Dayan Ghanwoloku said. "When things weren't open, he made the play. He ran the ball well, and we've got to do a better job of containing him."
Wilson was seen after the game with a wrap on the thumb of his throwing hand, and head coach Kalani Sitake told media after the game that his QB1 will likely be out of an undetermined amount of time.
The Cougars have a bye next week and play at South Florida on Oct. 12, when Jaren Hall is currently expected to start at quarterback.
"He's probably going to be out for a little bit," Sitake said. "How long that is, we still have to evaluate and get some more opinions on it."
Turnovers spelled the doom for BYU, though. The Cougars recovered two fumbles — including a muffed punt by Ghanwoloku to set up Hifo's second score and a 21-14 lead before the fourth quarter.
Even after the Rockets flipped BYU's turnover scenario on Robinson's pick, Ghanwoloku decried any thought of "letting them score" to give the ball back to the offense with more time to recover.
"We're not going to let them just score," Ghanwoloku said. "We tried to get a stop, we got in, but obviously we had time to score. We just didn't stop him.
"Every game's going to be a dog fight, and we've just got to fight harder."
BYU lost for just the third time under Sitake when leading after three quarters.
"I told them that I'm tired of losing. I'm tired of this feeling," Simon said. "It's definitely a gut check for us, as a team. It's time for everybody to look in the mirror, and self-reflect how much you care about this, how much effort you are going to put into the season to not have this feeling again.
"As a senior, it's my job to keep everyone up … but know that we are super disappointed in the loss. We'll bounce back."
×
Photos
Related Links
Related Stories