PROVO — The celebration is over.
The line dance in the postgame locker room — and the glee, jubilation and nonstop, ear-to-ear smiles that went along with it — has ended.
And there was plenty of reason to celebrate, what with BYU's 30-27 overtime win over then-No. 24 USC, the Cougars' first home win over a ranked opponent from the Pac-12 since 2009, and arguably the biggest home win in Kalani Sitake's head coaching tenure.
There was even a postgame line dance to attend.
"My daughters keep telling me to stop dancing," Sitake admitted Monday during his weekly press conference. "I tell them that daddy is going to dance because the guys want me to. I don't know if the moves will get any better, but I know if we keep winning that I will get tons of practice."
It was a buoyant jubilee in the locker room underneath LaVell Edwards Stadium after the Cougars' latest win. Not only is beating an established West Coast brand like Southern California a reason to celebrate, but it marked the first time in program history BYU has gone into overtime in back-to-back games and won.
But that was last week; now it's time to move on.
No. 22 Washington (2-1) lurks around the corner, and with that comes a new week and a new challenge from a team that nearly shut out the Cougars a year ago before a 35-7 win in Seattle.
Win or lose, college football waits for no man.
"It's pretty much the same thing with wins and losses. They give us the weekend to celebrate, but as soon as Monday starts that game is in the past," BYU receiver Gunner Romney said. "We don't think about that game.
"We go through the film and learn negatives and positives, win or lose. But once we start Monday practice, the last game is a past game. We have to focus on the new opponent and the task at hand."
BYU running back Ty'Son Williams, who transferred from South Carolina and knows well the grind of week-to-week "big games," gave game day a "24-hour rule," similar to most coaches' "48-hour rule" leading up to big games, when they shut off media interviews, light-hearted texts and even some family conversations in preparing for a game.
It's important to celebrate a win. But one day should be enough, Williams said — win or lose.
"You celebrate it and enjoy the victory — but once Monday comes around, you have to be ready to get back to work," he said. "College football is a one-week season. You can't be thinking about last week when you have an opponent coming up this week."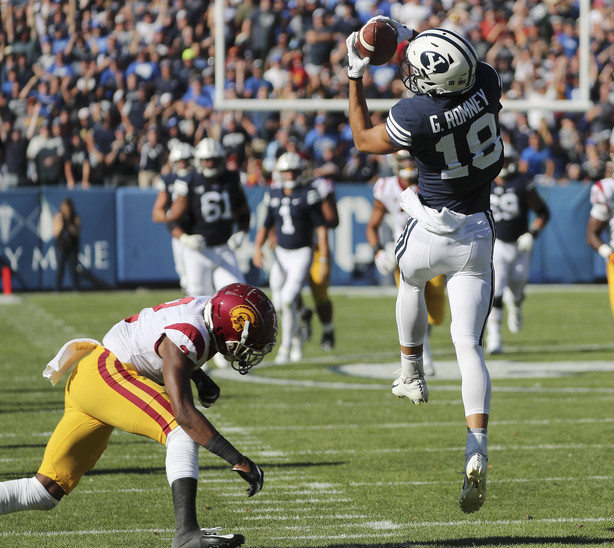 BYU was once left for dead, alleged to be facing "too strong" of a front-loaded September schedule, what with three Pac-12 opponents at LaVell Edwards Stadium sandwiching a trip to SEC Country and Tennessee. There's no way the Cougars could survive such a brutal slate at anything other than 0-4, the skeptics claimed.
Yet here they are, far from 0-4, at 2-1 before the final Pac-12 home game with a chance to prove themselves once again.
And Sitake is grateful from the congratulations he's received — from the likes Steve Young, Andy Reid and Taysom Hill — after what could be a season-defining win over the Trojans.
"It took a while to text everyone back," the fourth-year head coach said. "But I did it."
But now it's time to move on.
On the tube
BYU's upcoming home game against No. 22 Washington will air on ABC or ESPN2, with the Worldwide Leader in Sports yet to confirm its intended destination.
But the university announced Monday that the Week 5 contest at Toledo will air exclusively on ESPN+, the network's subscription-based digital package that has deals with the Mid-American Conference, as well as the Big 12 and international and domestic soccer leagues, among others.
While trending downward, according to the latest Nielsen projections, ESPN2 is still in approximately 87 million homes. ESPN+ boasts just over 2 million subscribers, according to current market estimates.
New kicks
BYU kicker Jake Oldroyd was named national "star of the week" by the Lou Groza Award committee after making 3 of 4 field goals, including a long of 43 yards and the game-winner in overtime against the Trojans.
Through three games, Oldroyd's eight field goals are tied for the most in the nation, and he leads the team with 29 points.
×
Related Stories