This archived news story is available only for your personal, non-commercial use. Information in the story may be outdated or superseded by additional information. Reading or replaying the story in its archived form does not constitute a republication of the story.
SALT LAKE CITY — Amid a recent decline in duck populations across the continent, Utah wildlife officials believe the state's duck population, as a whole, is healthy heading into the upcoming waterfowl hunting season.
According to Ducks Unlimited, a conservationist group that tracks duck information, there are about 38.9 million total ducks in North America, which is a 6% decline from 2018 and a 21% decrease from 2015. However, the duck population remains 10% above the long-term average set from 1955 through 2018. The group's data was collected by information from the U.S. Fish and Wildlife Service, the Canadian Wildlife Service and other partners.
U.S. Fish and Wildlife Services officials cited drier and colder conditions in central Canada as a contributing factor toward the decreased population on the continent in its report released on Aug. 19.
Meanwhile, Utah's above-average water year led to great conditions for birds in the state, according to Blair Stringham, assistant wildlife program chief for the Utah Division of Wildlife Resources. While the state didn't provide an exact duck population estimate number, he said it's believed ducks populations are higher than last year.
In all, Utah has 15 duck species, and state wildlife officials say hunters should expect large numbers of gadwall, cinnamon teal and mallard ducks in Utah's marshes this year. That said, officials said pintail and scaup duck numbers are lower and below long-term averages.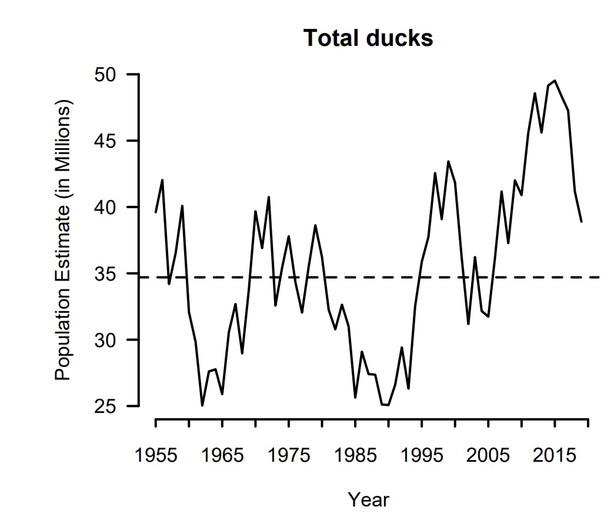 "Hunters can expect great hunting conditions this year, especially early in the season," Stringham said, in a news release. "Overall, most duck species are well above their long-term average, so hunters can expect to see a lot of birds as they migrate through the state."
The northern Utah duck hunting season starts Oct. 5 and goes through Jan. 18, 2020. The scaup duck season ends on Dec. 29. Youth were able to hunt ducks during a special one-day hunting session last week.
Duck hunting in the southern Utah region begins Oct. 12 and runs through Jan. 25, 2020. The scaup duck season will begin Nov. 1 in the south region. Youth will also be able to hunt in the region Saturday for DWR's day set aside for the Youth Waterfowl Hunt.
Those who plan to hunt must purchase a license in Utah before they hunt.
Geese numbers reportedly down in Rocky Mountain Region
Of course, hunters will also have a chance at geese and swans in Utah. In its Aug. 19 report, federal wildlife officials reported the Rocky Mountain Region — which includes Utah — experienced a 30% drop in Canada geese from the previous year, but the population was still about 7% above the 10-year average.
State wildlife officials said they believe geese numbers are down this year because of Utah's wet and cold spring during nesting season, which happens earlier for geese than ducks. However, Stringham explained there isn't a well-kept total goose population survey like there are for ducks so a 30% decline may be misleading.
"A lot of the states do just doing a breeding survey and that's what we were referencing. Locally, here in Utah, our population did go down a bit just due to the poor nesting conditions, cold weather and stuff, but as for the region, we don't have any good data for it," he said.
Stringham also said he expects it won't impact hunting conditions or the number of geese in the state this fall.
"Goose numbers in the Pacific Flyway, the north-south flying route for migratory birds in North America, are higher than they've ever been, and hunters can expect to see just as many, if not more, geese than they saw last year," he said.
Geese season dates can be found here.
750 new swan hunting permits added to 2019 season
Unlike ducks and geese, hunters must have a permit to hunt swans, and more opportunities were handed out for the 2019 season. According to the DWR guidebook, there were 2,750 permits available for the year — 750 more from the previous year after the federal government approved additional permits.
The sale of those began on July 3.
State officials said "tens of thousands" of swans fly through Utah every fall as they migrate to California for the winter. Stringham said many swans will remain at the Bear River Migratory Bird Refuge from early November until the northern Utah marshes freeze.
Populations are above the number desired by wildlife officials, he added, which will likely make for a good season. The swan hunting season runs from Oct. 5 through Dec. 8.
More information about the swan hunting season can be found here.
×
Photos