SALEM, Utah County — Scot Moldenhauer, a beloved physical education teacher at Salem Junior High, has been a huge Michael Jordan fan his entire life. His office is filled with memorabilia of the famed basketball player and he often wears his Michael Jordan No. 23 Chicago Bulls jersey.
But on a teacher's salary, Moldenhauer said he never wanted to spend the money on his dream pair of shoes: Nike Air Jordan 14s.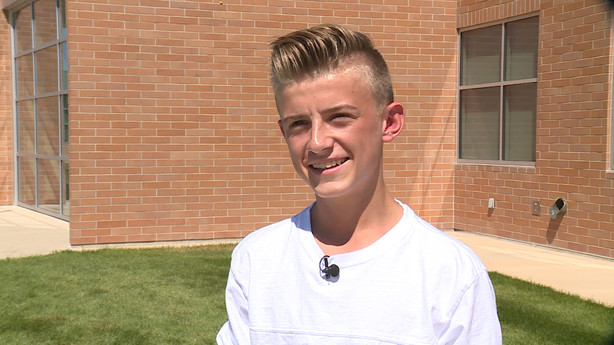 Being a teacher isn't about the money to Moldenhauer anyway, who calls his students his heroes.
"They're outstanding, they're a great example to me," he said. "They're actually my heroes."
So when Moldenhauer tore his ACL and hamstring, his students decided it was time to do something nice for one of their favorite teachers.
"It was mainly just for him because he's a really cool guy and we all love him," said Maxx Montague, ninth grader at the junior high.
Montague and a few of his friends organized a fundraiser to buy Moldenhauer his dream shoes because he'd been through a lot with his recent injury.
Montague said it wasn't too hard to raise about $150 for the shoes, and he mainly went around the school asking his classmates if they wanted to donate.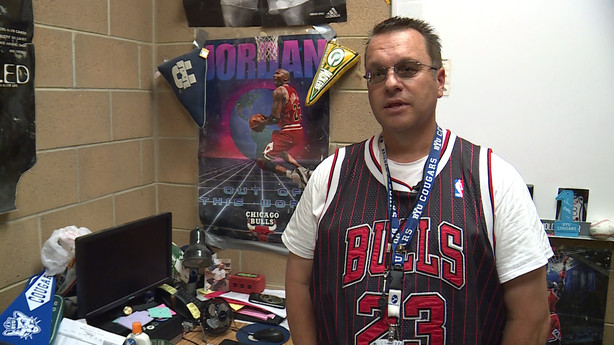 When Montague asked his favorite gym teacher what size shoe he was and which model of Nike Air Jordans he liked best, Moldenhauer said he thought nothing of it.
Once the money was raised and the shoes were bought, Montague and a few friends were ready to present the recovering P.E. teacher with a gift he would never forget.
The students went into Moldenhauer's office and handed him the shoebox, at which point Moldenhauer later said he thought it was some sort of prank.
But when he opened the box, Moldenhauer realized it was no prank at all.
"He was super excited, he got a little emotional towards the end of it," Montague said.
Students took a video of the exchange and submitted it to House of Highlights Instagram page. It was posted Wednesday and has since amassed more than 2 million views.
"It was a pretty exciting day for me," Moldenhauer said of getting the shoes.
Moldenhauer, who's been a teacher for 24 years and spent the last four at the junior high school, said his relationship with his students is why he loves his job.
"It makes me want to come to my job every day," he said. "They're fun to be with, they teach me, and hopefully I'm teaching them something."
Contributing: Winston Armani, KSL TV
×
Photos