PROVO — Kavika Fonua spun around, stared at the mass of humanity spilling over the edges of the bleachers at LaVell Edwards Stadium and onto the field, and grabbed the nearest person to him.
"What just happened?" he remembered asking one of the thousands of student who rushed the field following the Cougars' 30-27 overtime win over No. 24 Southern California (2-1).
The biggest home win of the Kalani Sitake era, that's what.
"I don't know what we're cheering for, but something happened that made me happy," Fonua said.
Then he turned to teammate Dayan Ghanwoloku, who gave his teammates and Cougar fans the reason to celebrate. After nine tackles, a pass breakup, a broken pass breakup (that he still believes was offensive pass interference, when Michael Pittman Jr. scored a 30-yard touchdown), a rushing touchdown, and the game-sealing interception, Ghanwoloku had reason to breathe.
A win is a win, and BYU has two of them after back-to-back overtime games — the first in program history.
"We play well away against big teams like Tennessee, and winning over there with all those fans is great," Ghanwoloku said. "But seeing this at home is crazy, especially seeing our fans rush the field.
"That's what we're here for. We want to win in front of them and protect LaVell's house. It was just a good feeling."
Here are a couple of reasons the Cougars (2-1) stunned USC on national television Saturday and what it means for the program going forward.
Winning the turnover battle
Turnovers have played a key role in all three games to date for BYU (2-1).
First, there were the three turnovers forced by Utah — including a pair of pick-sixes — in a 30-12 loss in the home opener.
A week later, the Cougars rebounded, keeping a donut in the turnover column and coming back from a 13-3 deficit to stun host Tennessee in double overtime.
But against the Trojans, the Cougars did one better — they took those turnovers and they cashed them in.
First, it was Payton Wilgar's interception, which quickly became Ghanwoloku's 1-yard touchdown dive just a few moments after USC offensive coordinator Graham Harrell and freshman quarterback Kedon Slovis used every trick in the Air Raid offense to march to a 10-play, 74-yard, 7-0 lead in the first quarter.
So it was fitting, perhaps, that the final play of the game — the final act of BYU's all-inclusive, 11-player drama that gave USC its first loss — was an interception, this time to Ghanwoloku on Slovis' mistimed throw that was tipped near the line of scrimmage by Fonua.
"We knew they were trying to get some quick throws and deep come-backs," Ghanwoloku said. "Coach always says that with tips and overthrows, we've got to get them."
When the ball is in his hands — whether on offense, defense or special teams — the former Northridge High running back can do some special things.
"I just want to be a playmaker, whether it's offense, defense or special teams," Ghanwoloku said. "I got 100 percent. You go play where coach wants you to go play."
Added Fonua, who played against the former Dayan Lake while a linebacker at Syracuse High: "In high school, we would go against each other. He was good."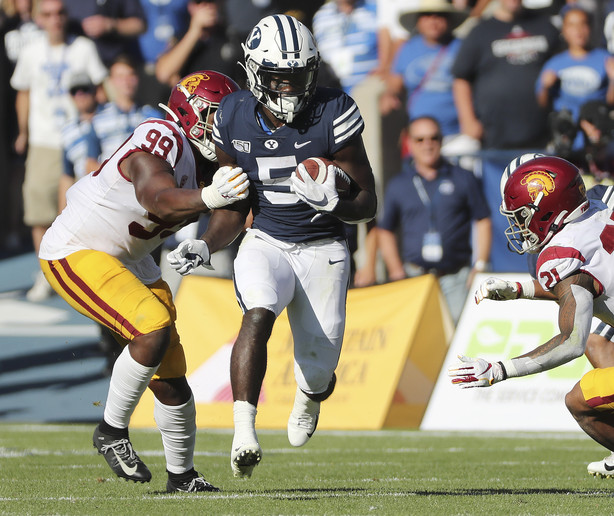 Grimey ball
BYU offensive coordinator Jeff Grimes has rebuilt the Cougars from a 4-9 team that year he got them, to one that progressively gets better.
And with Saturday's win over USC, Grimes turned the BYU playbook into a full-blown palette.
In response to the Trojans' Air Raid offense that relies on a quarterback willing to take risk and flinging the football all over the yard — think Washington State's Mike Leach, Houston's Dana Holgorsen, or even BYU legend LaVell Edwards — Grimes' offense has done its best work on the ground. The Cougars ran 40 rush plays to 34 pass plays, led by Ty'Son Williams' 99 yards on 19 carries.
But that rushing attack opens up the quarterback, too — such as when Wilson scampered into the end zone for a 16-yard touchdown with his main running back flexed out wide in the fourth quarter to give the Cougars a 27-24 edge.
"We all just try to work," Williams said. "If the play comes, you have to make it."
BYU's offense was, in many ways, a reverse of USC's offense. But the defense made the Trojans do something they didn't want to do — USC threw the ball 34 times (Slovis completed 24 passes for 281 yards and two touchdowns, but with three interceptions and two sacks) to 45 designed run plays.
"Defensively, we made an Air Raid team rely heavily on the run, and that was a good thing for us," Sitake said. "I thought the defensive line did an amazing job owning the line of scrimmage, and providing pressure on the three-man rush.
"I just love that our guys keep playing and keep working hard. When we have that type of effort and that type of energy on the sidelines, I think we're in a good position."
Sitake's signature win
This isn't the first time BYU has knocked off a ranked opponent, nor is it the first win over a ranked team under Sitake.
But unlike after last year's 24-21 win over then-No. 6 Wisconsin, or other big wins in the first three seasons of Sitake's maiden voyage as head coach, the Cougars have now beaten Power-5 opponents in back-to-back weeks.
For the first time since 2009, BYU has a win over a Pac 12 opponent ranked in the AP Top 25. That's not a team from the SEC or Big Ten or Big XII that only occasionally watches BYU football or scarcely scouts the Cougars; it's an opponent from the Pac 12, whose conference often fits into the same television windows, and usually at the same time on an ESPN channel, as opposed to Fox, FS1 or the Pac 12 Network.
Sitake didn't want to address the status of the "big" win over the Trojans; it's all about his players, and celebrating with a team that has become family.
But his players acknowledged how the gravity of the win.
"It's huge; this is such a big win for us," Wilson said. "It's easy to go into Monday learning after a win.
"There are so many things that we have to get better at. But the fact that we got a win is huge. I'm so proud of this team for battling."
×
Related Links
Related Stories