KNOXVILLE, Tenn. — Critics will say that BYU had no business beating Tennessee on Saturday night, being out-gained 418 yards to 339 and not scoring an offensive touchdown more than once through regulation.
Response, Cougars?
Scoreboard.
Ty'Son Williams scored his second touchdown of the game from 5 yards out, and BYU rallied from a 13-3 halftime deficit to stun the Vols 29-26 Saturday night at Neyland Stadium in Knoxville, Tennessee.
"I don't think I've ever been a part of anything like that," Williams told BYU Radio after the game. "Credit to my line, for giving me the push and pushing me into the end zone."
Williams led the Cougars with 92 yards on 17 carries, and Zach Wilson threw for 232 yards for BYU. Micah Simon had a career-high 127 yards on seven receptions for BYU (1-1).
Tennessee quarterback Jarrett Guarantano completed 14-of-22 passes for 149 yards and two touchdowns to Jauan Jennings, who caught four passes for 88 yards. Ty Chandler added 154 yards on the ground for the Vols.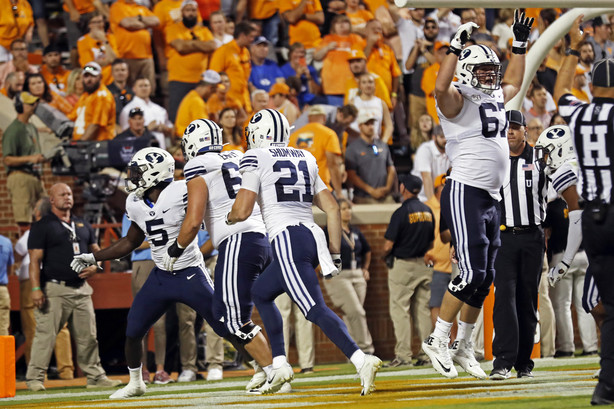 "You've got to give BYU credit," said Tennessee coach Jeremy Pruitt, whose Vols fell to 0-2 for the first time since 1988. "They kept fighting, and they never gave up. It was one hell of a game."
By so many metrics, so many stats on paper, BYU shouldn't have won this game, and the Cougars should be on a plane back to Provo with an 0-2 record. Instead, they'll be 1-1 ahead of back-to-back home dates with Pac-12 opponents USC and Washington.
"It gives us a lot of confidence, a lot of momentum to continue to the next week," Simon said. "We've got to take it one game at a time, but we're going to enjoy it tonight and tomorrow. Then it's on to USC."
Wilson's 14-yard touchdown pass to Talon Shumway in overtime was the sophomore quarterback's first touchdown strike of the season, and Tennessee responded with a 13-yard bomb to Jennings.
BYU BEATS TENNESSEE, 29-26 IN KNOXVILLE ‼‼‼‼#BYUvsTENNpic.twitter.com/rQVjjf2ZWa

— KSL.com Sports (@KSLcomSports) September 8, 2019
But Williams was averaging 5.4 yards per carry, one of two running backs to do so (Emmanuel Esukpa averaged 5.7 yards on three carries). BYU, which was held to minus-4 yards at the half, ran for 111 yards after the break behind Williams and Esukpa.
So when they had a chance to win it after holding the Vols to a field goal in double overtime, neither Wilson — nor offensive coordinator Jeff Grimes — doubted in who to give the opportunity to win the first game of the 2019 season.
"Based on numbers, I probably should've thrown the ball," Wilson said. "But I knew we had the momentum. This dude (Williams) was running hard, and the O-line was getting a good push.
"Ty'Son made a guy miss in the second (play), and I thought let's see what he can do. The O-line kept him up, and pushed him all the way through."
Wilson had just 144 yards passing through the final series of regulation, with no touchdowns (and, perhaps more critically, no interceptions).
The sophomore from Corner Canyon gave his team a chance to win with his smart play, his reads and his timely chances. BYU improved to 8-1 under Kalani Sitake when they don't commit a turnover.
Backed up near his own end zone with just over a minute left in regulation, Wilson had a chance to play the hero.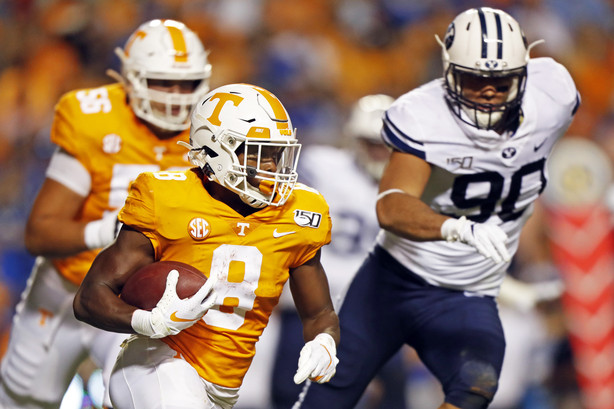 But a pair of incompletions, a 12-yard run and a holding penalty kept the win out of reach. But not the tie.
Wilson hit Simon with a 64-yard bomb, and the receiver slipped behind the defense before being downed at the Tennessee 16-yard line. That set up Oldroyd, who drained his third field goal of the game to force overtime, 16-16, and stun the 100,000-plus crowd that included more than 10,000 BYU fans at Neyland Stadium.
Resilience. Grit. Fortitude.
Whatever you call it, BYU had it in the second half.
"We have great kids, and it's the parents that raised them the way that they are. I'm fortunate to be their coach," Sitake said. "They come with this resilient attitude to work hard.
"They get over losses really quickly, and they get over wins really quickly. We're going to enjoy this on the flight — and they we'll get right back to work. These guys deserve it; the players deserve it, and I'm glad the coaches and myself could benefit from it."
×
Related Links
Related Stories