SALT LAKE CITY — Utahns love their sports. We love preps, college and our pro teams: the Utah Jazz, Real Salt Lake and the Utah Royals FC.
Sports fans of each team in Utah say they are the best fans in the state. University of Utah football has the MUSS, RSL fans beat drums and happily sing the "Believe" chant, and Jazz fans are arguably the loudest in the NBA.
All of the fans I just mentioned fall short to the fan base who, in my opinion, are the most loyal and proud fans in Utah: BYU football fans.
For the record: I am not a BYU alumnus nor is any of my family affiliated with the university, and I'm not even a Latter-day Saint, so I don't have any sort of bias toward BYU in any way. I'm just stating the obvious. No other fan base goes all-in on their team like BYU fans — and for that, they need to be recognized.
BYU football fans believe their team is capable of putting up a fight against any other football program in the country. Do some of the fans go off the rails and into unrealistic territory? Yes! It's a bit annoying to hear things like "we could win a national title again" or see signs that say "We want Bama" at LaVell Edwards Stadium. But despite the great odds and the other team having more talent, BYU football fans still honestly believe the impossible is possible — for better or worse.
Who shows off their sports gear more than BYU football fans in Utah? No one. Who wears their team colors more often than BYU football fans? Again, no one. Yes, it can be annoying, especially for Ute fans. But we can't knock the love for their team too much. Let's face it, us non-BYU football fans would like to see our team's fans be a bit more enthusiastic at times.
What is it about BYU football fans that makes them so passionate? Perhaps those of us who are neither BYU alumni nor BYU sports fans will never truly know. But unless you're a Utah alumnus, you must give props to BYU fans for being there for their team. Whether it's in the pouring rain, late summer heat, or a blanket-like snow day, BYU football fans will be there for their team.
Who goes to the airport to welcome back their team on a regular basis? BYU football fans do.
Yes, Utes fans and Jazz fans go and welcome their team at the airport at times; but let's be honest, it's not at the same level as Cougar fans. They wait at the airport as if BYU had won a national championship — and that's just for regular-season games. Imagine if BYU was in a conference and would be able to play for a conference title. Now imagine if they won, let's say, the Big 12 title one day. My goodness! The airport would be a sea of blue and white, and a terminal would likely need to be shut down!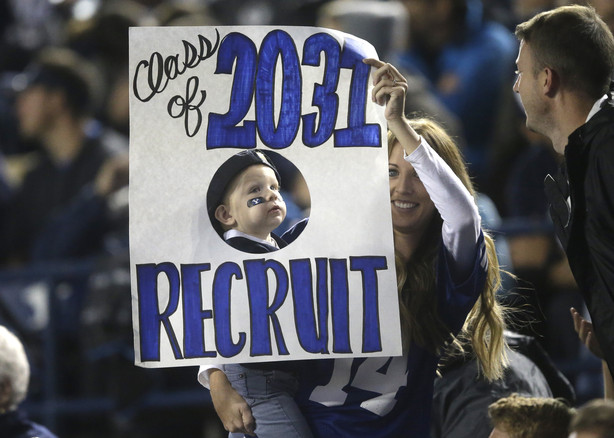 Speaking of airports, which Utah sports fan base travels better than the rest? BYU football fans, that's who. I'm just being honest.
There are a good number of BYU alumni around the United States, so that helps the fan base travel to games around the nation, obviously. But there are also a good number of Utah residents who either fly out or road trip to Cougar games as if it was a trip to the Super Bowl — and last week's BYU game was a prime example of this tremendous fan dedication.
Last Saturday, the Cougars went to Knoxville and defeated Tennessee in a game that will be remembered for many years. And you know who else was tremendous? The BYU fans who made the trip, whether from Utah or alumni living in Tennessee or nearby states, to watch the game. Those fans, like Zach Wilson's parents, sat and hoped for a last-minute miracle by BYU. Wilson found Micah Simon, and you know the rest of the story.
After the game, BYU fans, on cloud nine after their team's win, showed their class and respect to the Knoxville Police Department. After police officers working the game were given the all-clear to head home, BYU fans cheered the officers, clapping and giving high-fives to each official walking out of the gate.
"They make a path and begin cheering for us! I must have given 100 high fives and heard 'thank you for your service' dozens of times," said Capt. Jeff Stiles with the Knoxville Police Department. He thanked BYU football and said, "I wasn't necessarily a fan last night, but will be from now on."
How tremendous is that? Not only did the Cougar fans stick around and congratulate officials on a great job, but they did it at an opponent's stadium. Who really does that?
BYU football fans, that's who.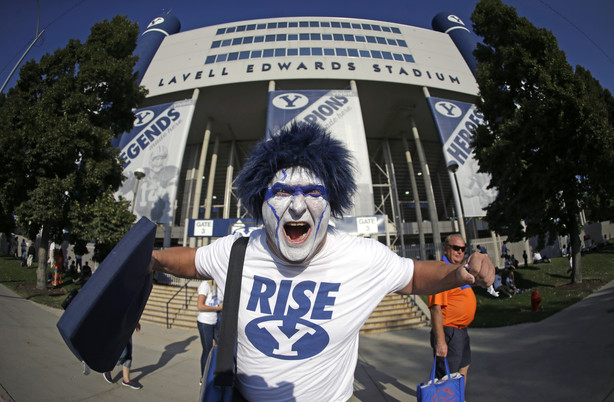 This Saturday, BYU will be in the national spotlight when USC comes to Provo in an afternoon showcase broadcast on ABC. It's an opportunity for the Cougars to move above .500 on the season, and another opportunity for BYU fans to show their passion in front of a nationally televised audience.
Will the Cougars win a national title anytime soon? It's unlikely. Will BYU get into a Power Five conference? Maybe one day, who knows?
But one question that has been answered already by seemingly endless dedication, willingness to go anywhere, pride and love: Are BYU football fans devoted and passionate about their team unlike any other fan base in Utah? Yes, yes they are.
Owning that distinction isn't the equivalent of another national title, or even a conference title. I get it. But it's a distinction that no one can take away, and it's a distinction that all non-BYU football fans must respect and admire.
Unless you're a Ute fan, of course.
×
Related Stories