SALT LAKE CITY — Having a rival is a good thing, at least in sports.
Don't let others fool you: rivals are needed. The New York Yankees need the Boston Red Sox; Barcelona needs Real Madrid; Duke needs North Carolina; even Roger Federer needed Rafael Nadal to help make him a bit more interesting.
Who are you if you don't have a rival? You're just some good team or player that no one really pays attention to; you're just not that interesting.
Most Utahns support the Utah Jazz — unless you're a Los Angeles Lakers fan, then you've likely been a part-time Golden State Warriors fan over the last five years. The Jazz unite Utahns, and we're very thankful for that. This upcoming season's team is arguably the Jazz's best title-contending team since the early 2000s.
While the Jazz bring Utahns together, it's the rivalry between BYU and Utah that will always divide us — and the state is better for it.
The Utes vs. Cougars brings out a passion that any kind of Jazz success can't emulate, with all due respect. Ask any U. or Y. alum and they will tell you that it's their alma mater's success in the rivalry game that they care about each fall.
And you know what, there's nothing wrong with that. It's absolutely healthy. Why? Because BYU-Utah represents more than just some in-state rivalry; it represents a clash of different cultures, among other things.
For the most part, between the Utes and BYU, the U. has been seen as the more liberal school, with BYU seen as more conservative. I'd be remiss if I didn't acknowledge the connection between BYU and The Church of Jesus Christ of Latter-day Saints.
BYU is a private school that emphasizes the faith of its founders and owners, while the U., a public university, is clearly a more religiously diverse school. Neither is better than the other when it comes to this; they're just different, that's all.
The differences in the cities that each school calls home also plays a part in what makes the rivalry special. The bigger, more liberal state capital of Salt Lake City versus the smaller, more conservative city of Provo.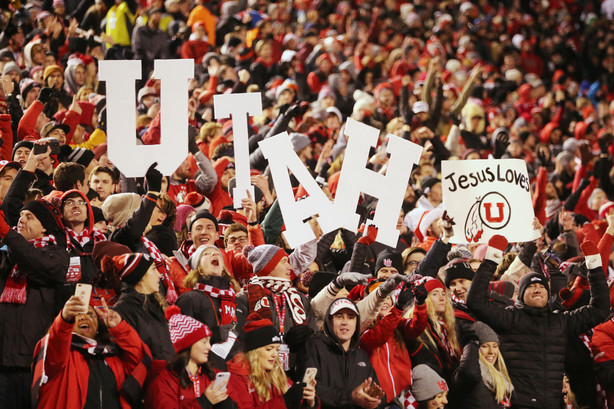 We may not take it into consideration at times, but yes, the cultural differences between the cities and the schools' teachings play a major part in the football rivalry. The game is a way for these two differences to clash on the field for at least 3 ½ hours in a (mostly) friendly manner.
For nearly two decades, BYU had the success, both as a program and against Utah, with the Utes only winning two rivalry games between 1972 and 1992. Out of the two schools, it's the Cougars with the national title (and BYU fans will tell you about 1984 for hours if you let them).
Since 2002, it's been Utah with the overwhelming edge, both in the rivalry game and in overall football success. Finishing the season undefeated and in the top 4 in 2004 (No. 2 with a 12-0 record) and 2008 (No. 4 with a 13-0 record) have been the jewels of Utah fans for the past 15 years.
Both BYU and Utah football have been high and low when it comes to success. But one thing that is never at a low is the passion of the fan base of each school. The MUSS is an institution at Rice-Eccles Stadium, while BYU fans are seemingly there to support their team despite great odds against their team.
Who is louder in the state than the MUSS? Who shows up or travels better than Cougar fans throughout the country? These are just some of the elements that make this rivalry the best thing in Utah sports.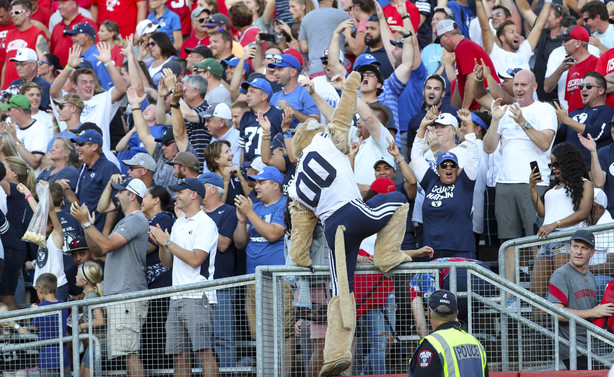 Jazz fans are passionate, but any Jazz fan that is also a BYU or Utah fan (or alum) will show a bit more passion and favor their school to win a Utes-Cougars football game over the Jazz. The Jazz will always unite Utahns, but the passion of a BYU-Utah football game is one level above.
The rivalry is special because you get households divided, all in good fun, of course. Mom is a U. alum, but dad is a BYU grad. Brothers and sisters choose to stay neutral or side with a parent during the week of and during the game. What about those who went to Utah for their undergrad and BYU for their post-graduate program? You've gotta pick a side, right?
Let's not forget the coaches that made the rivalry special. From legends LaVell Edwards and Ron McBride to the more recent clashes between Utah head coach Kyle Whittingham (BYU alum) and (former pupil and Utah assistant head coach) Kalani Sitake. Regardless of the outcome, the coaches have shown class toward each other, and that's something to admire.
Of course, local high school recruits have a tough time deciding between schools, with some of them seeing their high school teammates becoming foes in the fall.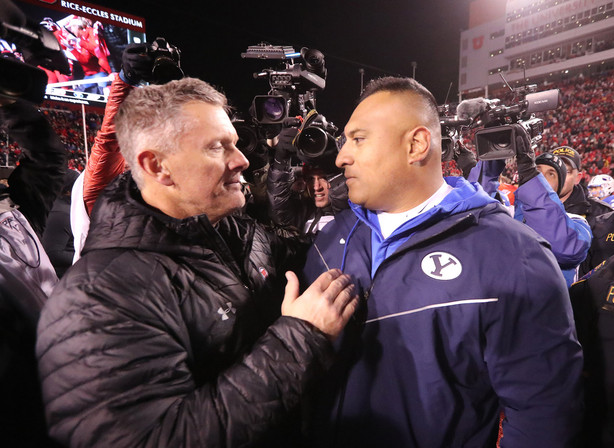 These are some of the things we get with BYU and Utah. The Jazz, Real Salt Lake or even any other college program has this: a true rival that is both similar and different
Yes, being united as a fan base is good. But having a rivalry is special, and seeing it play out each year in your own backyard cannot be matched. Why? Because it's not boring, it's not just OK, it's not simple. A rivalry may be one-sided at times, just ask both BYU and Utah fans. But ask any Ute or Cougar fan and they will tell you that even in the most one-sided rivalry eras, the passion for the rivalry is never one-sided.
So, as we get ready for another game between BYU and Utah, let's take a moment to appreciate what Utahns have, regardless of whether you're an alum of either school or not: one of the best rivalries in college football that, for many, represents more than just a game.
The Utes vs. Cougars is truly the heartbeat of Utah sports.
×
Related Stories