SALT LAKE CITY — All the negative energy that hovered over the BYU football team was mere seconds from soaring to outrageous levels. Practically anything short of disbanding the program would have been up for discussion.
And then Micah Simon snuck behind everybody in orange, making a 64-yard reception from quarterback Zach Wilson to set up a game-tying field goal in the final seconds to force overtime. The Cougars then scored two touchdowns in the two overtime possessions to stun Tennessee in double overtime in Knoxville last week.
For much of the game, in which Tennessee never trailed until the last play, it didn't look like BYU had a chance to win. Coming off an opening loss to Utah, and with USC and Washington up the next two weeks, another defeat virtually assured a 0-4 start to a season that surely would doom Kalani Sitake's tenure as the head coach.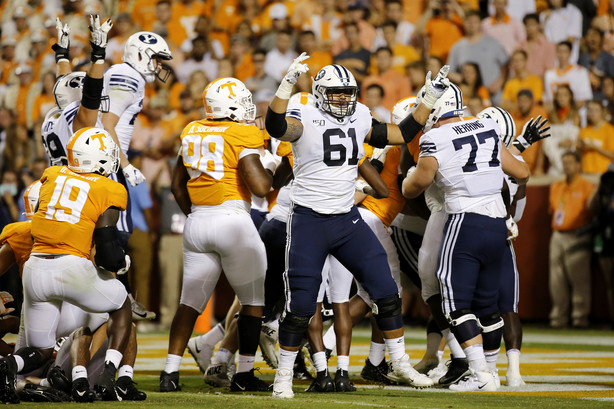 Surprised? Not really. It's what BYU does.
Like they have done repeatedly over the years, the Cougars beat a big-name program in the face of all sorts of doubt. Suddenly, after two weeks, BYU is hapless no more and the program no longer requires a complete overhaul.
Since going independent, after BYU athletic director Tom Holmoe had time to strengthen the quality of the schedule, it seems like gloom and doom has been predicted at the start of every Cougar season. Against a Power Five-laden early schedule, BYU is not supposed to be able to compete and win games.
Yet, history would indicate otherwise. Every season, the Cougars have managed to find ways to beat some of the Power Five conference teams, as they did last year at Arizona and Wisconsin.
This year it was Tennessee, a program that is coming off a losing season and already is 0-2 this year.
Still, after getting outclassed at home against the powerful Utes last week, few expected BYU to upset Tennessee.
Looking over the last 30 years, nearly every season BYU has managed to win a game or two against what is now known as Power Five competition. At the same time, more often than not, the program also has a losing record each season against Power Five teams.
Going back to 1990, which would include the final decade of the LaVell Edwards era, BYU has gone 39-62-1 against Power Five teams. Nine of these losses have come against Utah, which joined a Power Five conference in 2011.
All those seasons with double-digit wins were built on the strength of lesser competition in either the Western Athletic or the Mountain West conferences. Over the last 30 years, BYU has only two seasons in which it beat a Power Five team three times (in 2014 and 2016.).
Since going independent nine years ago, BYU has won at least 10 games only once. The 10-3 season came the first year of independence in 2011 when BYU was 1-3 against Power Five teams.
Get used to it, BYU nation.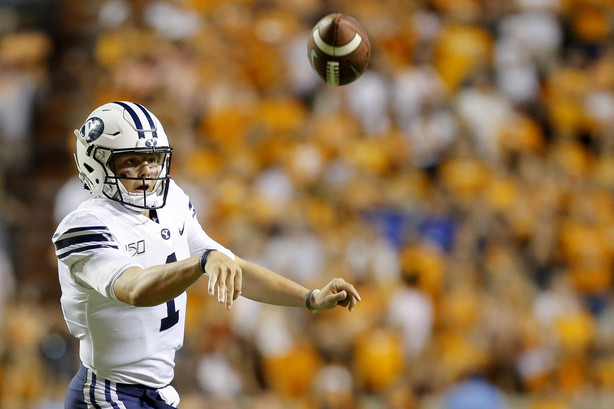 Speaking before an audience at BYU's Education Week last month, Holmoe put his scheduling philosophy in perspective. He said: "If I wanted to, I could schedule 10 wins a year. It's easy. We're independent. But you're going to see the teams we beat and you're not going to like it. Do you want that? I don't think so. But some people say, 'Get us to 10 wins.' I could care less about 10 wins unless it's against 10 quality opponents."
Going forward, BYU has no choice but to play several games against better competition. It's the only way for BYU to create a national buzz, as it did in 2015 after thrilling last-second wins over Nebraska and Boise State.
It's why Holmoe lined up this year's schedule that included the first four games against Utah, Tennessee, USC and Washington. Without a chance to win a conference championship, BYU needs a strong schedule to entice recruits.
Last week, the Tennessee game was played in primetime on ESPN. This week, BYU gets nationally-ranked USC at home on Saturday afternoon on ABC.
"It's what you dream of," Simon said. "This is what it's all about."
×
Photos
Related Stories