AROUND THE SHIELD — Kyle Van Noy — the former BYU linebacker, noted "Brigham" supporter and only local product playing on Sunday Night Football in Week 1 — was a late scratch for the New England Patriots, but not due to injury.
Van Noy was moved to New England's inactive roster Sunday when the linebacker joined his wife Marissa in the hospital to await the birth of their first child.
It's good to see the Pats allowing Van Noy to be with his wife during a momentous occasion. And for those who have always said that New England coach Bill Bellichick doesn't have a heart, here's proof.
Van Noy has played in 21 games since joining the Patriots three years ago in a trade with the Detroit Lions. In that time, he's made 195 tackles, 10 sacks, two interceptions — and won two Super Bowls with New England.
His Patriot teammates went on to beat Pittsburgh, 33-3 without him.
Here's how other locals from around the league did in Week 1 of the NFL season.
LA Rams 30, Carolina 27
Former Utah star Eric Weddle suffered a gruesome head laceration during a brutal collision in the first half for the Rams. The 13th-year NFL veteran who signed with the Rams in the spring, was given immediate medical attention and left the game starry-eyed with medical supervision.
But that didn't stop him from tweeting his support of his teammates during the game as they pulled away to a 1-0 start. He finished with six tackles for the Rams, the fourth-most on the team.
Former Utah State wide receiver JoJo Natson returned two punts for 19 yards, including a 16-yarder in the fourth quarter as the Rams tried to pull away.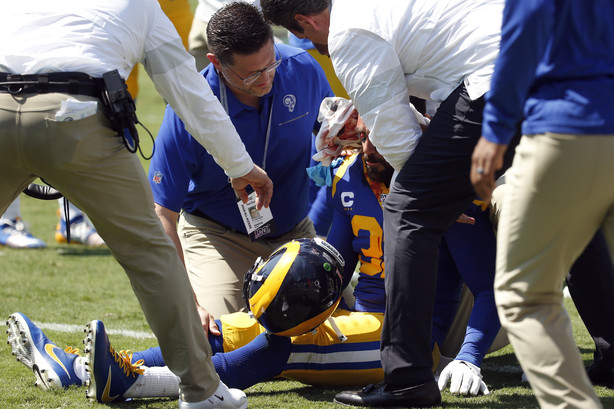 San Francisco 31, Tampa Bay 17
Fred Warner posted a team-high nine tackles, including seven solo stops, to go along with a pass defended to lead the 49ers by the Buccaneers.
Warner, a former BYU linebacker from the San Diego area, also forced a fumble in the 49ers' win, one of four turnovers against the Bucs.
Former Utah punter Mitch Wishnowsky averaged 45.5 yards on two punts, including a kick downed inside the 20, for the Niners.
Former Utah kicker and Orem High alum Matt Gay booted a 41-yard field goal that pulled Tampa Bay within three, 20-17 in the fourth quarter before the 49ers pulled away for good.
Seattle 21, Cincinnati 20
Former Utah State linebacker Bobby Wagner had nine tackles, one off the team-high, as the Seahawks edged the Bengals.
Former Highland High standout Bryan Mone, an undrafted free agent who played at Michigan, added two tackles for the Seahawks. Seahawks rookies Cody Barton and Marquise Blair, both from Utah, were active on special teams for the Seahawks, while former BYU pass rusher Ziggy Ansah was inactive for what would've been his Seattle debut.
Nick Vigil had seven tackles, including a tackle for loss, in the Bengals' loss.
Dallas 35, NY Giants 17
Former Timpview High standout Xavier Su'a-Filo, who played collegiately at UCLA, came off the bench to replace injured right guard Zack Martin for the Cowboys. Su'a-Filo also gave a shout out to his alma mater prior to the Thunderbirds' 34-14 loss to Kahuku (Hawaii) on Saturday.
Former Stanford and Bingham High tight end Dalton Schultz was limited for the Cowboys with an ankle injury suffered earlier in the week in practice.
Detroit 27, Arizona 27
Former Southern Utah defensive back Miles Killebrew made two special-teams tackles for the Lions, who led 24-6 in the fourth quarter before the Cardinals rallied to tie.
LA Chargers 30, Indianapolis 24
Former Utah offensive lineman Sam Tevi started at right tackle, and helped pave the way for running back Austin Ekeler to run for 58 yards with three total touchdowns, including the game-winner in overtime in the Chargers' win over the Colts.
Ekeler also caught six passes for 96 yards and two scores.
Former BYU cornerback Michael Davis left the game early with an apparent hamstring injury for the Chargers.
Baltimore 59, Miami 10
Former Utah defensive back Eric Rowe made 11 tackles in his season opener with the Dolphins, a team that set records of futility in Sunday's opening game.
Baltimore jumped out to a 42-10 halftime lead, setting a Ravens franchise record for most points scored in the first half of a season opener.
Kansas City 40, Jacksonville 26
LeSean McCoy reunited with former BYU graduate assistantAndy Reid and ran for 81 yards on 10 carries to lead the Chiefs to victory.
Running back Darwin Thompson, a rookie from Utah State, had just one catch for 3 yards for Kansas City, who deferred to McCoy and Damien Williams (13 carries, 26 yards, one touchdown) in the run game.
Former BYU safety Daniel Sorensen had a special teams tackle for the Chiefs.
Buffalo 17, NY Jets 16
Former Weber State defensive back Taron Johnson had three tackles, including a tackle for loss, to help the Bills rally from a 16-3 fourth-quarter deficit and shock the Jets.
Former Utah and Bingham High standout Star Lotulelei added a tackle in his Bills regular-season debut, and former Utah State linebacker Maurice Alexander had a tackle on special teams.
Former BYU and Bingham High standout Harvey Langi, who ascended to the starting outside linebacker spot in camp with the Jets, tipped a pass that ended up in teammate Neville Hewitt's hands for an interception. His former BYU teammate, Bronson Kaufusi, also started for the Jets.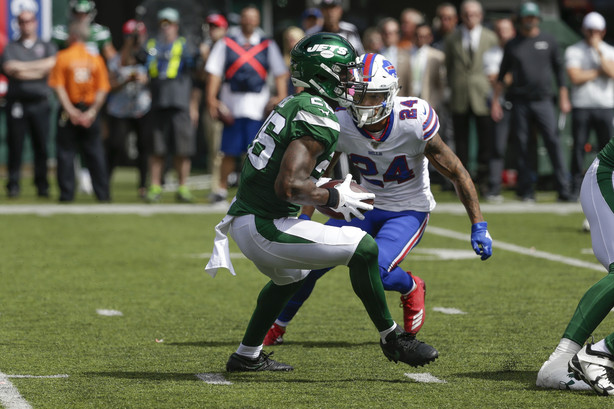 Tennessee 43, Cleveland 13
Browns rookie Sione Takitaki was limited in Cleveland's opener. The former BYU linebacker was marked as questionable after missing much of last week's practice with a hamstring injury he suffered during training camp.
Green Bay 10, Chicago 3
Former BYU running back Jamaal Williams was a part of the Packers' season-opening win Thursday night in a matchup that highlighted the NFL's 100th season.
Williams, who did not start and added 15 yards on two receptions, had two short runs to get him back to zero after being tackled twice in the backfield. He also made a tackle on punt coverage.
Former Utah State linebacker Kyler Fackrell had a tackle on defense and another on special teams for the Packers.
Former Utah State lineman Patrick Scales, a Weber High grad, started his fourth season opener at long snapper for the Bears. After the Dolphins waived BYU grad John Denney, Scales is now the only local long snapper in the league.
×
Related Stories