Estimated read time: 4-5 minutes
This archived news story is available only for your personal, non-commercial use. Information in the story may be outdated or superseded by additional information. Reading or replaying the story in its archived form does not constitute a republication of the story.
GOSHEN, Utah County — Tintic Mill may have been closed and abandoned for nearly a century, but it's become a popular place for teens, taggers and photo seekers over the years, despite warning signs about high levels of arsenic and lead in the soil and water.
Now, authorities who oversee the land are taking an aggressive new stance in trying to thwart trespassers. Utah Division of Wildlife Resources conservation officers will start actively issuing citations to anyone caught trespassing at the mill or the Goshen Warm Springs Management Area, agency officials said Tuesday.
In a statement, DWR Sgt. Sean Spencer said the decision to issue citations was made as conservation officers have seen a recent uptick in visitors to the mill.
"It's an extremely unsafe area," he said. "This entire area is closed to the public, including for hunting. We want everyone to stay safe, and that means staying out of this area."
DWR spokeswoman Faith Heaton Jolley said conservation officers actually began issuing citations over the weekend, handing out at least 10.
"There's just a lot of misinformation online saying that it's a good place to go take pictures," she said. "They're really just trying to enforce the message this area is not safe and it's not a place you should come to."
While state wildlife conservation officers issue the citations, the cases are handled by the Goshen District Court after that. Jolley added those who are cited could face a fine or community service.
The Tintic Standard Mining Company built the mill just south of Utah Lake in 1920. It was mostly used to process silver through what is known at the Augustin process, which is done to reduce high amounts of sulfide in raw ore. Changes in processing silver made the mill obsolete by 1925.
"The Tintic Standard Reduction Mill was famous because it was one of the last mills in the country to use the Augustin process," Chris Merritt, deputy state historic preservation officer for the Utah Historical Society, told KSL.com last year.
The company kept the property until the 1970s when it was sold to Amax Arizona Inc. It was also added to the National Register of Historic Places in 1978. In 1986, DWR took ownership of the 280 acres of land surrounding the mill and the agency has overseen the land ever since. The mill is a part of the Goshen Warm Springs Wildlife Management Area.
In 2002, the land was closed off to the public after the Utah Department of Environmental Quality sampled the water and soil in the area and found high levels of arsenic and lead — high levels of both elements can be fatal. Jolley also pointed out that since the facility is nearly a century old, most of the infrastructure itself is crumbling and unsafe.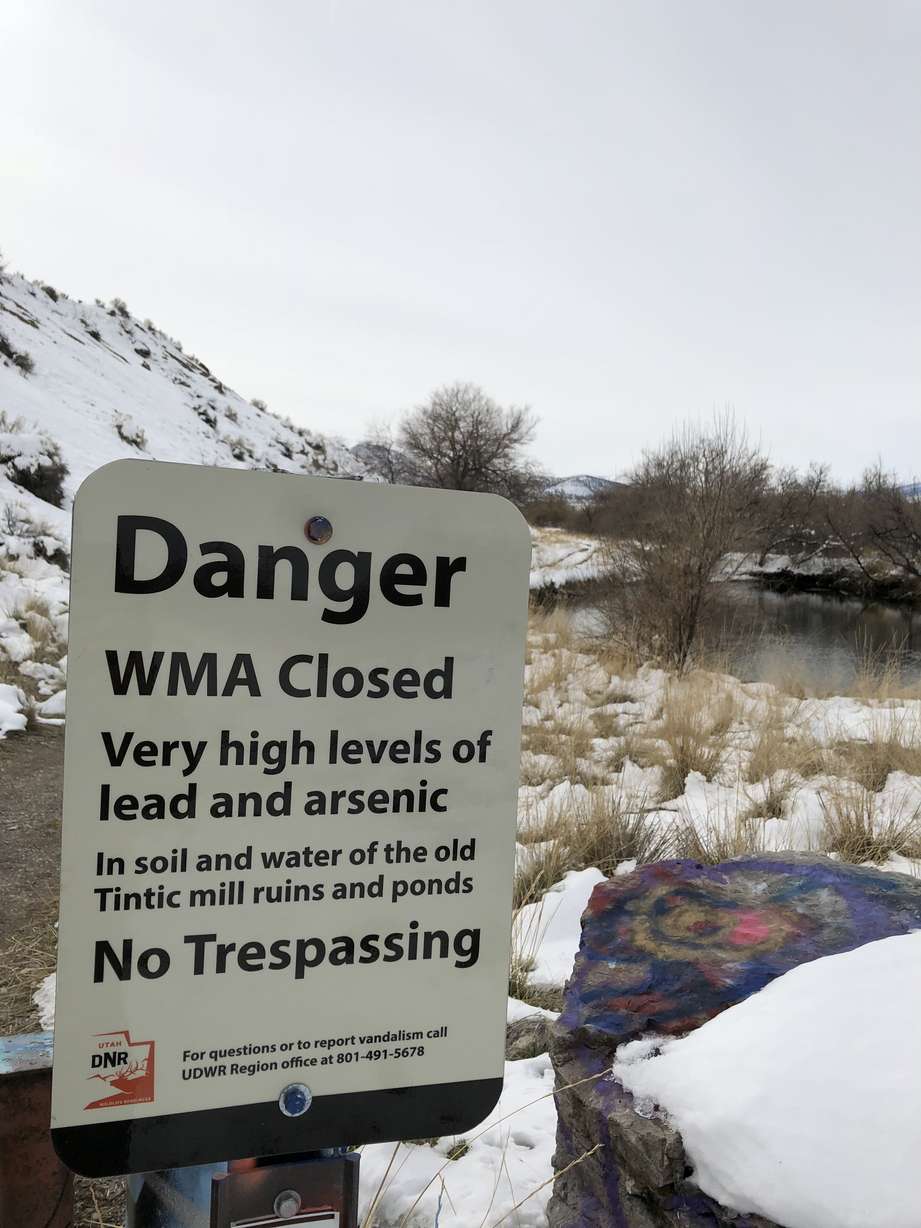 Despite the closure, it has remained a popular spot for tagging and photos. Most of the water tanks, ore bins and other parts of the facility are also covered in graffiti. A quick search of Instagram geotags found dozens of photos of people posing in front of graffiti and people climbing around the abandoned facility over the past few years.
"Our officers kind of think it is because of some of this information online that's out there saying, 'Go take photos. It's a cool place to hang out.' There's just been a big increase in people going there, trespassing and vandalizing with graffiti," Jolley said.
Along with a growing number of trespassers and incidents of vandalism, conservation officers say they have caught people using drugs and littering on the property.
State officials say there are no plans in the future to remediate the site due to "prohibitive costs."
The division attempted to ramp up reminders the place is closed to the public in 2017. The agency placed new signs about the closure and a barbed wire fence around the facility. However, officials said they had a problem with signs being torn down every time they were put up.
They hope by now issuing citations, their message will be clearer.
"We are really just trying to make sure that people stay safe, because it is a very unsafe environment," Jolley said.
×
Photos
Related stories
Most recent Outdoors stories