PROVO — Zayne Anderson thought this would be it.
Whether it included a career in the NFL or moving on to a post-football professional life is anyone's guess. But Anderson wasn't supposed to be preparing for BYU's 2019 football season this fall. He wasn't supposed to be coming back from offseason shoulder surgery, or mentoring another crop of freshmen, or helping the Cougar defense in its fourth season under defensive coordinator Ilaisa Tuiaki.
He was supposed to be moving on — to another team, or another career, or another profession — much like his previous teammates and classmates Sione Takitaki, Corbin Kaufusi, Tanner Mangum, Matt Hadley, Squally Canada and others.
But injuries have a way of wrecking timelines. The human body can only take so much. Sometimes, time waits for no man — and no plans.
And for that Anderson, while a little bit confused at first, is grateful.
"It's surreal, having two senior years," Anderson told KSL.com at BYU media day. "Last year was weird, to miss out on all that; I thought I was going to graduate with them and move on.
"But everything happens for a reason, and I feel like I am back again, after having a senior experience, now knowing that this is my last year. I put in my work this offseason, I know what it takes."
It hasn't been easy. Anderson, a team captain in 2018, tore his labrum Sept. 15 during a 24-21 win over then-No. 6 Wisconsin. Just three games into senior year he thought the season was over.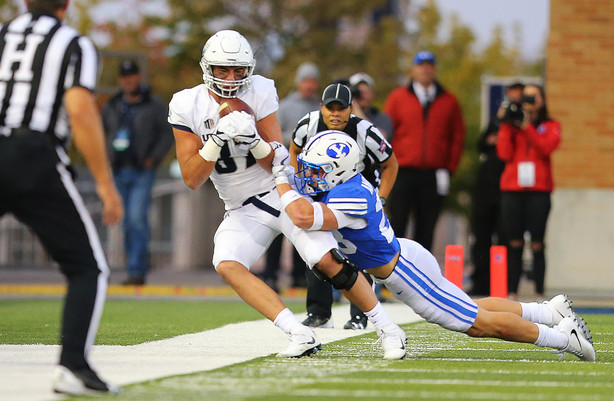 It wasn't quite done, though.
After shoulder surgery, Anderson insisted on coming back, targeting the Cougars' Oct. 5 in-state rivalry game with Utah State.
Again, his body had different plans. After making eight tackles, including six solo stops, in a 45-20 loss to the Aggies, Anderson's shoulder gave out again.
"That was rough," he said. "That's when I knew that if I had played the whole season, it wouldn't have worked out."
Fortunately for the Stansbury High product, the NCAA's new four-game redshirt rule had just been enacted. By shutting down the season after the Utah State game, the 6-foot-2, 215-pound Anderson could redshirt and preserve one final season of eligibility in 2019.
"It's been hard to come back, but I wouldn't want to be anywhere else," he said. "I'm happy to be with these guys, and happy to be back at BYU."
The Cougars are happy to have him back, as well.
The loss of players like Kaufusi and Takitaki to the NFL has left holes to fill in BYU's linebacker corps. So having players like Anderson and Isaiah Kaufusi to fill some of those holes has been a boon for linebackers coach Ed Lamb.
Just how important was Anderson a year ago? Consider this: the then-senior amassed 36 tackles, including 23 solo stops, to go along with an interception and a pass breakup.
That ranks as the seventh-most tackles on the team — in only four games.
"We're going to build it first with experienced guys, and those are Isaiah and Zayne," Lamb said. "They're really running the show right now. During the offseason, by rule, we have limited contact with our players within football context. The strength coaches are really heading things up as far as interaction. But those two guys have been meeting with the linebackers and running the practices."
It's not that there isn't more talent at linebacker; it's just unproven. Chaz Ah You, the former Timpview High standout, is back from a two-year mission for The Church of Jesus Christ of Latter-day Saints, which proceeded a true freshman season that saw the Saratoga Springs native play in seven games at outside linebacker.
Add in talented youngsters like Olympus product Ben Bywater, Brighton's Drew Jensen and Jackson Kaufusi, and Orange County, California, product Alex Miskela, among others, and it's easy to see the potential that lies in the group.
There's talent. But there's also youth, which is where Anderson comes in.
"The core of our linebackers don't have a lot of experience, but there's a lot of talent there," he added. "Being able to watch from the sidelines gave me a lot of confidence in knowing that I can trust the guys behind me at defensive back, too, and I can trust the other linebackers beside me, and the guys in front of me on the defensive line."
They'll hit the ground running, too, with four-straight Power Five opponents to open the season, beginning with rival Utah in the season opener Aug. 29 at LaVell Edwards Stadium.
But after a season of will-it-or-won't-it be his last, Anderson is ready for the challenge that 2019 will bring.
"We came to BYU because it's hard, and doing hard things make you stronger as a person and as a team," he said. "Competing against these top-tier teams is going to give us the experience we need and make us a better team."
×
Photos
Related Stories