This archived news story is available only for your personal, non-commercial use. Information in the story may be outdated or superseded by additional information. Reading or replaying the story in its archived form does not constitute a republication of the story.
PROVO — Sione Takitaki knows the journey he's been on, from high school football to BYU, suspended from the team for a year, and back to BYU to conclude his standout career.
He even embraces the ups and downs of what became a storybook ending in 2018, when he was named a team captain and helped return the Cougars to the postseason with a berth in the Famous Idaho Potato Bowl and a win over Western Michigan in Boise, Idaho.
"I embrace it. I love it," Takitaki said. "I think it's part of the journey."
The next step of that journey? The Cleveland Browns.
The Browns drafted Takitaki on Friday, selecting the 6-foot-1, 240-pound linebacker with the 80th pick in the 2019 NFL Draft.
"I know that they weren't doing so good for years, and last year, they got their offense going and got into a groove," Takitaki told Cleveland media Friday night via conference call. "They had a good season last year, but felt like they could get better with some close losses.
"Going into this year, they brought in a good player, brought in OBJ, and some free agents. So I feel like this year, they are only going to go up."
Takitaki is the first-ever Browns draft pick from BYU in program history.
For the second-straight year, BYU has had a linebacker drafted in the third round after Fred Warner was picked in a similar spot by the San Francisco 49ers a year ago. The duo joins Kyle Van Noy (2014), Rob Morris (2000) and Todd Shell (1984) as linebacker draft picks from BYU.
"I'm very excited for Sione," BYU coach Kalani Sitake said in a statement from the school. "He will fit perfectly with his talents in Cleveland with a really good coaching staff. Sione is a versatile athlete and really took advantage of his experience playing three different positions for us. He will just continue to get better."
But did Takitaki expect to go to the Browns, with Odell Beckham, Jr. and new coach Freddie Kitchens? Not at all.
So he decided to use the little boy's room as the pick went in.
"I saw Cleveland next. I hadn't talked to Cleveland since the combine, so I thought it wouldn't happen," Takitaki said. "I go to use the restroom. Right as I sit on the toilet, I get a ring. I literally jumped up, said 'hello,' and it was the coaches. But I'm excited."
Takitaki completed his senior year in 2018, accumulating 237 tackles and 14.5 sacks in four seasons to go along with his mandatory redshirt season. He had 118 tackles, three sacks and four quarterback hurries as a senior, when he took over a spot left vacant by former teammate and close friend Warner.
"You ready?"@STakitaki gets the call 📞#BrownsDraftpic.twitter.com/Rjb0Mt7F4x

— Cleveland Browns (@Browns) April 27, 2019
Takitaki impressed as the only Cougar invited to this year's NFL Combine, where he ran a 4.63 40-yard dash, added 24 reps ont he bench press, and posted a 37-inch vertical leap. His numbers, which also included a 125-inch broad jump, were good enough that when BYU's pro day rolled around in late March, he was content to perform position drills for a bevy of NFL scouts — and he worked out both as a linebacker and defensive end.
His position at the next level is yet to be determined. He'll be a pass rusher, but he played multiple linebacker spots at BYU after being moved from defensive end. Yet Takitaki knows one thing: he'll get a chance to play, either at middle or outside linebacker, most likely.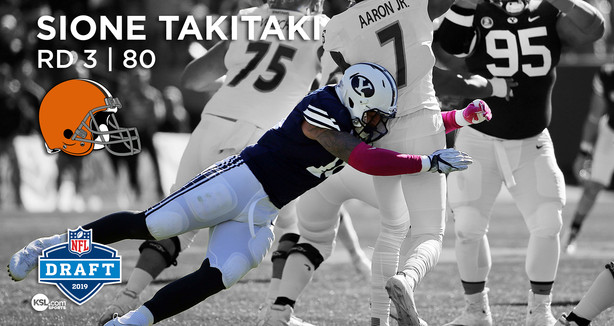 Takitaki first came to the attention of Browns scouts during the Cougars' win over then-No. 6 Wisconsin, team personnel told Cleveland media Friday night. The 6-foot-1 linebacker from Fontana, California racked up a team-high 12 tackles, including one tackle for loss, in that game.
After beating the Badgers, scouts would call assistant general manager Eliot Wolf every time BYU played on television, and tell him to watch "that BYU linebacker."
"He's a violent tackler, and brings a lot of versatility," Wolf said.
It wasn't just his violent pass-rushing ability that impressed the Browns, though. They also took note of how he came back to school after being kicked out, spending two semesters working a hard-labor construction job, and having his name removed from the university.
"I could've transferred, but I wanted to come back to BYU and right my wrongs," said Takitaki, who credited his wife Alyssa as the biggest reason for his own turnaround. "You can always run away, go to another school and hide your problems. But I'm a Latter-day Saint, and I wanted to come back and make sure that I made my name right after I was in all that trouble.
"The final decision was to come back, and show everybody that I could finish out there."
×
Related Stories