PROVO — A lot has been written, read, analyzed and dissected about BYU graduate transfer running backs Ty'Son Williams and Emmanuel Esupka.
From the day they each committed to BYU, to the time they were accepted by the university, to their first brush with local media at BYU media day in June, the grad transfer duo has been a pair — and one that BYU coaches hope materialize in the backfield this fall, alongside incumbent starter Lopini Katoa.
What more could be said about Esupka — the "thunder" to Williams' "lightning," if only by the former Rice running back's own admission — and his colleague from South Carolina?
If you ask head coach Kalani Sitake, it's the "professional" way they approach the game.
"When they take the field, it's a different level of professionalism," Sitake said Monday after practice. "I think a lot of it has to do because it's their last year.
"When they are here, they're practicing. They're not screwing around. It's a really good mindset to have for our running back group. They all have worked a lot harder, and it's starting to show right now."
It hasn't always been easy to adjust to the "professionalism" of playing behind the offensive line in Provo for Williams. The former Gamecocks running back who ran for 328 yards and four touchdowns in two seasons in Columbia wasn't immediately accustomed to Utah.
The altitude. The heat, in all its dry glory. The fact that everything — and he means, every thing — in Provo is closed on Sunday.
"I managed it pretty good. But the first time I saw it, I was like, 'man.' In the South, the only place that closed on Sunday was Chick Fil-A," Williams said. "Now everything across the board is closed.
"I'll be fine, but I have to cook something or make sure I have whatever I need before Sunday."
It's just one of the ways in which Williams, who figures to play a significant role in offensive coordinator Jeff Grimes' rushing attack in 2019 alongside Katoa and Esukpa, has had to learn and grow and mature ahead of his final season of college football.
A mature, knowledgeable Williams should be a boon to BYU's running back room, though.
"It also just comes with maturing, as the years get older," he said. "When you step on a college campus at 17 or 18 years old, and now that I'm about to be 23, there's maturity. I feel like I understand everything that is going on (better)."
That's another funny thing: Williams thought he was getting old, as he approaches his 23rd birthday. Back at South Carolina, he was one of the oldest guys in the locker room.
At BYU, he's the same age as the average sophomore.
"Now I feel like I'm still young," Williams said, with a laugh. "I don't feel as bad as I would if I were back in South Carolina."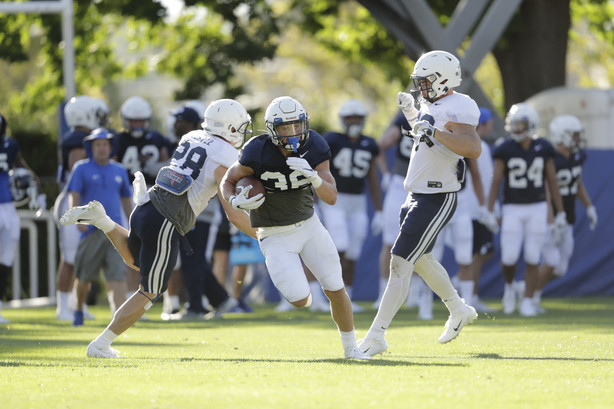 Slingin' it
Monday's practice, which was the fifth day of fall camp, ran longer than the previous four sessions in August. The Cougars, who hit the field by mid-afternoon after treatment and film review, practiced until nearly 6:30 p.m., when the media were invited to watch the final 7-on-7 portion of camp.
In that session, backup quarterback Joe Critchlow shined. The redshirt sophomore, who is competing for playing time with backups Jaren Hall, Baylor Romney and walk-on Rhett Reilly, threaded several nice passes, including an elegant 45-yard touchdown pass to wide receiver Austin Whetzel during skelly drills.
Hall also hooked up with freshman receiver Tevita Ika, the former Provo High standout who recently returned from a church mission to Scottsdale, Arizona, for a nice gain.
But even if Wilson, who recently had offseason surgery to repair a torn labrum in his throwing surgery, isn't standing out during the media-viewing portion of practice, his place atop the depth chart seems secure.
"He wears me out," quarterbacks coach Aaron Roderick said. "He has an insatiable appetite for football. It's like, non-stop, 24/7. Every day, I'm challenged with how to keep him challenged.
"Football's a non-stop thing for him. It's text messages and sending me film clips at all hours, all weekend. He's a pretty special guy."
×
Related Stories