PROVO — Welcome to football season.
BYU football players and coaches reported to fall camp Tuesday, and now that the players have been issued their gear, uniforms, cleats and iPads (for video purposes, right?), it's time to strap up and get ready for the 2019 season.
That means four weeks of preparation before the Cougars' home opener Thursday, Aug. 29 against in-state rival Utah — and four weeks to solve a few burning questions through competition.
Here are five storylines to watch over the month of August.
How healthy are Zach Wilson's shoulders (yes, both of them)?
Wilson did not participate in spring camp while recovering from offseason surgery to repair a torn labrum in his throwing arm. He had surgery at the same time as teammates Zayne Anderson, Matt Bushman and Aleva Hifo.
But he also didn't opt for the same surgery on the left shoulder — even though he as a torn labrum there, as well.
"I don't throw with it, so it's not like I really need it," Wilson told BYUtv. "It's super weak and that's the biggest problem. But my right arm is a lot stronger than my left one already."
The health of Wilson's shoulder will be a constant storyline as the Cougars progress through fall camp. He has said multiple times that he will be ready to play Wednesday when camp opens, and video of him throwing a football with teammates — and even his own father, former Utah defensive lineman Mike Wilson — have circulated on social media.
But how healthy will he be?
If Wilson is forced to take any time off, the Cougars appear to have a strong contingent of backup quarterbacks — starting with former Maple Mountain star and BYU outfielder Jaren Hall, but continuing to athletic wunderkind Baylor Romney and former starter Joe Critchlow.
Where's Neil Pau'u?
Pau'u was arrested over the summer after BYU police discovered him driving while inebriated, with a blood-alcohol level of early three times the legal limit in the state of Utah.
The junior wide receiver pleaded guilty to a reduced charge of impaired driving, a Class B misdemeanor, and has been sentenced to 12 months probation, a $1,000 fine and community service.
But his status with the team is uncertain. Officials from BYU athletics and the university have not responded to requests clarifying his standing in school, which naturally prompts rumors across the internet (whether true or false).
We'll know if Pau'u will be available by his standing in fall camp. But the question remains.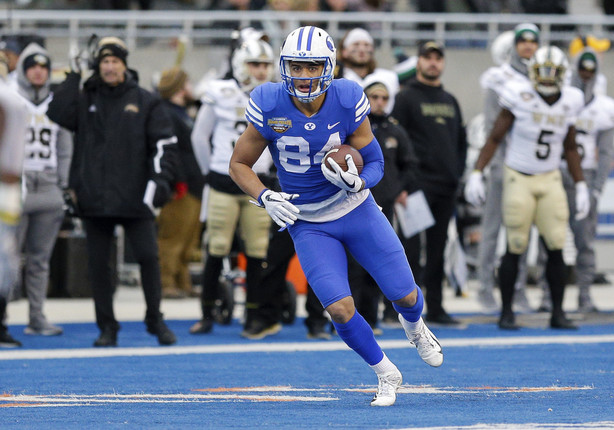 Who else is (or isn't) present?
If he isn't available beginning Wednesday, Pau'u won't be the only football player who doesn't report for camp.
Former Lone Peak defensive back Austin McChesney announced his retirement from football Monday after a career plagued by knee injuries.
A standout on special teams, McChesney is perhaps best remembered among BYU fans for his 37-yard interception return in a win over Cincinnati in 2016 before a season-ending knee injury that same year. He missed the entire 2017 season with a knee injury suffered in fall camp, and has been slow to return to any activity since.
McChesney's younger brother Jackson, a running back recruit who recently returned from a two-year mission for The Church of Jesus Christ of Latter-day Saints in Chile, is expected to report to camp.
Additionally, incoming defensive back recruit Eric Ellison will not join the Cougars this fall, according to multiple reports. He's been noted to redshirt this year at Mt. San Jacinto College and will enroll in BYU this winter, instead.
BYU running back Beau Hoge, who switched from quarterback and missed most of last season while dealing with a head injury, is set to retire from football, his father Merrill told NBC Sports radio Tuesday in Las Vegas.
What will the running back committee look like?
How much Jackson McChesney contributes at running back this year is yet to be determined — and that's nothing against the former Lone Peak star's ability.
But BYU's running back committee, once thought to be among the weaker units on the offense, is suddenly loaded with depth.
In addition to lead returner Lopini Katoa, the Cougars added graduate transfers Emmanuel Esukpa (Rice) and Ty'Son Williams (South Carolina) to the roster as graduate transfers this year. That means the former all-Conference USA back and SEC rusher have one year of eligibility — and they likely didn't come to BYU to sit on the bench.
Add former Syracuse High standout Kavika Fonua, Kearns' Sione Finau, and walk-on Tyler Allgeier to the group that could be the deepest in recent history at BYU.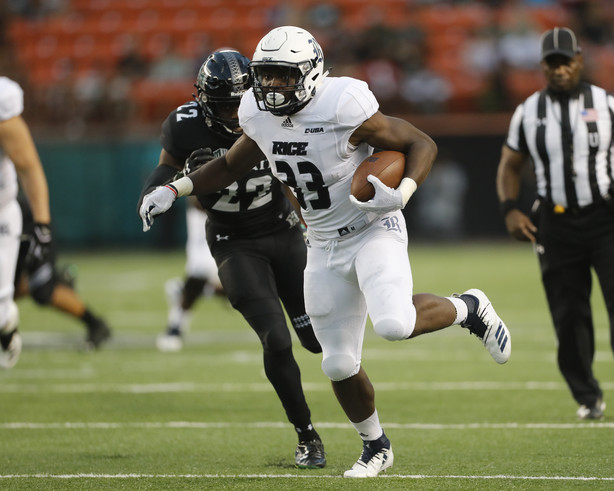 Is 2019 make-or-break for Kalani Sitake?
BYU's standard contract negotiation practice would've suggested some sort of news by the offseason surrounding head coach Kalani Sitake, who will enter his fourth year at the helm of the Cougars this fall.
While that's usually the case, and BYU administrators generally work out coaching contracts in advance of their end date, BYU athletic director Tom Holmoe said there is no concern with his flagship program's boss during January's annual question-and-answer session with local media.
"This isn't his last year," Holmoe said of Sitake, who has a 20-19 record in three seasons, including a 2-0 record in bowl games. "We've rarely gone into the last year of a contract (without an extension). He has more than one year left on his contract. We talk all the time.
"We talk about all kinds of things. I know exactly where he stands and he knows exactly where I stand. We don't talk about (Sitake's contract). It's not an issue."
At least, it's not an issue with BYU administrators. With the fans, that could be a different story.
×
Related Stories