PROVO — If BYU wanted to keep a secret, it probably shouldn't have held its annual football media day June 18, before any other program in the NCAA opened its players and coaches to their respective media.
But as a college football independent, the Cougars can fully dictate such schedules. And as such, several questions turned to the start of the 2019 season.
Like most years, BYU players and coaches are looking forward to the regular season — to the chance to strap on pads, to hit another opponent, to play "real football," and not that kind involved in spring practice or summer conditioning or fall camp, however valuable those may be.
No, the Cougars can't wait for Aug. 29, when LaVell Edwards Stadium will host the first game of the 2019 season at 8:15 p.m. MDT.
This year will be a little different, though. Instead of the Cougars opening on the road against a national Power-Five opponent, they'll be at home, in their own backyard, with their home fans and their own community.
And facing their longtime rivalry, the University of Utah. The Utes currently rank No. 17 in the Bill Connelly's preseason S&P+ predictive rankings, and are amongst the Vegas odds leaders to win the Pac 12 title (along with fellow BYU first-fellow opponent Washington).
"There's a lot of respect for Utah and what they've done," said BYU coach Kalani Sitake, who worked at Utah from 2005 and ascended as high as assistant head coach before departing in 2015. "Everyone knows my connection with the school, and there's still a lot of respect for them. I think this is going to be one of the best Utah teams of all time, and this is a great opportunity to see where we match up."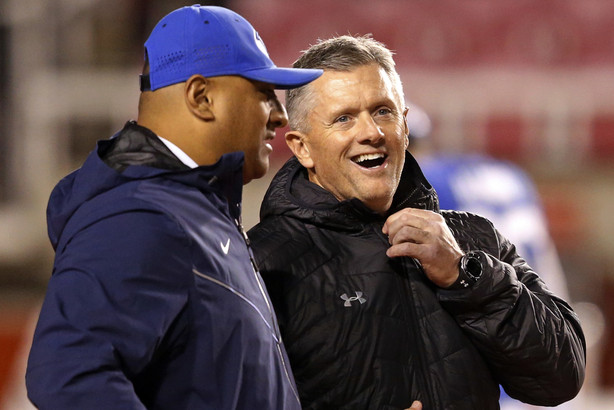 No, this game means a little more, and it's not just because of the first game of the season.
OK, that's part of it.
But the Cougars haven't opened against an in-state opponent since 1986, when BYU rolled to a 52-0 rout of Utah State in what was then known as Cougar Stadium. The Provo-based school has only opened a season against a local team three times in its history, and one of them was an alumni team of in-state opponents in 1931 (BYU won, 7-3 over the alumni squad from Utah, BYU and the Utah Agricultural College, by the way).
And yet … there's more to the 2019 opener.
Because it's more than the first full season of new quarterback Zach Wilson. It's more than Sitake's fourth year at the helm of his alma mater. It's more than a chance to grow and develop and progress in Jeff Grimes' offense, which will enter its second season.
It's Utah.
Yes, those Utes.
"It's no secret; everybody knows that they've had our number for the last few years," said BYU running back Lopini Katoa, who grew up in American Fork and watched the Utes run roughshod over his current team, even if he's only been with them for two years. "We want to get that win and show that we can not only start the game well, but close it out."
There's little doubt BYU can compete with the Utes. The Cougars jumped out to a 27-7 lead on the Utes in their last meeting, the final game of the regular season in 2018, on the road at Rice-Eccles Stadium. Wilson threw for two first-half touchdowns in his first rivalry game, and Matt Hadley's second rushing score gave the Cougars a 20-point lead with 5:28 to go in the third.
BYU's first four opponents is a brutal slate — three Pac 12 teams, plus a trip to SEC country. Fortunately for the Cougars, three of the four are at home.
| Date | Opponent | Site | City |
| --- | --- | --- | --- |
| Aug. 29 | Utah | LaVell Edwards Stadium | Provo |
| Sept. 7 | at Tennessee | Neyland Stadium | Knoxville, TN |
| Sept. 14 | USC | LaVell Edwards Stadium | Provo |
| Sept. 21 | Washington | LaVell Edwards Stadium | Provo |
But Utah outscored BYU 28-0 the rest of the way to win their eighth-straight in the series.
So compete? Yes. Finish it off?
That's to be determined.
"I just control what we can control," Katoa said. "I've only been a part of a few (losses). At the end of the day, it's just another team we've got to beat."
As big as that game is, it's also one of 12 on both teams' schedules.
But for BYU, the first month of the season will be vital to how the Cougars will determine the success of Sitake's fourth year.
In September alone, the Cougars will play at Tennessee, return home to face back-to-back Pac-12 opponents in USC and Washington, and end with a road game at MAC offensive power Toledo.
Related Story
A strong start could set them up well for the rest of the season, which includes regional rivalries with Boise State and Utah State, in addition to a season-ending clash at San Diego State.
That first month is a tone setter, Wilson said.
"I think that's why those first four are so important," the Corner Canyon product said. "We need to come out and do well against those teams, and prove that we shouldn't lose to anybody else.
"I think that's why everyone talks about those first four."
×
Related Stories