SALT LAKE CITY — Corbin Kaufusi pulled himself into the cramped post-game media room located underneath Rice-Eccles Stadium, his pads still stuck to his kin, wads of tape around his ankles, and a massive metal brace sustained his right arm.
If a prize fighter had walked in with a black eye, a broken nose and spraying blood, it wouldn't have surprised anyone.
The BYU senior wasn't supposed to be on the field Saturday night in the Cougars' 35-27 loss to Utah, an eighth-straight defeat in the annual rivalry series. He missed his own senior night, a 45-10 victory over New Mexico State, while head coach Kalani Sitake announced him out for the season with a severe ankle injury.
Kaufusi, the head coach said at the time, had surgery to attend, an NFL future to prepare, and no more need to make any contribution to BYU football.
To use words familiar to the school's sponsoring religious organization, Sitake released Kaufusi with honor from his service as a BYU football player. There was nothing left to give.
But there was — and Kaufusi knew it.
"Corbin is just a fighter," Sitake said. "He's a tough kid. I think it's safe to say that his career is done now, because he's got a future to think about. He won't be playing in the bowl game — I'm pretty sure this time."
Kaufusi and his team sought a second opinion from doctors, even went to multiple medical personnel affiliated with the program. They all agreed: Kaufusi's ankle was shredded, and would require surgery to repair. His elbow, too. But he could not do any more damage by playing one more collegiate game, and if he felt like he could play through pain and be effective, they advised him that one more game was still possible.
That was all he needed to hear.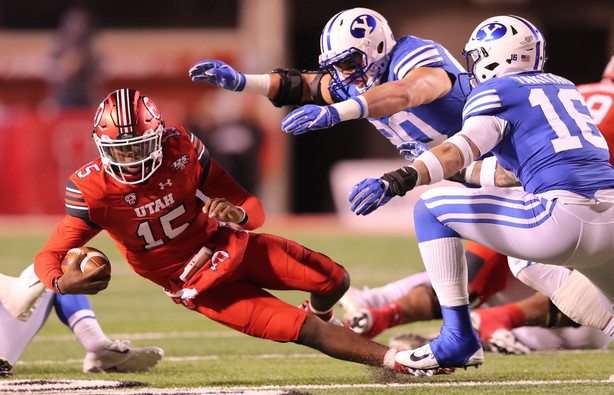 Unravel the tape rolls. Make a few spat casts. Go get a thick, metal elbow brace. Kaufusi was going to play one last time in royal blue.
The 6-foot-9, 275-pounder with NFL aspirations was going in.
"They said I can't hurt it worse, so as long as I didn't mind being taped up like crazy (around the ankle), put a metal brace on (the elbow) and do what I can," said Kaufusi, who finished with seven tackles, second only to Sione Takitaki on his team. "I felt pretty good playing. There were times where I felt it a little bit."
You see, "BYU football" has become synonymous with "Kaufusi" ever since his father Steve left Utah in 2002 to take a job at his alma mater. Steve Kaufusi stepped down from his job as BYU defensive line and linebackers coach following the 2017 season, and he went on to coach NFL-bound playmakers like Vic So'oto, Jan Jorgensen, Brady Poppinga and Corbin's older brother Bronson Kaufusi.
Corbin Kaufusi will likely add his name to that list next April. The former BYU basketball center who may be the only player in the NCAA who has never lost to Gonzaga, Kaufusi finished his senior season with 8.5 sacks, two pass breakups and 56 tackles — the last seven of which coming on one leg and with one arm nearly tied behind his back.
In three seasons with the Cougar football program, Kaufusi accumulated 154 tackles — 92 of them solo stops — 17 sacks, and four quarterback hurries.
"Corbin's a big part of our defense," said Takitaki, another BYU player with NFL potential. "He said he was going to suit up and play, and that got us all hyped up. We know his situation, and he still came out and played — and had a great game.
"He gave it his all; he's a fighter. He's going to fight until the end."
.@Spencer_Linton is with senior defensive lineman @CorbinKaufusi who says it was his love of the game and of his team that pushed him to take the field tonight.#BYUFOOTBALL#BYUvsUTAHpic.twitter.com/L4fnabSB8t

— BYUtv Sports (@byutvsports) November 25, 2018
Kaufusi was a key cog in a BYU run defense that included younger brother Devin Kaufusi, Khyiris Tonga and Trajan Pili, and one that held the Utes to 296 yards of offense and 155 on the ground, including 47 net rushing yards from lead running back Armand Shyne.
"They have a stout front seven," said Utah coach Kyle Whittingham, declining to name a BYU defensive player individually. "It is tough sledding inside and they do a nice job of pushing outside. We did not get good movement on their big, physical guys."
Kaufusi's final performance on the collegiate gridiron likely cost him dollar signs on his first NFL contract. He'll have surgery on the ankle as early as Monday, and after recovering enough to feel mobile riding a support scooter, he'll fix a broken pinkie he re-injured Saturday night, then have doctors move to the torn triceps muscle around his elbow.
He's already played through adversity this season — not just nagging injuries, but the loss of a loved one, his grandfather, the patriarch of the Kaufusi clan that also includes teammates and cousins Jackson and Isaiah Kaufusi. Corbin Kaufusi played a week after his grandfather passed away, too, an inspired tribute to the late Petelo Kaufusi during the Cougars' 30-3 win over FCS McNeese State.
Saturday night was a little bigger than that game, though.
"He's a tough kid, to do that and sacrifice himself for the team," Sitake said. "We held off the surgery, so he'll do that next week. But he'll be out for the bowl."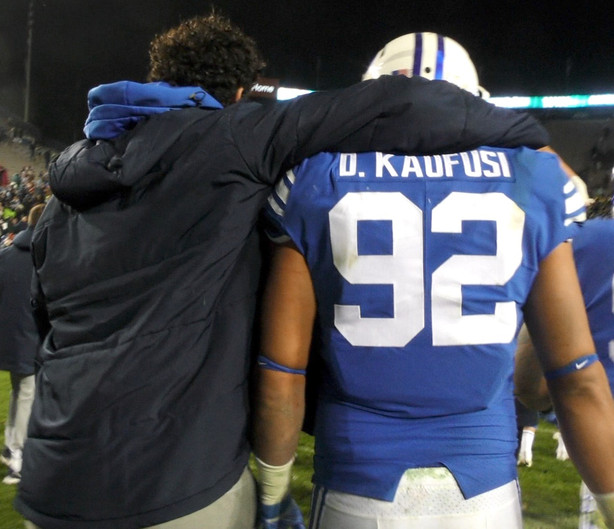 NFL scouts and personnel will put him through a full physical exam before someone drafts him or signs him to a free-agent deal. But injuries are a tricky thing in pro football, and projecting how a player will respond to them is far from an exact science.
There's little doubt some NFL franchises will be scared by Kaufusi's injury history.
But others? Others will appreciate the tenacity, the passion and the love of the game he displayed Saturday night at Rice-Eccles Stadium.
Saturday night hurt, physically, as Kaufusi willed himself on to the field after BYU took a 6-0 lead in the first quarter and brought enough pressure to force Utah quarterback Jason Shelley into a tackle for loss in the first three plays.
But it wasn't going to hurt as bad as not playing, Kaufusi said.
"It was weird, because it hurts — but I'm so happy I got to play," he said. "Just to be able to come out and play with these guys that I love so much.
"I'm just happy, man. Just to have one more time; thanks for riding with me until the end. We go until the wheels fall off. That's all I cared about."
Kaufusi's wheels finally fell off after Saturday's regular-season finale. He has nothing more to give — to BYU, to the rivalry series, to the state of Utah.
But his football career is just beginning.
×
Photos
Related Stories