Editor's note: This article is a part of a series reviewing Utah and U.S. history for KSL.com's Historic section.
SALT LAKE CITY — Rebecca Burdick Winters was on her way to Utah when she fell ill and died near present-day Scottsbluff, Nebraska, on Aug. 15, 1852. A member of her wagon party carved her name on a metal wagon wheel, which was used for her gravestone, according to Winters' fourth great-grandson, Jacob Oscarson.
Oscarson, who lives in Salt Lake City, helped compile a history of Winters' life. He said her grave wasn't discovered until a few decades after she died.
Now, about 120 years after it was discovered, a battle rages on in Nebraska as to how to handle her grave and its place in history. More specifically, is she a part of The Church of Jesus Christ of Latter-day Saints or U.S. history?
To understand the debate and why Oscarson is hoping to keep Winters' grave as is, you have to know her history.
According to Oscarson's research, which includes study of genealogy and historical records, Winters was born in upstate New York in 1799, not in 1802 as the Nebraska marker near her grave states.
Her father fought in the American Revolutionary War but wasn't a drummer boy in George Washington's army, as Oscarson says some research suggests. She married Hiram Winters in 1824, and both were early converts to The Church of Jesus Christ of Latter-day Saints, joining the church nine years later. They moved with the church to Kirtland, Ohio, and then to an area near Nauvoo, Illinois.
In the summer of 1852, they journeyed west toward Utah with the James C. Snow Company. It's believed Rebecca Winters developed cholera and died in western Nebraska. Her death was recorded in a journal kept by the clerk of the wagon company, Oscarson said. The company reached Utah later that year, and Hiram Winters settled in Pleasant Grove.
The area in which Rebecca Winters was buried wasn't formed into a community until a few decades later. Scotts Bluff County was founded in 1888 when homesteaders settled in the area, according to the county's website. Winters' grave was discovered about a decade later as railroad routes passed through the area, Oscarson said.
"There's kind of two stories as to what happened. One is that the railroad (workers) discovered the grave themselves, and they rerouted the tracks to avoid disturbing the grave. The other is that the DeMott family, who homesteaded the property, they actually required the railroad to avoid the grave when they sold the (rights through their land)," Oscarson said.
The grave remained there until the mid-1990s when the railroad company that owned the tracks approached the family about moving the gravesite since it was 6 feet from the tracks and they were concerned visitors could get hurt. Descendants agreed and Winters' grave was moved 900 feet away to a park in the area, which was then dedicated in 1996 as her final resting place. It's still located close to the Mormon Pioneer National Historic Trail, which runs from Illinois to Utah and including Scottsbluff.
Descendants and local members of The Church of Jesus Christ of Latter-day Saints have complained about lack of maintenance since then. The city paid for maintenance until it the grave was discovered to be on county land. Thus a debate on how to handle the grave was born.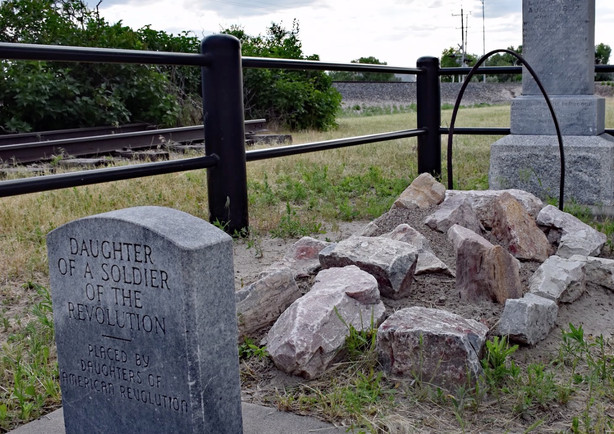 KSL.com reached out to multiple Scotts Bluff County, Nebraska, officials for comment but did not receive any response. However, in November 2018, the Scotts Bluff County Board of Commissioners discussed the issue after the county's tourism director, Brenda Leisy, read a letter about the site written by two other descendants of Winters, according to a report by the Scottsbluff Star-Herald.
The other descendants reportedly asked to relocate the site again amid concerns of safety and visibility. The newspaper reported commissioners had a concern about the separation of church and state regarding any money used to either move the site or maintain it. Others argued that shouldn't be an issue because there were state and federal markers about her, as well as markers from the Daughters of the American Revolution. No formal plan was decided that day.
While Oscarson said the county can't force descendants to move the grave, a group of church members in the Scotts Bluff area, some of Winters' descendants — of which Oscarson said there are likely thousands by now — and even county tourism members proposed a plan to move the grave again. It would be moved to the Legacy of the Plains Museum, located about 4 miles from where Winters was first buried. However, he notes that's closer to the Oregon National Historic Trail, which also passes through Nebraska.
He added the county had the ability to decline maintenance or to fence the grave off and build around it, effectively closing it off to people who could visit and learn about Winters as well as the people who traveled the historic trail.
"My personal preference would be to try and work with the county and some of the local people and see if we can come up with some sort of agreement where we can keep the grave right there near the trailside," Oscarson said.
While the future of Winters' gravesite has reached a standstill, Oscarson is hoping to find a way to save a piece of history he has a strong tie to. He's worked with the Nebraska museum, which is seeking feedback on any plan. He's also seeking other descendants to figure out what they would prefer to happen; a website was even created to gain more feedback.
It's all a part of an effort to save history and a family legacy.
"Her story is very worthy of being remembered and told," Oscarson added, "and it's done so, so much better right there where she died."
Contributing: Sam Penrod, KSL TV
×
Photos