Estimated read time: 6-7 minutes
This archived news story is available only for your personal, non-commercial use. Information in the story may be outdated or superseded by additional information. Reading or replaying the story in its archived form does not constitute a republication of the story.
SALT LAKE CITY — Seconds after the Utah Inland Port Authority's meeting began Wednesday, chaos erupted.
Protesters with the group Civil Riot swarmed the port board meeting — many wearing surgical face masks marked with an "X" — ran to the front of the committee room at the Utah State Capitol, some locking arms as nearly a dozen Utah Highway Patrol troopers jumped into action to escort them out for violating rules of decorum.
"We are here to stop the port," one female protester shouted. "Your meeting failed because it will destroy our communities. This is not OK."
Nearly a dozen troopers, who were standing at the ready even before the meeting started, began forcibly removing those who resisted. Derek Miller, the port authority's board chairman, told board members to exit the room through a back door.
"Look, we're not going anywhere, OK?" a lead protester, Ethan Petersen, shouted from the back of the room, where he was handcuffed to a door handle. "We're not going anywhere. This meeting's done."
Petersen continued shouting as several troopers began forcing him out of the room.
"This project is environmentally destructive," Petersen yelled. "It will exacerbate climate change. This is destruction of the planet. We're not going to allow it anymore. You don't represent us."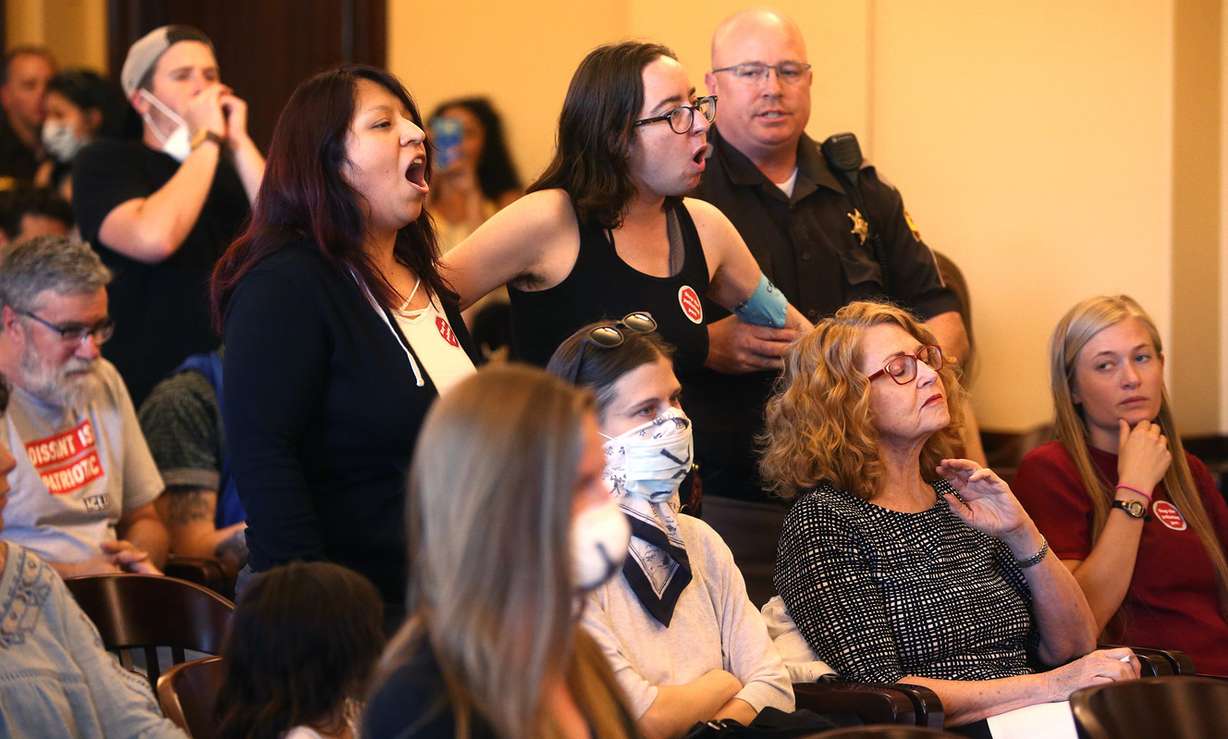 Troopers told Petersen to "stop" as they wrestled him in the hallway, where he laid down on his back. Troopers eventually arrested him, placing him in handcuffs before carrying him to an elevator.
Petersen was later booked into the Salt Lake County Jail for investigation of interfering with an arresting officer and interrupting an official government meeting, according to jail records. Three others were cited and released for interrupting an official government meeting but weren't arrested, according to Utah Highway Patrol Sgt. Nick Street.
Protesters chanted "abort the port" and "people over profit" repeatedly as troopers escorted them out of the room. Some walked out peacefully, while others struggled against troopers holding their arms or shoulders.
The protest marked the most chaotic and vitriolic demonstration yet against the Utah Inland Port Authority, a state-created entity meant to guide the development of what is envisioned to be a global trade hub in Salt Lake City's northwest quadrant to maximize the state's imports and exports.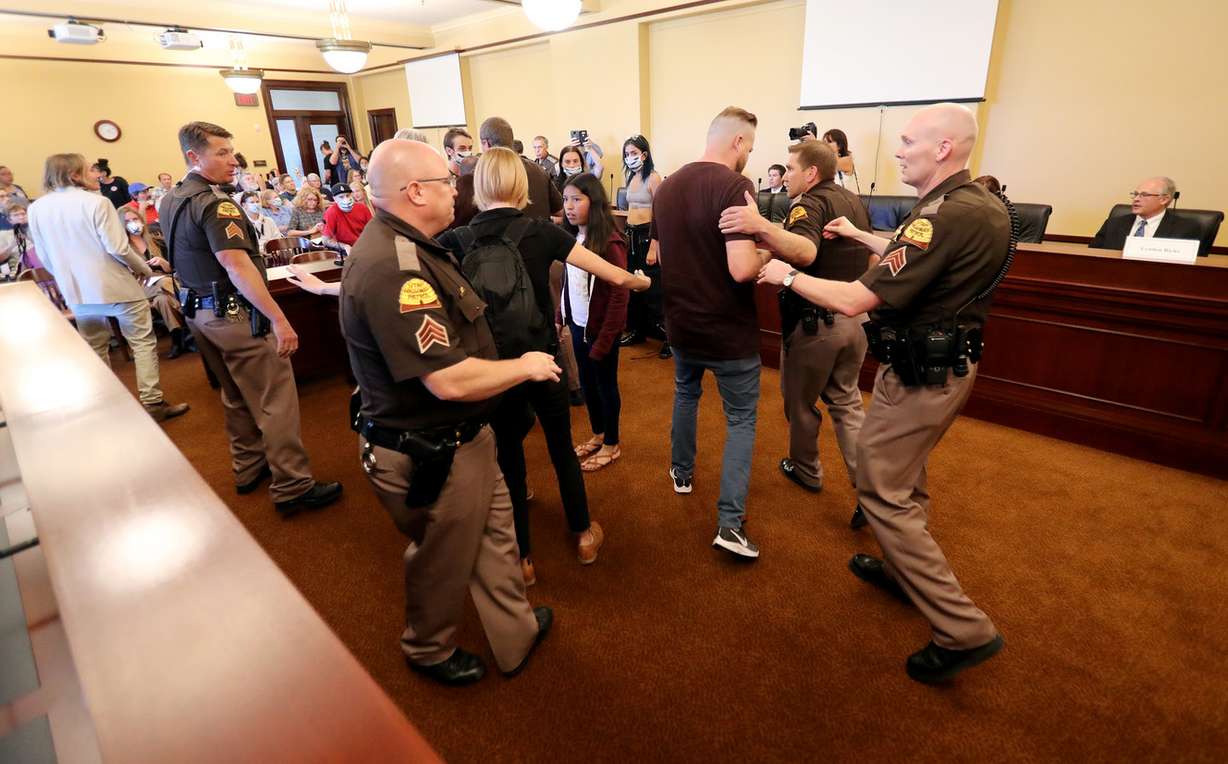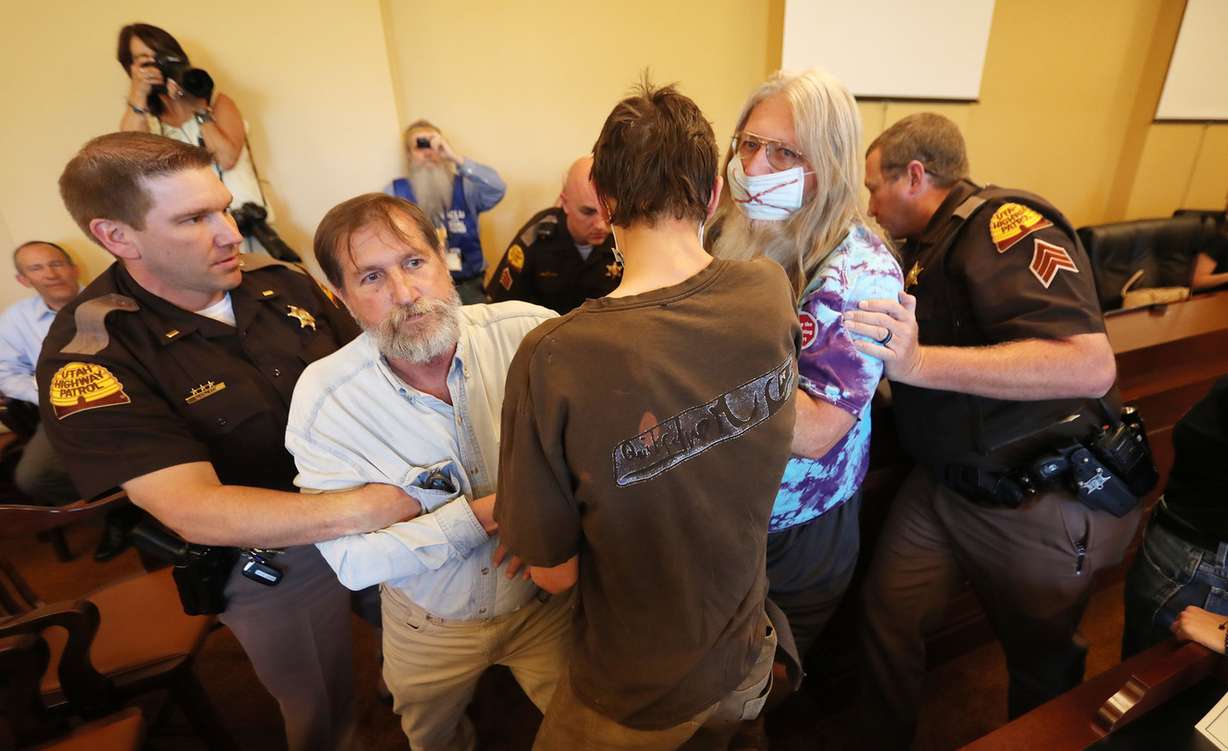 Wednesday's meeting was the first port authority board meeting after the same protest group crashed and shut down the board's last meeting at a Salt Lake City elementary school.
Tension with the Utah port authority has continued to escalate as activists have raised concerns about environmental impacts of the future port. Environmental activists have lambasted its possible impact on air quality and wildlife in Salt Lake City's west side, where the port authority has jurisdiction over about 16,000 acres.
State leaders and board leaders say the board will guide development in a strategic way, arguing commercial development to the area is coming anyway, and they aim to develop the port in a responsible way.
After protesters were escorted out, members of the port authority's board resumed their meeting after a short recess, doing their best to ignore shouts of protesters out in the hall.
In this clip, oil and gas lobbyist Jeff Hartley blocked me from exiting the committee room to observe Ethan Petersen's arrest.

"We're going to have this every freaking meeting unless you guys ignore them," Hartley said.

I told him I was just trying to do my job. #utpol#utlegpic.twitter.com/DpIZA8bijl

— Katie McKellar (@KatieMcKellar1) June 6, 2019
Each time the door opened, shouts overpowered the board meeting. At times, protesters banged on the door until troopers told them to stop.
"We're going to rise up like water," protesters sang from the hallway. "We're going to shut this crisis down."
The port authority board continued on with its business. It adopted its $8 million budget for this year, which included more than $500,000 for consulting fees and professional services, and $172,000 for legal fees.
Politically, the Utah Inland Port Authority remains under fire — as it has since its inception when it was created by the 2018 Utah Legislature. Salt Lake City Mayor Jackie Biskupski earlier this year filed a lawsuit against the port authority, disputing its constitutionality for usurping the city's local land use and taxing authority.
The board also hired its new executive director, Jack Hedge, after a monthslong nationwide search. Hedge, who did not attend Wednesday's meeting, currently serves as the director of cargo and industrial real estate for the Port of Los Angeles.
Related story:
"I am honored to take on this new role and to work with the (Utah Inland Port Authority) Board and all interested stakeholders," Hedge said in a prepared statement issued by the port authority. "The Utah Inland Port is an important project, and we must be strategic and innovative to solve the growth challenges that will impact the state of Utah."
While protesters continued shouting and singing outside, the board also heard comments from members of the public — both supporters and critics of the port.
Critics expressed concerns about air quality and fears of environmental damage while also expressing frustrating that board members are ignoring their voices, while supporters denounced the protest.
"On behalf of the silent majority that don't make a lot of ruckuses and raise a lot of hell, thank you for enduring what you endure every single meeting as you deliberate the advancement of this good economic idea " Jeff Hartley, an oil and gas lobbyist, told the board.
Hartley said many port supporters are "confident the state will make sure the inland port is done the right way" and argued air quality data doesn't "support all the chaos and all the nonsense we hear."
Hartley, who was standing near a back room when the protest broke out, blocked a Deseret News reporter attempting to exit the room to observe Petersen's arrest.
"Why do you give these guys press?" Hartley said. "All you do is encourage it."
"We're going to have this every freaking meeting unless you guys ignore them," Hartley added.
In a statement issued after the meeting, Miller said, "We are grateful for members of the public who attended and provided comment in a lawful and respectful manner and for those that continue to engage and participate in the public process and public outreach forums."
Miller declined an interview with reporters after the meeting.
Deeda Seed, a campaigner with the Center for Biological Diversity and a leader of the Stop the Polluting Port group, commended Civil Riot's members for putting their "bodies on the line," but noted her group did not participate in Wednesday's protest.
"This is an organic response," she said. "I think they're so worried and so scared about the future they're willing to get arrested, which is a big step. … I think a big part of the problem is people aren't feeling listened to."
Seed said her group isn't engaging in civil disobedience, but "we want to honor the courage of these young people who are speaking out."
×
Photos
Related stories
Most recent Utah stories