Estimated read time: 7-8 minutes
This archived news story is available only for your personal, non-commercial use. Information in the story may be outdated or superseded by additional information. Reading or replaying the story in its archived form does not constitute a republication of the story.
SALT LAKE CITY — Everywhere you look there seems to be some new celebrity diet, an amazing superfood, or another health trend telling you how to best to live. It can be hard to know what to believe and what to toss out the window. Much of the information seen on social media is actually misinformation.
To help set the record straight, we've asked registered dietitians to debunk 10 nutrition myths you need to stop believing.
1. "You need to go on a weight loss diet"
"Every weight loss diet focuses on restriction," says Rebecca Clyde, registered dietitian, nutritionist and owner of Salt Lake City based Nourish Nutrition Co. "When we're restricting certain foods or amounts, our bodies don't like it. Our bodies are programmed to withstand famine and to make sure we get enough energy, so our bodies' natural response is to want more of that food to ensure we'll get enough energy. It's common to see cravings and preoccupation with those foods increase while you're trying to 'stay away' (some researchers have said that the biggest predictor of bingeing is restriction). Often, that restriction leads to some event that causes bingeing and feeling like you've failed. Spoiler alert: the diet failed you. Weight loss diets are made to leave you feeling like it's your fault, and to keep coming back to that diet again and again."
2. "Don't eat after 5 p.m., 6 p.m. or 7 p.m."
Kelli Shallal, a Phoenix-based dietitian says, "Are you hungry? Then eat! You aren't going to gain weight just because you ate too close to bedtime. You will gain weight if you overeat throughout the day, but that has nothing to do with timing. In fact, I sometimes recommend a before-bed, high-protein snack in certain cases for many reasons, including improved sleep."
Karman Meyer, registered dietitian and author of "Eat to Sleep: What to Eat and When to Eat It for a Good Night's Sleep" adds, "There's nothing wrong with eating a snack before bedtime, and that includes carbs. Actually, certain carbohydrate foods, like whole-wheat crackers, whole-grain bread or even whole-grain cereals, make great snacks before bed when paired with a protein-containing food to keep you from waking up hungry in the middle of the night. Whole-grain foods contain the sleep-benefiting nutrient vitamin B6, which is essential for melatonin production."
3. "Only shop the perimeter of the grocery store"
"That is total nonsense. I don't know about anyone else, but my whole-grain bread, beans, canned tomatoes and oats are all in the center aisles. If I never ventured down those forbidden halls, I would never get some of my favorite healthy foods," says registered dietitian Sarah Pflugradt, of Salubrious RD.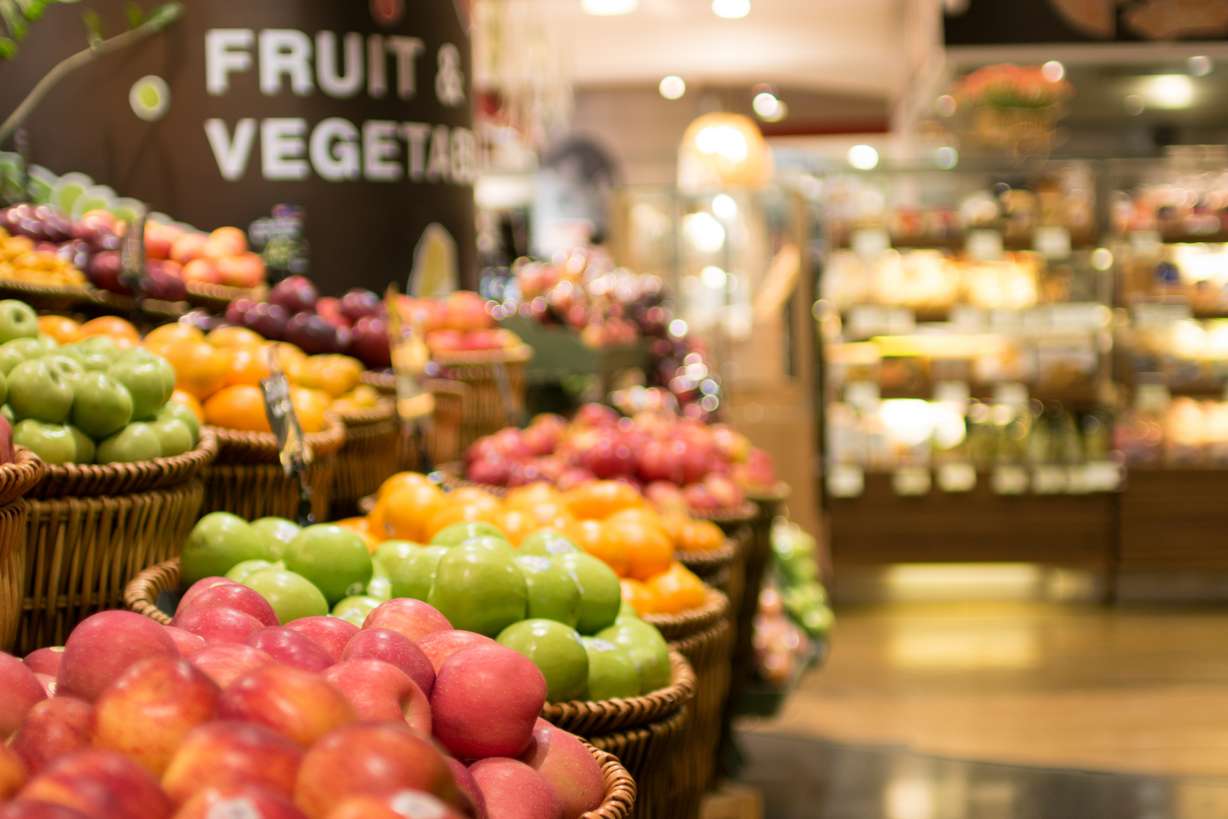 4. "Egg yolks will increase your cholesterol"
"Don't fear the egg yolks!" argues Kristen Smith, registered dietitian, spokesperson for the Academy of Nutrition and Dietetics and founder of 360 Family Nutrition. "Eggs are an inexpensive source of protein, and many nutrients are found in the yolk — including vitamin D, choline and antioxidants. Choline in particular is important for cognitive health and neural tube formation in pregnancy."
Smith goes on to say, "It's important to know your own health risks; genetics play a large role in the impact of food on your blood lipid levels. The potential harm of an egg could also be associated with the company they keep: If eggs are eaten alongside hash browns, bacon, cheese or sausage ,the impact on your blood lipid levels would be different than if eaten with whole-grain bread and fruit."
5. "All refined grains are bad for you"
Elizabeth Ward, dietitian and author of the Better is the New Perfect website, cites a 2019 study which found that "when taken as its own food group, there is no evidence to link refined grains with Type 2 diabetes, cardiovascular disease, stroke, high blood pressure or cancer. However, not all refined grains are created equal. Bread, cereal and pasta are fortified with vitamins and minerals, and are significant sources of several B vitamins, such as folic acid and iron in our diets. On the other hand, treats such as cookies, cake and pastries should be limited. Dietary guidelines suggest making half the grains you eat, not all the grains, whole grains. That means there is room for nutritious refined grains."
6. "You need to avoid all gluten"
"Celiac disease is rare and only some people are gluten sensitive," said Lisa Andrews, registered dietitian and owner of Sound Bites Nutrition. According to the Celiac Disease Foundation, true celiac disease affects one in every 100 people worldwide, or about 1% of the world's population. "Eat the wheat unless you really, truly cannot," Andrews added.
7. "Coconut oil should be your main oil"
"No! Coconut oil is high in saturated fat and has been shown to raise your cholesterol," said dietitian Jean LaMantia. "So what if it is high in MCT oil; this only matters if you have a handful of conditions that require medium chain triglycerides. High smoke point — who cares? How high are you heating that frying pan? Pretty much any oil can tolerate medium-high heat. You don't need to choose an oil based on its smoke point (except for a few select recipes)."
A healthier alternative is quality olive oil; or if you are looking for something with a higher smoke point, avocado oil is a good choice with neutral flavor.
8. "Don't eat fruit because it has too much sugar"
While fruit does contain sugar, it is from a natural source and is not considered an added sugar. Along with the sugar in fruit comes fiber, vitamins, minerals and antioxidants — nutrients you don't get with the added sugars in cakes, cookies and candies. Fruits are nutrient-rich, and according to the Centers for Disease Control and Prevention, most Americans do not get enough fruit in their diet — which may put them at risk for heart disease, Type 2 diabetes and some cancers. Choosing whole fruits over fruit juice is preferred because of the fiber in whole fruits. Serving fruit as dessert is a great way to decrease added sugars while still having something sweet.
9. "Fresh produce is healthier than frozen produce"
"Frozen produce can be just as healthy as fresh produce, and is a great economical way to get in more fruits and vegetables," says registered dietitian Nicole Stevens. "Frozen produce is shown to have similar levels of nutrients to fresh (produce). It is harvested at peak ripeness and frozen shortly after harvesting, which maintains much of the nutritional value. Alternately, fresh produce is sometimes picked weeks before it is ripe, and weeks before it ends up on your plate. The longer it takes for produce to get from the field to your plate, the lower the nutrient content might be. Therefore, it can be very beneficial to keep some frozen fruits and vegetables on hand, especially for produce that is out of season. Your body and your wallet will thank you."
10. "You need to cleanse/detox your body periodically to get rid of toxins"
Our bodies are amazing and have an internal "detoxing" system built right in — mainly our kidneys, liver and spleen. There is no need to go on a restrictive juice cleanse, fast for days or take expensive supplements, as this most likely won't help them do their job any better. They are already pretty efficient at what they do. Instead, try eating an overall healthy diet of fruits and vegetables, lean proteins, whole grains and healthy fats to help your body feel and function its best.
---
---
Editor's Note: Anything in this article is for informational purposes only. The content is not intended, nor should it be interpreted, to be a substitute for professional medical advice, diagnosis, or treatment. Always seek the advice of your physician or other qualified health provider with any questions you may have regarding a medical condition; Any opinions, statements, services, offers, or other information or content expressed or made available are those of the respective author(s) or distributor(s) and not of KSL. KSL does not endorse nor is it responsible for the accuracy or reliability of any opinion, information, or statement made in this article. KSL expressly disclaims all liability in respect to actions taken or not taken based on the content of this article.
#bio_disclaimer
×
Most recent Lifestyle stories