Estimated read time: 16-17 minutes
This archived news story is available only for your personal, non-commercial use. Information in the story may be outdated or superseded by additional information. Reading or replaying the story in its archived form does not constitute a republication of the story.
ST. GEORGE — Macin Smith disappeared nearly four years ago from his home in the Little Valley area of St. George, and despite numerous search efforts by volunteers and professionals, there has been no trace of the 17-year-old boy.
Officially, St. George police say the case is still considered an "active missing persons investigation."
But while police are exploring the possibility that Macin ran away from home, court documents indicate that detectives have also been exploring the possibility that Macin was murdered.
The Deseret News and KSL have collected and reviewed nearly a dozen search warrant affidavits filed by St. George police in 7th District Court over the past couple of years regarding the Macin Smith investigation. Several of the warrants state that police are collecting evidence to investigate "the crime or crimes of criminal homicide."
Some of the warrants openly raise questions about the actions and statements from Macin's parents — including allegations that Macin's parents never called detectives for updates about the case, that they didn't participate in searches for their son and made inconsistent statements.
"Throughout the investigation, there have been discrepancies between what Macin's parents, Tracey and Darrin Smith, have told the St. George Police Department, Red Rock Search and Rescue and the media. These discrepancies all point to the fact Tracey and Darrin know more information surrounding Macin's disappearance then they have disclosed," police wrote in an affidavit dated June 21, 2017.
Investigators were concerned enough about the parents' alleged inconsistent statements that they placed a GPS tracker on Darrin Smith's pickup truck for at least 60-days — and possibly longer — to monitor his movements, according to an affidavit originally filed in March of 2017, but it did not become public until last month in an effort to preserve the integrity of the investigation.
Smith told the Deseret News and KSL Wednesday that he did not know he had been monitored by police. But he said he welcomed the scrutiny because he believes it will clear his name.
"I'm actually glad that they did put that on my vehicle, because I've got nothing to hide," he said.
Tracey Smith concurred that she was unaware of the GPS monitor until this week.
"I guess nothing surprises me at this point. I'm not opposed to any of that," she said Wednesday. "The sooner they would investigate us, the sooner they could move on and hopefully find a trail to where Macin is. Am I shocked? I don't think I'm shocked at anything anymore. I think it was necessary. And if that's what it took to rule Darrin out, I welcome it. Obviously nothing came of it."
Read more:
The warrant was approved just before a nationally televised program on the Investigation Discovery network about Macin's disappearance aired.
"I know individuals are known to return to the scene of a crime," the warrant states. "Based upon the totality of the circumstances and the fact Darrin has admitted to continuing to search on his own, I believe there is enough probable cause to issue a search warrant to place a mobile tracking device … upon Darrin's 2006 Toyota Tundra Double Cab truck."
What evidence was collected was unknown Thursday. The warrant was approved to track Smith for 60 days. St. George police have not confirmed whether they sought an extension on that, but did say this week that Smith is no longer being monitored.
St. George police spokeswoman Tiffany Atkin said Wednesday that no one in the Macin investigation is considered a "suspect" right now. But detectives believe there are persons of interest who may have more information about what happened.
"Anyone that had any association with Macin or may know what happened to him, we have spoken to, and tried to find out if they have that piece of information that would help us find him," she said. "Dad isn't a suspect, per se, but he is a close family member to Macin. Any time that we have asked for him to come in and speak with us, he has been cooperative. Anything we have asked of him, he has done."
The case
In April 2015, the Smiths and their six children moved from Canada to St. George in order for Tracey Smith to pursue a job opportunity.
On Sept. 1, 2015, Macin was reported missing. His father told police that he had taken Macin's cellphone and laptop away from him as punishment for watching anime sometime during the night of Aug. 31 into the early morning hours of Sept. 1.
The next morning, the Smiths believed Macin got up and went to Desert Hills High School as normal.
"Darrin went and knocked on Macin's door to ensure he was awake. After waking up Macin, Darrin went back into his bedroom and went to sleep. When questioned, Darrin and Tracey both said they thought they heard Macin in the kitchen prior to him leaving for school," according to the June 2017 search warrant
"I woke Macin up. I went back, laid in bed. And then we both heard Macin leave," Darrin Smith recalled this week. "And then I got up and I took the cord out of his room because I wanted to see what he was looking at at 1 in the morning. And I either looked at it right then or I looked at it when I got back from the gym, but then I went to the gym. I don't remember when I left. But that's what happened. I did wake him up. We were both laying in bed when we heard him leave."
School administrators said Macin was never at school that day. His parents reported him missing that evening after school was over and he did not return.
A search of Macin's room revealed he did not take any personal items with him. His wallet was found in a desk drawer in his room.
"When Tracey opened the wallet, she discovered a three page handwritten letter from Macin stating he did not want to live any longer. In the letter, Macin berated Tracey and Darrin," according to a search warrant affidavit.
Investigators searched Macin's laptop and found "internet artifacts for an extensive amount of anime. When I searched Macin's laptop for deleted content, I found a word document that talked about Macin trying to kill himself. Additionally, I found searches for anime pornography," a 2016 warrant states.
Related story:
The Smiths told police that Macin had attempted suicide before due to depression while the family lived in Canada, according to the warrants, but could not go through with it. Darrin Smith told the Deseret News and KSL that in the weeks leading up to Macin's disappearance, he was trying to prevent his son from falling back into the depression he was in when he attempted suicide in Canada.
"A lot of people think Macin was doing really well until his father came home and then he flipped out. But it wasn't like that," Smith said.
"Macin was consistently getting worse by going in his room all day, every day. So I was concerned that he was going to … it had to turn around," he said. "It wasn't that I am this mean father that was going to come home and set him straight. I was worried about him that he was falling into the same traps that led him to try and commit suicide before."
Since his disappearance, police have served numerous warrants seeking information from cellphones, laptops, social media accounts, and even gaming consoles. They have tracked down possible sightings in several states that turned out to not be Macin.
"From the very beginning, we have overturned every stone, we have researched every lead that we've been given, and we have exhausted all of those. So right now, it is open, but no one is actively pursuing anything," Atkin said.
"We're looking at all aspects of what possibly could have happened to Macin. It could be a crime. It could be a murder investigation. It could be a missing person. Our job as police officers is to find out what happened to him and not narrow it down to one thing," she continued. "I think it's a difficult case and frustrating, absolutely."
VASA Fitness
The part of the timeline that has raised the most questions during the investigation revolves around Darrin Smith's trip to VASA Fitness on the morning Macin disappeared.
A search warrant from December of 2016 says that after Macin reportedly left for school, Darrin Smith's membership card was used to check in at VASA Fitness at 7:45 a.m. Macin's bus was scheduled to pick him up at 7:41 a.m., according to police. The Smiths lived about 10 minutes away from the gym.
Atkin admits there is a "little bit" of a discrepancy in the timeline between when the parents said they heard Macin leave the house, then went back to bed, and when the father got to the gym.
The Smiths said they learned of the VASA discrepancy last year when Darrin Smith was questioned for hours by St. George police.
"I don't understand what the discrepancy would even mean," Darrin Smith said, raising the possibility that VASA's time stamp could have been inaccurate. If police believe he was lying, he added, why wouldn't they believe his wife was as well, since she told the same story.
Tracey Smith said at the time Darrin Smith went to the gym, no one knew that their son would not return that afternoon and that it would turn into a nationally publicized investigation. So knowing exact times was not something they were paying attention to.
"We're giving guesstimates out there. We're not thinking this is going to be sealed in stone, because you don't think you're a suspect when you're giving information. You're just saying, 'This is what went on that morning,'" she said. "Do I think it's a big deal? Do I think it's a deal breaker or something that's going to break the case? No. I think it's a guy who just went to the gym after his son went to school."
Inconsistencies
Another reason St. George police decided to track Macin's father was because he was allegedly giving inconsistent statements and statements that raised red flags.
Police spoke with a retired police detective — a member of the Red Rock Search and Rescue group that had assisted in searches for Macin — about the conversations he had with Macin's father. He said the father "had specifically told them he had never seen/heard Macin on the morning he ran away. In fact, Darrin agreed Macin could have gone missing during the night," a warrant states.
Police also noted that during large-scale searches for Macin on Sept. 26 and 27, 2015, "neither Tracey or Darrin called or showed up to check in on the progress of the search despite special accommodations being made for Tracey and Darrin on scene. … (The search and rescue member) advised this was not typical behavior exhibited by parents and family of a missing person."
However, video shot by KSL-TV of the search during those two days shows the parents huddled together in a blanket with a group of volunteers. The Smiths say they were at the search and other searches. But on that weekend, they say they were told by the head of the search operation not to participate.
"I don't want you to be the one that finds Macin," Tracey Smith said they were told. "We were instructed not to go out."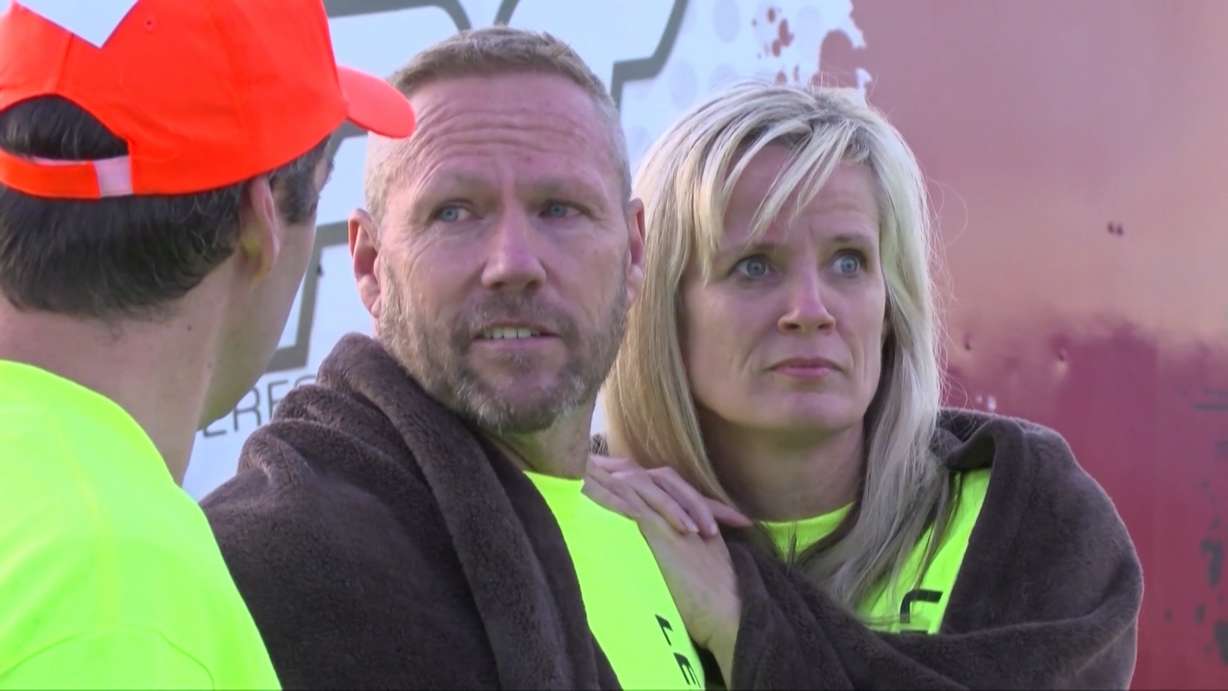 Both the Smiths, who were interviewed separately for this article, believe this person with the volunteer rescue organization — whom Tracey Smith said she did not want to give "name recognition" — was an attention-seeker who came into the case believing he already knew what happened, and that Darrin Smith was at fault.
"I don't know what's wrong with him. He comes into our house and says, 'The parents do not search for the child.' He says we have a mobile home that you sit in there and you wait while everybody goes out and search. So we showed up to the search in the morning and I said, 'I don't want to sit here,' so I went home. So I don't know what the problem is. I went home and cried the whole time that they were searching. And then (the search and rescue member) comes on there and says, 'If it was my son, you couldn't stop me from searching for my son.' And I was told, we're not supposed to. It's ridiculous," Darrin Smith said.
"I feel like he came in to the case with a bias and a scenario already written out," Tracey Smith added.
The Smiths said they believe St. George police started treating them differently because of information from that man.
"We felt a shift immediately, with regards to how they were treating us and how we were talked to, and the support that after a while just kind of became non-existent," Tracey Smith said.
"When I found out what some people were saying, I called (police) up and said, 'Look, I want to take a lie detector test 'cause I want to prove I had nothing to do with it.' I was also the one that called up police and said, 'Look, I want to sit down with you because there's a lot of things that have been going around and I want to clarify them,'" Darrin Smith said.
"I called them up 'cause I heard some discrepancies and I sat down with them for four hours. And we just went over everything, over and over and over again. And I was the one that set that up. Because I didn't want there to be any discrepancies, any problems. I think I tried really hard to make sure there weren't any inconsistencies."
Darrin Smith said St. George police arranged for him to take a polygraph test with an independent contractor.
"Tracey took one a few days later, and what (the person giving the test) told her is that I passed," he said.
Smith said he also took a second lie detector test with investigators at the St. George Police Department.
Atkin emphasized Wednesday that both Darrin and Tracey Smith have been very cooperative with police.
But the St. George detective investigating the case wrote in the December 2016 warrant — filed a year and three months after Macin went missing — that "neither Tracey nor Darrin has ever called me to check on the status of the case since Macin was initially listed as a runaway on 9/1/2015. Over the last year, I have also not heard from any of Macin's siblings regarding the search or status of Macin's case."
Based on that, and the fact Darrin Smith was going off on his own to conduct searches, the detective sought to have the GPS tracker placed on his truck.
Smith said he has no problem with that.
"Because then they could tell how many times I went out searching for my own son on my own. If I had done something with my son, I definitely wouldn't be out searching for him by myself. So I'm glad they did that, so they have record of all the places I went and all the hours I spent searching for him.
"As far as me being investigated for homicide, that's completely absurd, 'cause he left a suicide note. I just don't understand what they could be thinking. I was the one who called police the night he didn't come home. I was the one who invited them into my home to search for him. I've done everything I could to try and find Macin and help the police. So I don't understand how they could think that."
Tracey Smith said once they talked to police, they were able to give explanations for all of the alleged inconsistencies in their statements. For example, she said she texted and emailed the lead detective regularly, but did not want to call her to bother her. Furthermore, she assumed if there was significant new information in the case, that police would call her.
When Darrin Smith was interviewed by police last year, "He was able to just explain them as very logical and nothing to be suspicious about," she said.
"If he did something to Macin, is he going to go work out that morning? Maybe a sociopath would. But I can attest to you that Darrin is not a sociopath. He very much has a conscience and he's a good dad. And it's just been incredible the criticism. It's like they're blaming a family that has been traumatized. They haven't found anything. And they can investigate for the rest of our lives, they're not going to find anything or malice in the family."
She hopes that between the lie detector tests and the extensive interview with her former husband that police now have enough information "to clear us completely."
What now?
The search warrants note that "due to the lack of any (credible) tips and sightings of Macin since his disappearance … and the suicide notes found on his laptop and in his room, Macin is probably deceased."
But police are no closer to knowing what happened to Macin. Even though the case is still considered active, detectives are only investigating new tips that they receive. All previous leads have been exhausted.
Even Darrin Smith is at a loss for what happened.
"I have no idea what happened to Macin. At first I thought, 'OK, we're going to find him close by,'" he said. "As time went on, I started thinking maybe something horrible happened to him."
The Smiths divorced in May 2018 after more than 30 years of marriage. Both have since re-married or are engaged. Tracey Smith still lives in Washington County while Darrin Smith lives in Salt Lake County. In September, they conducted what they called their last search for Macin, saying it was time to move on.
But Tracey Smith said they will never give up on Macin, and she is thankful for those who continue looking.
"I am a mother who has been humbled to her very core. I'm continually amazed at the people who show up and give their time," she said. "We have people who show up and continue to support us when we feel like things are drying up and we can't go on anymore."
Smith also hopes that if anything good has come from her son's disappearance, it's that she believes St. George police have improved how they have investigated missing persons cases since Macin's disappearance. She believes police missed opportunities to collect evidence in the early part of the investigation because of inexperience.
She also said at the time, she and her then-husband didn't know what to do, and weren't getting any guidance from any authorities.
"We really felt alone at the get-go," she said. "We were walking blind. And I know we have been criticized a lot for, 'Why didn't you do this, and this, and this within the first couple of days?' Well, you're in shock. And also you're not sure if your teen's going to walk in the door that night or the next morning.
"You can't predict that it would go on days and days and months, and now we're into years."
×
Photos
Related stories
Most recent Utah stories