This archived news story is available only for your personal, non-commercial use. Information in the story may be outdated or superseded by additional information. Reading or replaying the story in its archived form does not constitute a republication of the story.
ST. GEORGE — Those closest to Macin Smith are terrified.
On the morning of Sept. 1, Macin left home. His family thought he boarded a school bus to Desert Hills High School in St. George, where Macin is a senior.
"We heard him get up and leave," Macin's father, Darrin Smith said. But Macin never made it onto that bus.
The night before, Macin and his father argued. Darrin took away Macin's cellphone and laptop computer. No one has seen or heard from Macin since that night.
Slivers of hope filled the first days of Macin's disappearance. Police issued an alert, social media posts were shared, and tips rolled in.
The first promising lead came in a suspected sighting of the 6-foot-4, blond-haired, 17-year-old Macin in Las Vegas.
"So, OK. He's in Vegas," Darrin remembered thinking. The family spent several days looking in Vegas, but nothing comes of it," the father said.
Then there was a possible Macin sighting in Mesquite, Arizona. The Smith family rushed southwest to the Nevada-Arizona border town. Still, no Macin.
"At first, when he didn't come home, we thought, 'OK, now he'll come home,'" Darrin said. "'OK, now it's the weekend. There's no more school, he'll be home now.'"
More than 1 million runaways
If Macin is a runaway as his family, authorities and those searching for him believe, he's not alone. More than a million kids take to the streets in America each year. Their lives play out along riverbanks and under freeway underpasses as most of modern society passes them by.
The emotional mayhem of runaway adolescents hits home in Utah. The state's two largest police departments took over 1,200 juvenile runaway reports last year.
On the corners of the Internet, websites give less-than-credible how-to information to those inquiring on how to run away from home. "Leave home with 10 bucks," or "land jobs that pay cash" are some of the advice these guides dispense.
Homeless in Salt Lake City
One can catch glimpses into the world of runaways calling the streets of Salt Lake City home. Among a circle of his peers milling around State Street, one 19-year-old KSL News found answered to the name "Mountain Man."
"People call me Mountain Man because I live in the mountains," explained Cody, who says he ran away from home 10 months ago. Since then, a makeshift place in a secluded spot in the foothills outside Utah's capital city is home. In the mountains, that's where he feels safe, Cody said.
Every couple days he returns to the city to pick up free food from Volunteers of America, a homeless outreach program for youth.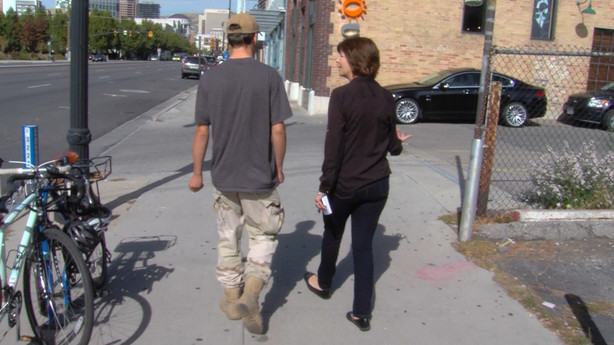 Cody says he ran away after an argument with his father turned physical. The next day he left for Nevada with $16 in his pocket. "That was gone within hours, for food," Cody said. "They talk about bringing $10 with you, but that doesn't seem realistic."
Cody's problems with the law began to pile up: stealing, fighting, trespassing, to name a few. The chill of winter is in the air now, too. As snow settles in on Cody's makeshift mountain home, the Death Valley, California, native has yet to survive a Utah winter. "I'm not fully prepared for it," he admitted.
Later, Tyrell, another runaway, chimed in: "As soon as you experience being homeless, not having anywhere to go, the whole game changes."
If he had to do it all over again, would Cody run away? "Absolutely not" was his reply.
"So Cody, why don't you just go home?" we asked.
"I can't because of how I left," he said. "Most people don't realize that leaving is the last straw. It's not all the stuff you did before you left, it's leaving that's the last straw."
No hard sightings, no cellphone
In St. George, the Smith family just wants to see Macin return safe. Friends, neighbors and a professional team of volunteer searchers are working to make this happen. So far, they've come up empty-handed.
The Smith family and the search and rescue community are working hand-in-hand with the St. George Police Department to find Macin. As of Thursday, Sgt. Sam Despain said there's no updates on Macin's whereabouts.
"Macin Smith's case is a hard one," said Dave Cummings, commander of Red Rock Search and Rescue. "There are no hard sightings."
---
If he had the phone, we'd have some ping information. We'd have a direction of travel, we could map where he had gone.
–Sgt. Sam Despain, St. George PD
---
If only Macin had his cellphone with him.
"If he had the phone, we'd have some ping information," Cummings said. "We'd have a direction of travel, we could map where he had gone."
Over and over, the decision to take his son's phone away is on Darrin's mind. "Knowing what I know now, I'd never take it away," he said.
With almost 200 volunteers and 41 search operations this year, Red Rock Search and Rescue encourages parents to rethink the taking of cellphones for punishment.
Macin is one of six children. Darrin said the more disciplinary parenting style that worked for some of his older children didn't work for Macin.
"I've learned that every child is different," Darrin said. "I would have tried harder to be better friends with him so that he could confide in me and talk to me more."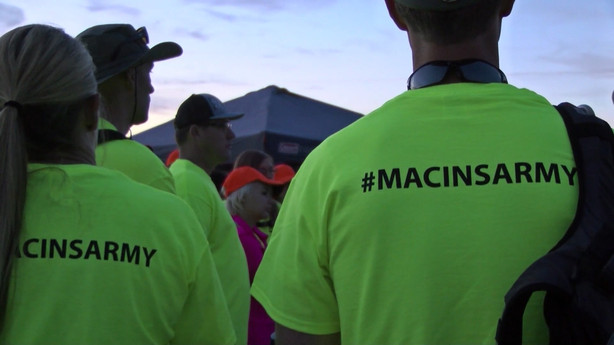 One week after Macin went missing, his family found a note, a letter Macin didn't want his family to find until later. The contents of the letter were the kind that forced a melancholy pall on Macin's father.
What did the note say? "It made us worry he might harm himself," Macin's father said.
Twenty-five days since his disappearance, Macin's family and 32 locals scoured BLM land just outside the Smith family home. They are looking for any lead to guide them towards Macin's whereabouts.
After the massive search that turned up nothing, Macin's father first felt a sense of relief. "I thought, 'Oh, that's good because there's a chance he didn't hurt himself.'"
On this same late September Saturday 50 volunteers search the outskirts of Las Vegas, looking for Macin.
The moment of respite doesn't last long for Darrin. "We search, we get a little hope," he said. "But as time goes on, we start to think maybe something did happen to him."
The search for Macin stands at 66 days. This high school senior still hasn't come home.
How you can help
The Smith family is asking for help in finding new leads into Macin's whereabouts. Here's what you can do:

×
Photos